With the influence of the indigenous cultures of Central America, Salvadoran cuisine highlights the region's flavor palette. In this post, we've collected 18 of the most popular Salvadoran Foods that are made with fresh and simple ingredients.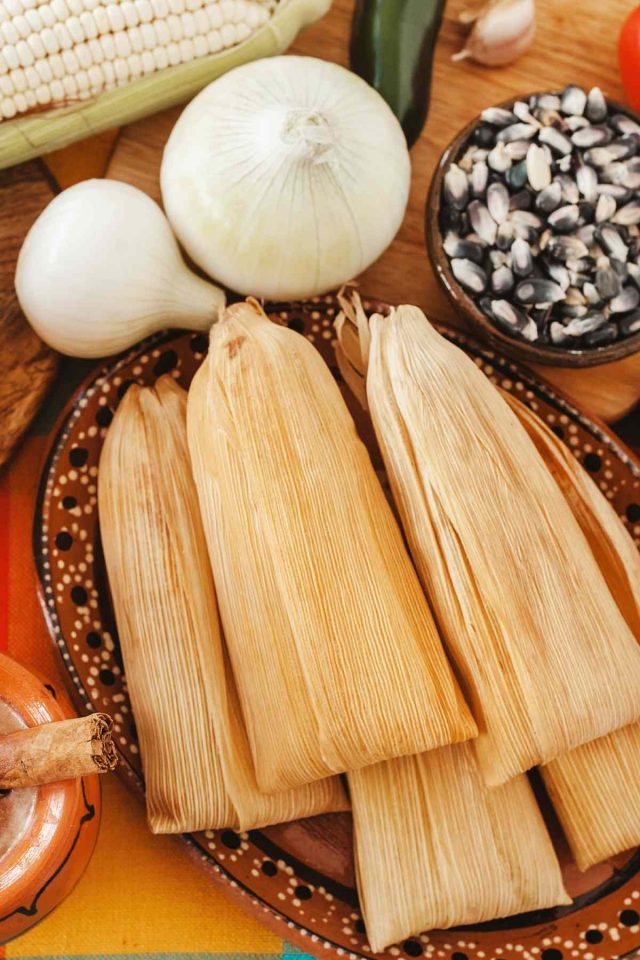 The best way to cook your tamales is by steaming them. This recipe shows you how simple it is to steam tamales in a variety of ways for a tasty dish that's absolutely irresistible.
Peeled and boiled, these yuca fries are soft and tender with a perfectly crunchy skin. Serve these with aji verde for a scrumptious side you will love.
Loaded with zesty flavor, the secret to this perfectly grilled flank or skirt steak is in the marinade!
Originally from El Salvador, these stuffed tortillas will be a hit with your family. Loaded with flavor, these stuffed tortillas are picky eater-approved.
There is no dessert out there that can compare to the ooey gooey goodness of warm dulce de leche. Period.
This gluten-free bread is a delicious breakfast or snack cake. Your whole family will love this one.
Typical street food, elotes locos are loaded with spicy toppings and bursting with flavor.
Made with various types of meat and root vegetables, this dish is so versatile and delicious. You can use this recipe for chicken, fish, beef, ribs, goat, duck, and more.
Hearty rice and beans, this easy dish is simple to make and so satisfying.
This traditional soup is very popular throughout Latin America. It's tasty comfort food the whole family will enjoy when the weather cools.
Making tamales from scratch has never been easier. This step-by-step method will turn even a novice chef into an expert tamale-maker.
This Puerto Rican dish is bursting with savory flavor. This comforting food will warm you right up and satisfy any appetite.
This Mexican veggie soup is made with beef and hearty vegetables. The beef shank adds so much flavor to the broth. Serve with a slice of lime and some homemade salsa for a truly authentic meal.
Whether you sip it with a meal or serve it up as a light dessert, Ensalada is always a crowd-pleaser.
This tasty dish is popular in El Salvador and Honduras. It's made with cassava (yuca) and served with raw cabbage, lemon, chicharrones, spicy tomato sauce, mojo, and a sauce of garlic and spices. With flavor packed into every bite, this dish is always a hit.
This soft and moist crumb cake is so yummy. It's soaked in a three-milk mixture and topped with sweet whipped cream. This authentic recipe is so simple to make that you'll never reach for the store-bought kind ever again.
This Salvadoran sandwich is made with roasted turkey, pickled veggies, and a delicious sauce. It's a meal you'll make over and over again.
This Mexican drink is so easy to make at home and perfect for sipping on a hot day! Hosting a summer party? This is the drink you absolutely have to serve.
Salvadoran Tamales Recipe
The best way to cook your tamales is by steaming them. This recipe shows you how simple it is to steam tamales in a variety of ways for a tasty dish that's absolutely irresistible.
Instructions
Fill a large pot with enough water to reach slightly below the bottom of the steamer basket.

Place the tamales vertically in the steamer basket so they are standing with the open end up, instead of laying them down. This will help to ensure that no water gets into the tamales.

Let the water come to a boil, and then reduce the heat to medium. The water should be maintained at a very gentle simmer.

Add more water from time to time to keep the steam going.

The tamales will take 60 to 90 minutes to cook, so be sure to check the water level to ensure it doesn't run out. Add more water if needed, and adjust the heat to maintain a gentle simmer.

A tamale is done when it feels firm and the husk easily peels away. Let the tamale rest for a couple minutes before peeling the husk. If the tamale doesn't feel firm or the husk is not easily peeled, return it to the pot and let it continue to steam.