Ever wonder "What is Grenadine"? It's a popular syrup known for its sweet and tangy flavor, which adds a delightful twist to various beverages. Whether you're a cocktail enthusiast or someone who enjoys non-alcoholic drinks, grenadine is a versatile ingredient that can elevate your drinking experience.
In this post, we will explore the history, taste, production process, uses, and health benefits of grenadine, as well as answer some common questions about this intriguing syrup.
What Is Grenadine?
Grenadine is a syrup traditionally made from pomegranate juice and sugar. It is commonly used as a sweetener and flavoring agent in cocktails and other mixed drinks.
The name "grenadine" is from the French word "grenade," meaning pomegranate, reflecting its original key ingredient.
History Of Grenadine
The origins of grenadine can be traced back to the Middle East, where pomegranates have a long history. The syrup was initially created as a way to preserve the sweet and tangy taste of pomegranates.
Over time, grenadine made its way to Europe and gained popularity in the 19th century as an essential ingredient in classic cocktails.
What Does Grenadine Taste Like?
Grenadine has a distinct sweet and tart flavor profile. It offers a delightful balance between sweetness and acidity, with subtle fruity notes.
The taste of grenadine varies depending on the brand and the quality of the ingredients used in its production.
Ingredients Of Grenadine
While the original grenadine was made solely from pomegranate juice and sugar, modern variations may include other ingredients. Some commercial grenadines use artificial flavors and colors, so read the label and opt for high-quality brands that use natural ingredients.
The best grenadines are those made with real pomegranate juice and minimal additives.
Production Process
The production process of grenadine involves mixing pomegranate juice with sugar and heating the mixture until the sugar dissolves completely. The resulting syrup is then strained to remove any solids or impurities.
Commercially produced grenadine often includes additional ingredients such as citric acid or lemon juice to enhance the flavor and preserve its freshness.
Uses Of Grenadine In Cocktails
Grenadine is a staple in the world of mixology, adding both flavor and visual appeal to cocktails. Its vibrant red color makes it an ideal choice for creating visually stunning layered drinks. Some popular cocktails featuring grenadine include:
Tequila Sunrise
Shirley Temple
Hurricane cocktail
It can also be used to modify traditional recipes, providing a unique twist to classic drinks like the Martini or the Cosmopolitan.
Grenadine Vs. Pomegranate Syrup
While grenadine and pomegranate syrup may seem similar, they have some notable differences.
Grenadine is usually lighter in consistency and has a sweeter taste compared to pomegranate syrup, which is thicker and often more tart.
Grenadine is specifically designed as a cocktail syrup, whereas pomegranate syrup is a more versatile ingredient used in both savory and sweet dishes.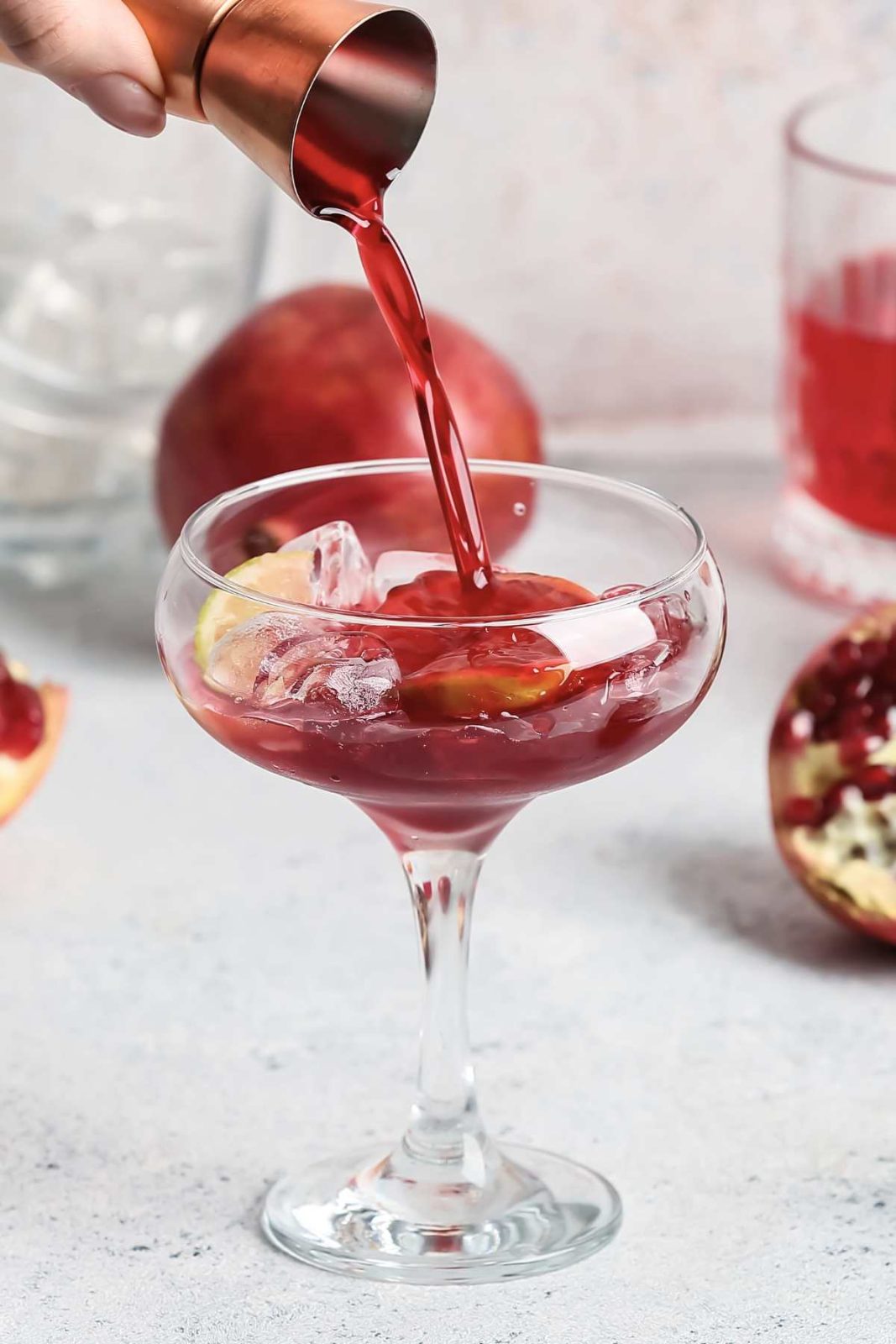 Popular Cocktails With Grenadine
Tequila Sunrise: A refreshing mix of tequila, orange juice, and grenadine, creating a visually stunning layered drink.
Shirley Temple: A classic non-alcoholic cocktail featuring ginger ale, lemon-lime soda, and a splash of grenadine.
Hurricane: A tropical cocktail made with rum, passion fruit juice, orange juice, and grenadine, originating from New Orleans.
Grenadine In Non-Alcoholic Beverages
Not limited to alcoholic drinks, grenadine is a fantastic addition to a wide range of non-alcoholic beverages.
It brings a burst of flavor and a hint of sweetness to mocktails, fruit punches, lemonades, and even homemade sodas.
Mixing grenadine with sparkling water or club soda creates a refreshing and visually appealing drink, perfect for those seeking a delightful non-alcoholic option.
Grenadine Substitutes
In the event that you don't have grenadine on hand, there are several substitutes that can mimic its flavor and appearance.
Use pomegranate molasses, a thick and tangy syrup made by reducing pomegranate juice.
Mix equal parts of cranberry juice and simple syrup to achieve a similar flavor profile.
While these substitutes may not offer the exact taste of grenadine, they can still provide a delightful addition to your beverages.
Storage Instruction
To maintain the quality and flavor of grenadine, it's important to store it properly. Most store-bought grenadine syrups come in a sealed bottle, which should be refrigerated after opening. Check the label for specific instructions, as some brands may have different storage recommendations.
When stored in the refrigerator, grenadine can retain its flavor for up to 6 months.
How Long Does Grenadine Last
Grenadine usually has a relatively long shelf life, thanks to its high sugar content and acidic nature. Unopened bottles of grenadine can last for up to a year when stored in a cool, dark place away from direct sunlight. However, it is important to check the expiration date on the bottle for the manufacturer's specific guidelines.
Once opened, grenadine can last for several months when refrigerated. It is advisable to use it within six months for the best flavor and quality. Over time, the color and taste of grenadine may gradually change, and it may develop an off-flavor or smell. If you notice any signs of spoilage, such as mold growth or a foul odor, it is best to discard the grenadine.
How To Make Grenadine At Home
Making grenadine at home is a simple and rewarding process. By preparing it yourself, you have control over the ingredients and can avoid any artificial additives or preservatives that may be present in store-bought versions. Here's a basic recipe for homemade grenadine:
Ingredients
2 cups pomegranate juice, 100% pure, without added sugar
1 cup granulated sugar
1 tablespoon freshly squeezed lemon juice, optional
Instructions
In a saucepan, combine the pomegranate juice and sugar.
Heat the mixture over medium heat, stirring continuously until the sugar completely dissolves.
Reduce the heat to low and let the mixture simmer for about 15-20 minutes, or until it thickens slightly.
Remove the saucepan from heat and let the syrup cool.
If desired, add lemon juice for a slightly tangy flavor.
Once completely cooled, transfer the grenadine to a sterilized glass bottle or jar.
Store it in the refrigerator for up to three weeks.
Health Benefits
While grenadine is primarily used as a flavoring agent in beverages, it also offers some potential health benefits due to its pomegranate juice base. Pomegranates are rich in antioxidants, vitamins, and minerals, making grenadine a source of these beneficial compounds.
However, it is important to note that commercial grenadine may contain added sugars and artificial ingredients, which can offset the potential health benefits. Therefore, it is advisable to opt for homemade grenadine or read labels carefully when purchasing.
FAQs
What is grenadine made of?
Traditionally, grenadine was made from pomegranate juice, which gave it its name. The word "grenadine" originated from the French word for pomegranate, "grenade." The juice was usually mixed with sugar and heated to create a syrupy consistency. However, nowadays, commercial grenadine often contains a combination of pomegranate and other fruit juices, along with added sugar and sometimes citric acid to enhance the flavor and act as a preservative.
Is grenadine alcoholic?
No, grenadine syrup is non-alcoholic. Although it is commonly used as an ingredient in alcoholic cocktails, the syrup itself does not contain any alcohol. Its primary function is to add sweetness and flavor to beverages, making it a versatile choice for both alcoholic and non-alcoholic drinks.
However, it's important to note that grenadine can be used in alcoholic beverages, so if you're looking for a non-alcoholic option, make sure to read the label or ask your bartender.
Where can I buy grenadine?
Grenadine is readily available in most supermarkets and liquor stores. You can usually find it in the aisle with cocktail mixers or in the section dedicated to non-alcoholic beverages. Grenadine is also available for purchase online, making it easily accessible to those who prefer the convenience of shopping from home.
Is grenadine a cherry or cranberry?
Contrary to popular belief, grenadine is not made from cherries or cranberries. While some commercially available grenadine syrups may incorporate cherry or cranberry juices for added flavor or coloring, the true essence of grenadine is derived from pomegranates. The rich red color and distinct sweet-tart taste represents the pomegranate fruit.
When seeking authentic grenadine syrup, look for brands that feature pomegranate as the primary ingredient.
Homemade Grenadine Recipe
Ever wonder "What is Grenadine"? It's a popular syrup known for its sweet and tangy flavor, which adds a delightful twist to various beverages. Whether you're a cocktail enthusiast or someone who enjoys non-alcoholic drinks, grenadine is a versatile ingredient that can elevate your drinking experience.
Ingredients
2

cups

pomegranate juice

store-bought or homemade*

2

cups

granulated sugar
Instructions
Add pomegranate juice to a saucepan over medium low heat.

Add in sugar.

Stir constantly and cook until the surface just begins to bubble and the sugar is completely dissolved. (Don't boil the mixture!)

Remove your syrup from the heat and allow it to cool before using it in your cocktails.
Notes
*For homemade pomegranate juice, 1 pomegranate will yield about 1 cup of juice.
Store this homemade grenadine syrup in an airtight container in the refrigerator and it will last up to 4 weeks.