During the holidays, our family loves giving back to our community & the people in our lives. Sometimes we bake cookies for our neighbors or buy gifts for people that live in a senior home, like we did this year. It's not always about getting a huge gift but it can be just a simple gesture to show another person that they are loved & cared about.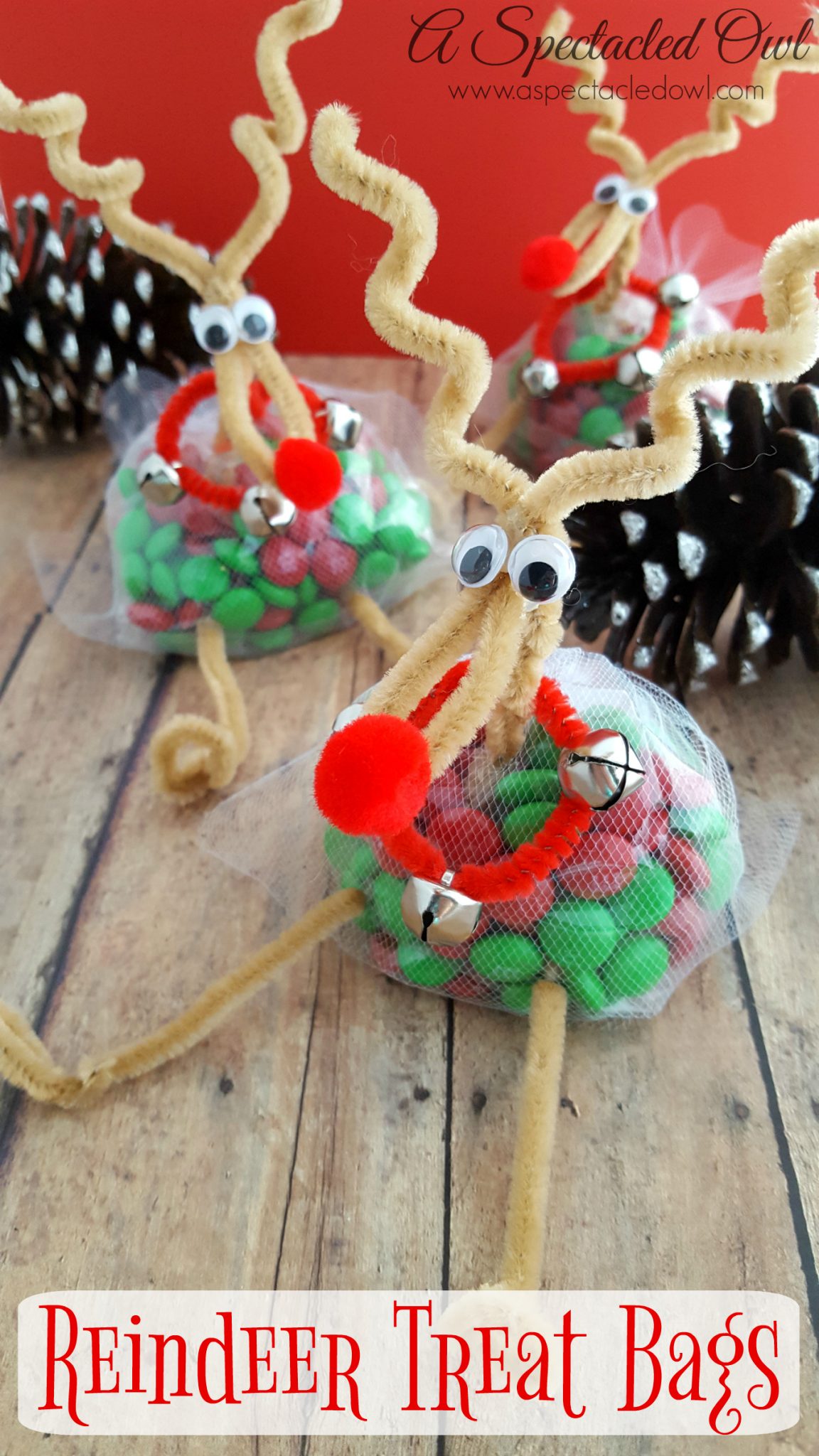 These Reindeer Treat Bags are simple to make, so much fun to receive and make great gifts for neighbors, your child's classmates, to pass out at work or to place on top of a present for a family member.
Reindeer Treat Bags Directions
Materials:





Directions:
Place candies in treat bags. Cut tulle to 16" and wrap under and back up the treat bag. (You may use precut tulle circles instead.) Secure the bag and tulle closed with a clear hair elastic. Cut excess off.
To form the reindeer head, fold a tan pipe cleaner in half. Twist 1 ½ inches from the point to create a loop.
To form the antlers, wrap the excess of the two ends around a pencil.
To create the neck, take another tan pipe cleaner and cut it in half. Wrap one of the pieces over the section where the head and antlers meet and then twist to secure it. Continue to twist the remainder of that piece together the rest of the way.
Place a large dab of glue in the center of the top of head right beneath where the antlers meet. Add two googly eyes.
Place another dab of glue at the bottom tip of the reindeer head, and add a red pom pom for the nose.
Press the neck through the top of the tulle/treat bag. Adjust antlers and head if necessary.
To form the legs and hooves, cut a tan pipe cleaner in half. Fold the end 1 ½ inches from the bottom and twist up onto the pipe cleaner to create a small triangle. Bend the triangle up to complete the hooves.
Lastly, cut 4 inches of red pipe cleaner for the collar. Simply thread on 3 silver bells and secure it on the reindeer neck by twisting the back to create a circle.