Are you new to the keto lifestyle? Need a few quick keto meals to start your week? Cut the carbs and save some time with these quick keto meals for beginners.
Each recipe is delicious and easy to make, so there's no danger of you getting bored or feeling like you are missing out. These meals will satisfy you with their taste, texture, and simplicity!
If you're looking for a dish that is juicy, tender, and healthy, then you found it! This Baked Chicken with vegetable recipe takes just 10 minutes of prep and turns out both flavorful and delicious!
Buttery and garlic flavors are all you need when it comes to cooking up this Sirloin Steak. This recipe walks you through pan-searing to perfection and produces an incredibly satisfying steak.
This Sheet Pan Chicken Fajitas dish is made all on one plate! Combine the chicken, bell peppers, onions, and fajita seasoning for an easy recipe ready in under 30 minutes.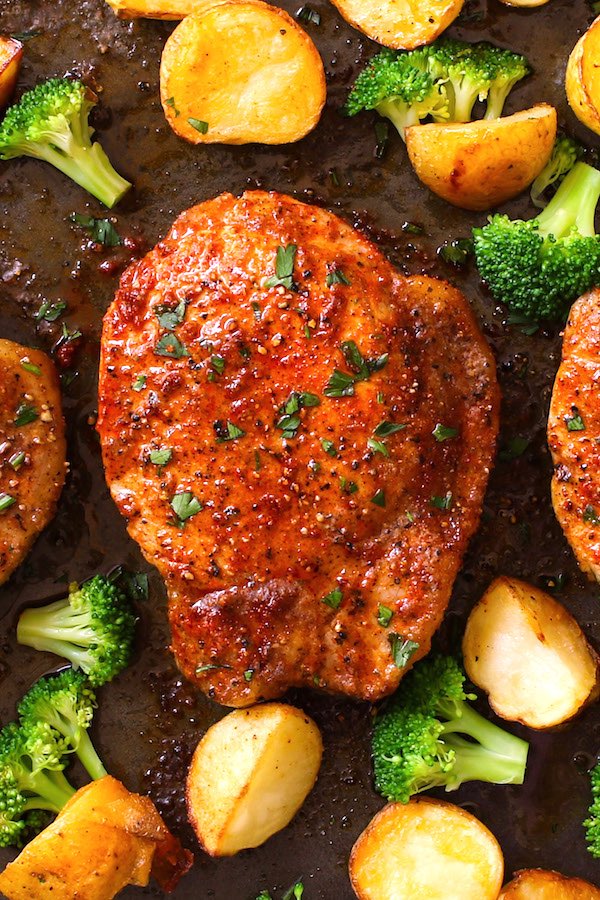 Your new favorite pork chop recipe is here! They're tender, juicy, and seasoned to perfection. Made with a dry rub and baked in the oven, this dish is ready in 20 minutes.
Here, you will quickly learn how to cook sockeye salmon. Baking it provides the fish with a moist and flavorful taste! Plus, this dish is a healthy and tasty dinner you can prepare in under 10 minutes in the oven or grill.
Who doesn't love a dish that's easy and quick? This Easy Microwave Cauliflower Rice recipe is just that! Using this method makes light and fluffy cauliflower rice in just a few minutes.
If you're missing out on chicken while on a keto-friendly diet, you won't be any longer with this recipe! This dish is low carb, extra juicy, and perfectly seasoned with a KFC copycat mix!
A low-carb and keto-friendly dish, Crock Pot Keto Crack Chicken is incredibly addictive. Whether you're following a low-carb lifestyle or not, you can and will enjoy this meal!
A quick delicious dish ready in just under 15 minutes! Keto Garlic Chicken with Broccoli and Spinach is cheesy, garlicky, and bite-sized! Serve it up on pasta if you want something more hearty!
Succulent, tender, and rich – what more could you ask for?! Low Carb Keto Beef Stew is made with beef chunks, crisp vegetables, and a savory sauce! You definitely won't believe this is low carb!
One of the most popular dishes in Italian restaurants, made right in your own home. It's Keto Chicken Parmesan that's low carb, grain-free, and gluten-free!
This Corned Beef And Cabbage Recipe can be made quickly using leftover corned beef. With just a few more ingredients and less than 30 minutes of your time – you'll be able to enjoy this low-carb dish.
A chili made without beans? Say it isn't so?! You may be pleasantly surprised at how flavorful this dish is! Plus, you'll get instructions on how to cook it in a slow cooker or Instant Pot here.
If you loved meatloaf before you went low carb – you can love it again! This Juicy Keto Meatloaf is juicy, flavorful, and a must-try! The secret? This recipe uses almond flour and parmesan to keep the juices in.
Here is your new Taco Tuesday recipe! This Copycat Keto Taco Bell walks you through how to cook keto-friendly meat and keto tortillas and even has suggestions for toppings!
An easy dinner recipe that is perfect for those busy weeknights! Cheesy Keto Taco Casserole is a meal your whole family will love! The best part? It's loaded with beef and cheese.
Tasty and filling are precisely what you'll experience with these Best Keto Cheeseburgers. With fewer carbs, you'll be able to enjoy this burger without spiking your sugar levels.
On a low-carb diet and missing out on pasta? Well, with this recipe, you'll be able to enjoy it again – keto style. Made with two ingredients, these noodles are cheesy, chewy, and just waiting for your favorite sauce.
This recipe takes your love for tacos and turns it into a soup. It's a low-carb and keto-friendly dish that you must try! It's perfect for those cold days or those times you need a bit of comfort.
Who doesn't love Chipotle?! Now, with this recipe, you can bring that love right to your home. Made with steak, cheese, lettuce, and seasonings, these bowls come together in under 30 minutes.
If you're a little unsure of certain veggies, you'll be reassured with this Low-Carb Vegan Dinner Bowl. Made with cabbage, broccoli, kale, and tofu, all tossed in an almond satay sauce. It's low carb, high protein, and super tasty!
Keto Chicken Alfredo Casserole is one cheesy dish! In a good way! Packed full of chicken, cauliflower, and loads of cheese, it's sure to win over even the pickiest of eaters.
Tired of eating spiralized zucchini and spaghetti squash? Well, with this Keto Noodle recipe, you can move on from the veggie noodles and make these egg noodles instead.
No more making two meals as this recipe is sure to please you and your kids! This Keto Mac n Cheese uses macaroni pasta, doesn't contain any grains or what. Plus, there are only 4 grams of carbs per serving.
This Keto Broccoli Salad with Bacon and Cheddar is perfect for your next potluck, picnic, or backyard gathering. With only 5 minutes to prep and 2 minutes to cook, you'll be coming back to this one again and again!
Quick Keto Meal: Baked Chicken with Vegetables Recipe
If you're looking for a dish that is juicy, tender, and healthy, then you found it! This Baked Chicken with vegetable recipe takes just 10 minutes of prep and turns out both flavorful and delicious!
Ingredients
3

chicken breasts skinless

boneless

1

pound

baby red potatoes

halved or quartered

1

cup

cherry tomatoes

1

lemon

sliced into rings

3

teaspoon

garlic

minced

1

teaspoon

oregano

3

tablespoon

olive oil

salt and pepper

to taste

3

sprigs

fresh rosemary

optional

3/4

pound

green beans

trimmed
Instructions
Preheat oven to 450°F. Set aside a large baking sheet.

Pat dry chicken breasts and rub with oil. Then place them on the baking sheet.

Add potatoes and tomatoes around the sheet pan and arrange them in one layer. Sprinkle minced garlic, oregano across the pan. Add salt and pepper to taste.

Toss to mix well. Place several lemon slices on top of chicken.

Bake for 18 to 20 minutes (add green beans during the last 10 minutes).

Broil for the last 5 minutes, if your chicken breasts look too pale.

Remove chicken breasts from the oven and let rest for 5 to 10 minutes before serving. Cover with aluminum foil while resting. Serve and enjoy!