Do you ever get confused between a walnut and a pecan? If so, you are not alone! While these nuts both come from the Junlandacea or walnut family (and look very similar), there are subtle differences in their taste and appearance. In the article below, we'll take you through their characteristics and applications, so you'll never mistake them again!
What is a Pecan Nut?
Pecan nuts are a popular snack on their own, but they are also used in baking and cooking across various cultures and cuisines. They have an outer husk which dries and cracks to reveal a pit – this pit is the nut we eat today for its distinctive flavor and delicious crunch.
Did you know there are 500 types of pecans with differences in flavor, color, size, and texture? The nuts we eat are grown by large manufacturers who make the shells thinner and easier to crack for consumers, whereas wild-grown pecans have a hard, thick shell.
What is a Walnut?
Walnuts are healthy, edible nuts that you can easily incorporate into a balanced diet. When a walnut has fully ripened, the outer husk hardens and cracks to reveal the seed (or nut) within.
Unlike pecans, there are only two types of walnut: the Persian (or English walnut) and the Black walnut. The Persian walnut is more common because it has a softer shell, however, if you want a walnut with more flavor, the Black walnut is definitely the way to go!
What Do Pecans Look Like?
Pecans have a light brown shell that is long and smooth with a rounded end on one side and a pointed tip on the other. The nut (or edible pit) inside is dark with a thin ridge down the middle that seems to divide the nut into two halves. Each half features a single indentation.
What Do Walnuts Look Like?
In contrast to pecans, walnuts are light, bumpy, and irregular. The nuts are rounder than pecans and the shells are wrinkly.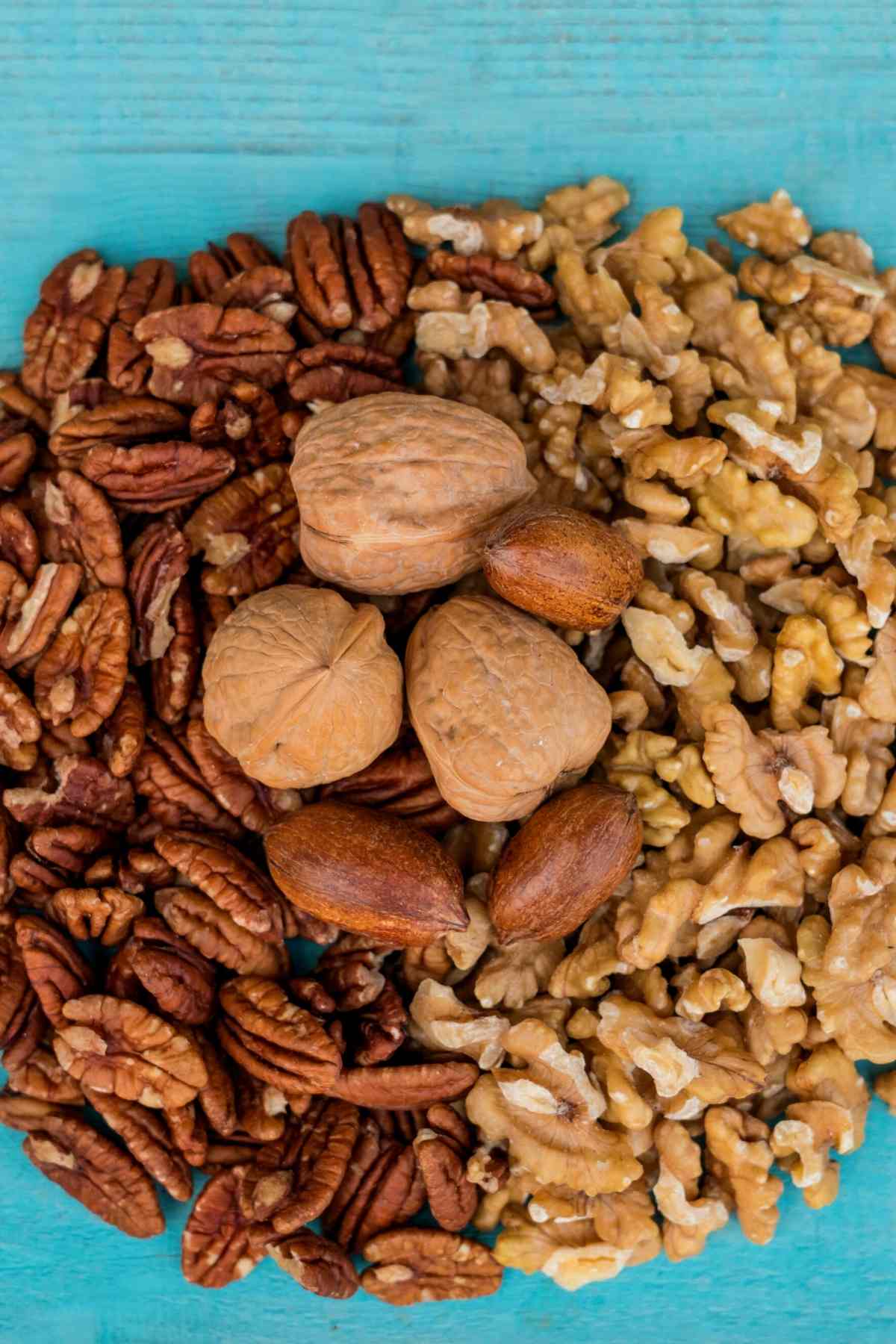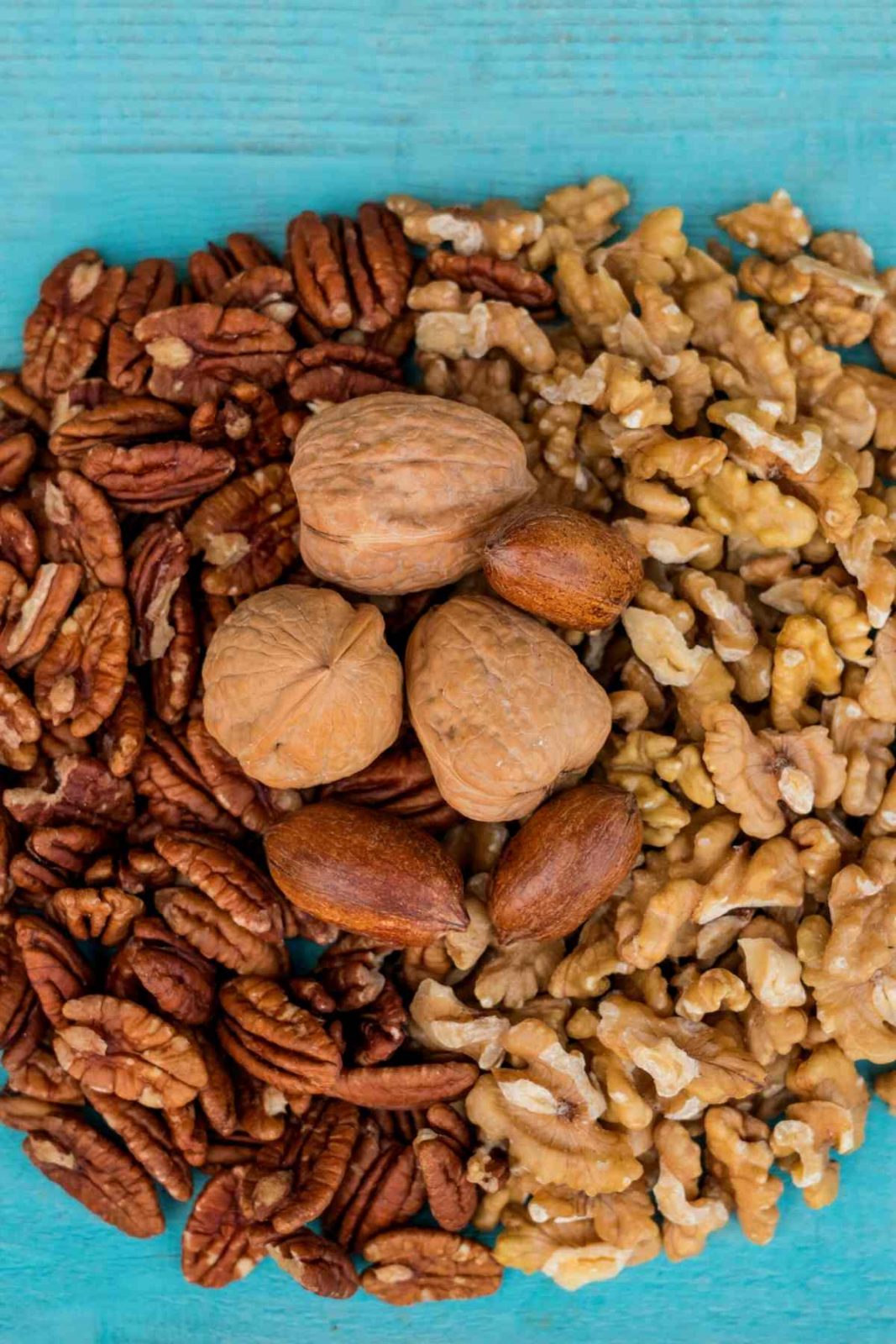 What Do Pecans Taste Like?
Pecan pie is a world-famous dessert for a reason! Pecans are sweet and chewy with a wonderfully crunchy texture, which is what makes them so suitable for sweet and savory dishes. If you heat them, their flavor only intensifies, and they do not contain as much oil as walnuts.
What Do Walnuts Taste Like?
Walnuts are slightly bitter with a buttery taste and texture. Their earthy, nutty flavor makes them a great addition to granola, muffins, and as a topping for ice cream!
Key Differences Between Pecans and Walnuts
Shell: Walnut shells are light brown, round, and dense with ridges (like wrinkles). Meanwhile, pecan shells are dark, oblong, and tough.
Nut: Walnuts are lighter and larger with a "brain-like" shape. Pecans are often found in halves. They are smaller, darker and more uniform with one distinct, central ridge.
General: Walnuts tend to be more expensive and have a longer shelf-life than pecans.
Pecan and Walnut Culinary Applications
With their slightly bitter taste, walnuts add a unique flavor, crunch, and texture to desserts, salads, granola, and oatmeal. The sweeter pecan is a favorite in sweet potato casseroles, salads, pastries, pies, desserts, and more.
Pecan vs Walnut Nutrition
Nutritionally, walnuts and pecans are very similar. They are both heart-healthy snacks with high amounts of unsaturated (healthy) fats and zero cholesterol.
Per serving, pecans are slightly lower in calories than their more oily cousins, and they have a better fiber to carbohydrate ratio. This makes pecans a slightly better snack because they will keep you fuller for longer. They also contain more vitamin E, however, walnuts have more protein and micronutrients.
How to Eat Walnuts and Pecans
You can eat walnuts and pecans in several ways – the trick is to get creative and see what works for you!
As you know, they are healthy snacks when eaten raw, but they are also delicious when toasted and added to salads, desserts, and yogurt. We highly recommend them as toppings for sweet and savory dishes for a little added crunch and texture, and you can even toast and then puree walnuts to create a creamy, buttery sauce!
To store, freeze pecans and walnuts in an airtight container for up to one year.
Easy Pecan Pie Bars
These pecan pie bars have a buttery crust with a sweet and crunchy pecan pie topping. It's one of my favorite pecan recipes.
Ingredients
1 ½

cups

chopped pecans

3/4

cup

butter

room temperature

1/3

cup

granulated sugar

2

cups

all-purpose flour

divided

2/3

cup

light brown sugar

1 ½

cups

corn syrup

4

eggs

1

tablespoon

vanilla extract

1/2

teaspoon

salt
Instructions
Preheat oven to 350°F. Line a 9×13 baking pan with parchment paper and set aside.

Add butter and sugar to the bowl of the stand mixer fitted with the paddle attachment. Combine them together on a medium speed.

Lower the speed and add 1 ¾ cups of the flour. Mix until combined.

Pour the mixture into the baking pan, and press it evenly into the bottom of the pan.

Bake for about 18 minutes or until the surface is golden.

While the crust is baking you can make the filling. Whisk together the sugar, corn syrup, eggs, and vanilla in a bowl until smooth.

Add in the remaining flour and salt. Continue to whisk until combined.

Add the chopped pecans. Mix well.

When the crust is done, pour the pecan mixture on top of the hot crust.

Bake for about 30 minutes or until the center is set.

Let it cool completely. Serve and enjoy!