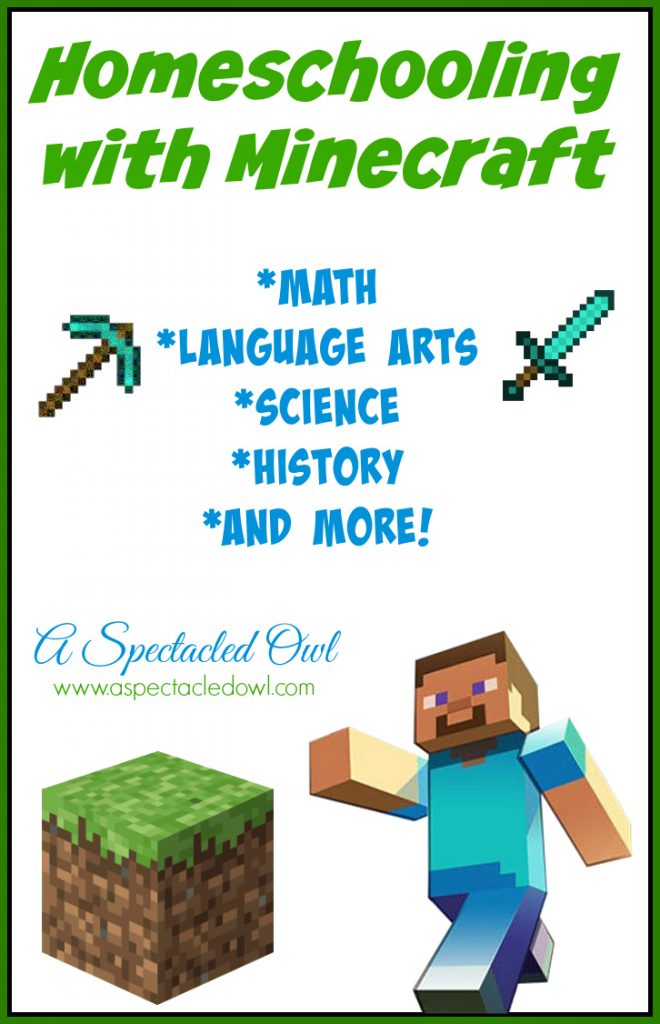 As a homeschooling mom, I've found that learning doesn't have to happen in a traditional school type setting. In fact, I would venture to say that half of what my kids have learned comes from real world experience, learning about things on their own, asking my girlfriend and I questions and then us finding out the answers together, etc.
Whether you homeschool or not, there are so many fun ways out there that can incorporate learning into having a good time. While we currently use an online school, that doesn't mean we don't also find outside materials to teach the kids as well. If your child goes to a public school, you might want to help them in a certain subject that they are struggling with or if they're above their grade level, find things that will entertain them at a higher level. Or maybe, they just love Minecraft and want to have fun with it!
One of the best (and fun!) things right now to bring into teaching kids is Minecraft. I will fully admit something…I don't get the allure of Minecraft one bit. My 9-year-old son has loved playing since he was about 4 but I just don't get the fascination. But, that's ok because my kids love it, it's a good game and they can also learn from it.
As I was looking for some writing prompts for my son (he HATES writing but his online teacher said she'd be fine with him writing about Minecraft!), I started finding a lot of links for Minecraft curriculum. What could be better than homeschooling with Minecraft? Some cost money but I didn't include those here. I wanted to find things that were free and I think I found a lot! If I find more, I'll keep adding to this list but I hope for now you find this helpful. My son is already so excited to start with some of these things & that makes me happy!
Also, if you want your kids to play Minecraft but are worried about them playing with other people, check out SKrafty. This family-friendly Minecraft server is run by a homeschooling family and your kids can not only just play Minecraft in a safe environment, but you can also sign them up for classes. There are classes by grade-level or by subject.
Math
Minecraft Themed Math Worksheets from Mama Goes Frugal
Minecraft Math: Distinguishing Area and Perimeter (Grade 4/5) from Teaching Math Literacy
Minecraft Addition and Subtraction from Coloring Squared
Minecraft Multiplication and Division Printables from Coloring Squared
Minecraft Long Addition Worksheets from Homeschool Encouragement
Minecraft Addition Worksheets from Blessed Beyond a Doubt
Minecraft Themed Math Sheets from A+ Homeschool
Language Arts & Reading
8 Reading and Writing Activities for Kids who Love Minecraft from Adorable Chaos
Minecraft Writing Prompts from In Our Write Minds
Minecraft Writing Prompts #2 from In Our Write Minds
Teach Creative Writing with Minecraft from Healthy Family
Printable Minecraft Handwriting Practice Worksheets from Pepper Scraps
History
Minecraft History Project – Ideas and Lesson Plan from Adorable Chaos
Science
Exploring Science with Minecraft from Adorable Chaos
Games
Minecraft Monopoly Printable Game from Pixel Paper Craft
Minecraft Crossword Printable from Farmer's Wife Rambles
Minecraft Dice Game from The Activity Mom
Other
A Homeschool Mom's Guide to Minecraft Learning from Adorable Chaos
Printable Minecraft Bookmarks from Grunge Zombie
4 New Ways Kids Can Learn with Minecraft from Learning Liftoff
Practical Lessons Kids are Learning from Minecraft from Education Possible
7 Ways to Use Minecraft When Homeschooling from Mama Teaches