Homemade Clorox wipes are a handy, inexpensive way to disinfect high-touch areas in your home.
Made with common household supplies, these homemade Clorox wipes can be used on most hard surfaces around your home. All you need is Clorox bleach, good-quality paper towels, water, and a sealable container to store the wipes in.
These wipes are also a great alternative when your local store is out of your regular wipes. Easy to make in a pinch, they provide an effective disinfecting option for cleaning your home.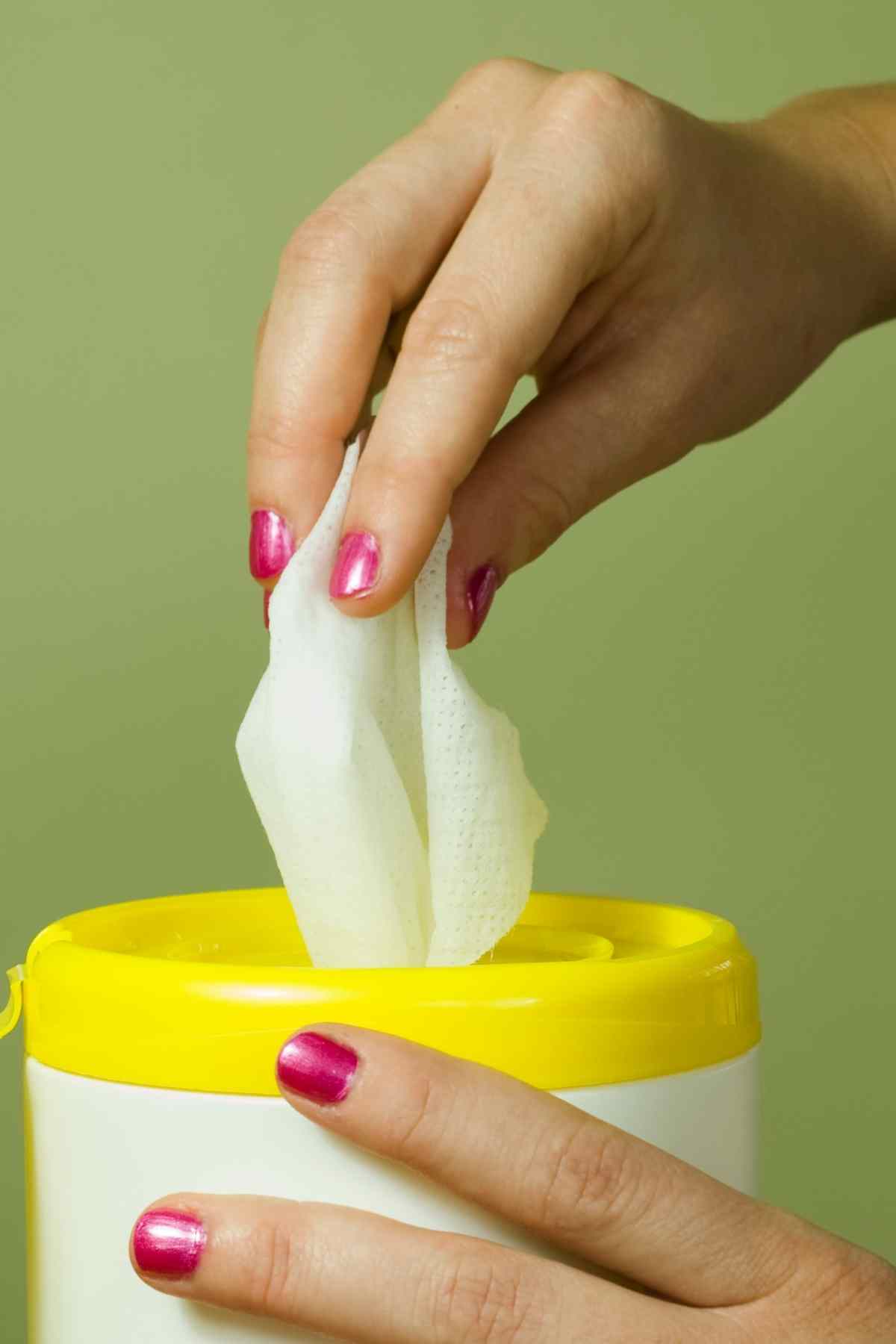 What You'll Need
Paper Towel Roll: Use high-quality paper towels for the best results.
Container: A plastic container with a closable lid that will fit a roll of paper towels cut in half. 
Water: You can use regular tap water.
Clorox Bleach: Use a household cleaner that bleaches, cleans, and disinfects. 
How to Make Clorox Wipes at Home
Clorox wipes can be made at home using a few simple supplies.
Wearing gloves, mix the bleach and water in the airtight storage container.
Cut the paper towel roll in half.
Submerge the paper towel in the container.
Tightly close the container and store it in a cool, dry place for up to 24 hours. 
Tips & Tricks
Use high-quality paper towels like Viva: 2-ply, high-quality paper towels are strong and won't fall apart when they get wet.
After cutting the paper towel, don't forget to flip it over before sticking it into the container. Keeping the smooth, precut side of the paper towels at the top of the container makes it easier to pull the wipes out. 
Store in a cool and dry place with the lid on. Storing the Clorox wipes container in a cool, dry place will keep the wipes moist. 
Container Ideas for Homemade Clorox Wipes
As long as the lid is secure and the container fits a half roll of paper towels, there are several options. Some options for homemade Clorox wipes include glass mason jars, cereal storage containers, empty Clorox/Lysol wipes containers, or clean plastic food containers.
What Are the Ingredients in Clorox Disinfecting Wipes?
Clorox Disinfecting Wipes contain n-Alkyl (C14, C16, C12, C18) and Dimethyl Benzyl Ammonium Chloride.
How Do You Make Clorox Wipes with Alcohol?
Alcohol-based disinfectant wipes can be made by mixing 7 cups of 91% isopropyl alcohol with 3 cups of water or 6 cups of 95% ethanol with 4 cups of water. Be sure to wear gloves when mixing any DIY disinfectant solution.
How to Use Disinfectant Wipes?
When using disinfectant wipes on high-touch areas, it is advised to wipe in one direction and leave the surface wet for a minimum of one minute.
In addition, it is recommended that gloves be worn at all times when handling the wipes. Rooms should also have proper ventilation while cleaning.
How Long Do Homemade Clorox Wipes Last?
Homemade Clorox wipes last up to 24 hours, according to the CDC.
DIY Clorox Wipes (Step by Step Instructions)
Homemade Clorox wipes are a handy, inexpensive way to disinfect high-touch areas in your home.
Equipment
Rubber Gloves

Kitchen Knife

Measuring cup
Ingredients
1

paper towel roll

we'll use only half of it

1

airtight container

big enough to hold half of a paper towel roll, and with a fitted lid

1

cup

water

1/2

tablespoon

Clorox bleach
Instructions
To Make the Clorox Wipes
Open a window for proper ventilation and wear rubber gloves.

Cut the roll in half through the middle using a kitchen knife.

Flip it over and place it into a container or previous Clorox/Lysol wipes box.

In a measuring cup, mix water and Clorox bleach.

Pour the solution over the paper towel roll. Let it soak up the solution for 5 minutes before using.

Remove the cardboard center from your paper towel roll, and throw it away.

Tightly close the container.
To Use the Wipes
Pull from the center of the paper towels.

Rub it over your countertop or other items, and leave it for 5 minutes so that it thoroughly disinfects.

Close the container with the lid, and store it in a cool and dry place.