When I think back to my childhood and all of the great family BBQs and birthdays we celebrated together, I always remember my Grandma in the kitchen, cooking all of our favorite foods. She really loved making food for all of us and would always try to make things that we all liked. One of my favorite things was the baked beans that she made. I remember we'd go to her house and she's always tell me "Tara! I made your beans for you!" because she knew that there was a pretty good chance that I was going to eat at least half of the batch of beans.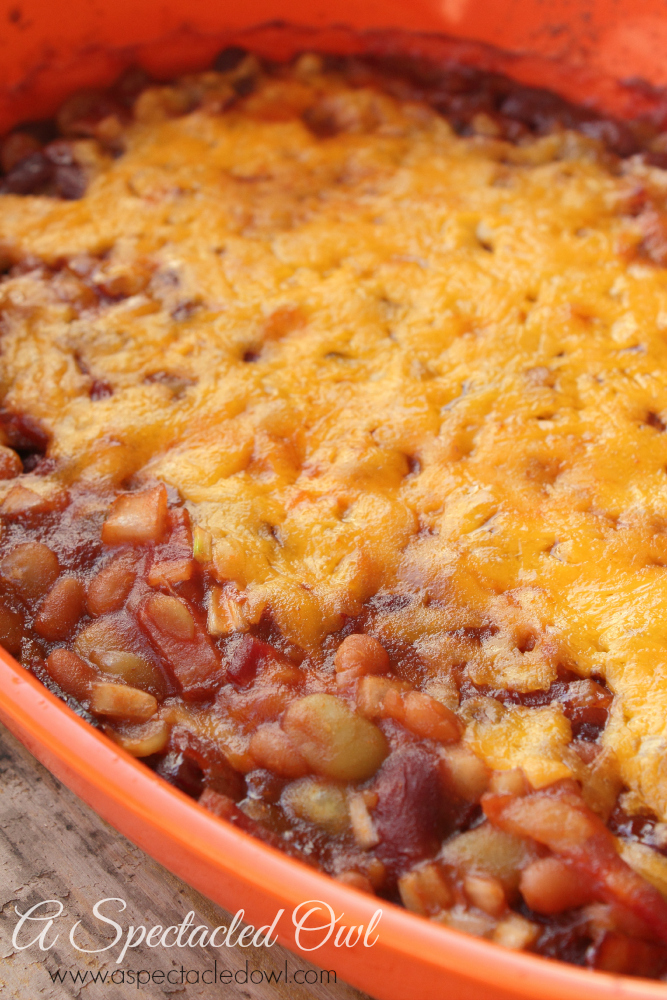 My Grandma is 82 and not able to cook like she used to. I got to spend some time at her house at the end of last year and she kept telling me how sad it made her because she LOVED cooking so much. I might not be the best cook but I know that keeping some of her recipes alive is something she would really love. I'm really excited to share her baked bean recipe with you all! What makes these baked beans different from other baked bean recipes I have seen is the layer of yummy cheddar cheese on top. It's a nice added bonus that I love.
In my opinion, cheese just makes everything taste so good and when the cheese is fresh & delicious, it's even better! Whether you are gearing up for a Super Bowl party, having the family over for a party/get together, weeknight dinner with the family or snacks for the kids, these beans are a great addition to your menu!
Making my Grandma Peggy's Baked Beans is really simple to make and so good too! Mix cooked bacon, a can of kidney beans, a can of small lima beans, a can of pork & beans, ketchup, brown sugar, onion, dry mustard and vinegar together.
Bake for one hour at 350°. Top with cheese and then put back in the oven until the cheese is melted.
[amd-yrecipe-recipe:12]
Do you have any recipes from your childhood that you still love to make?