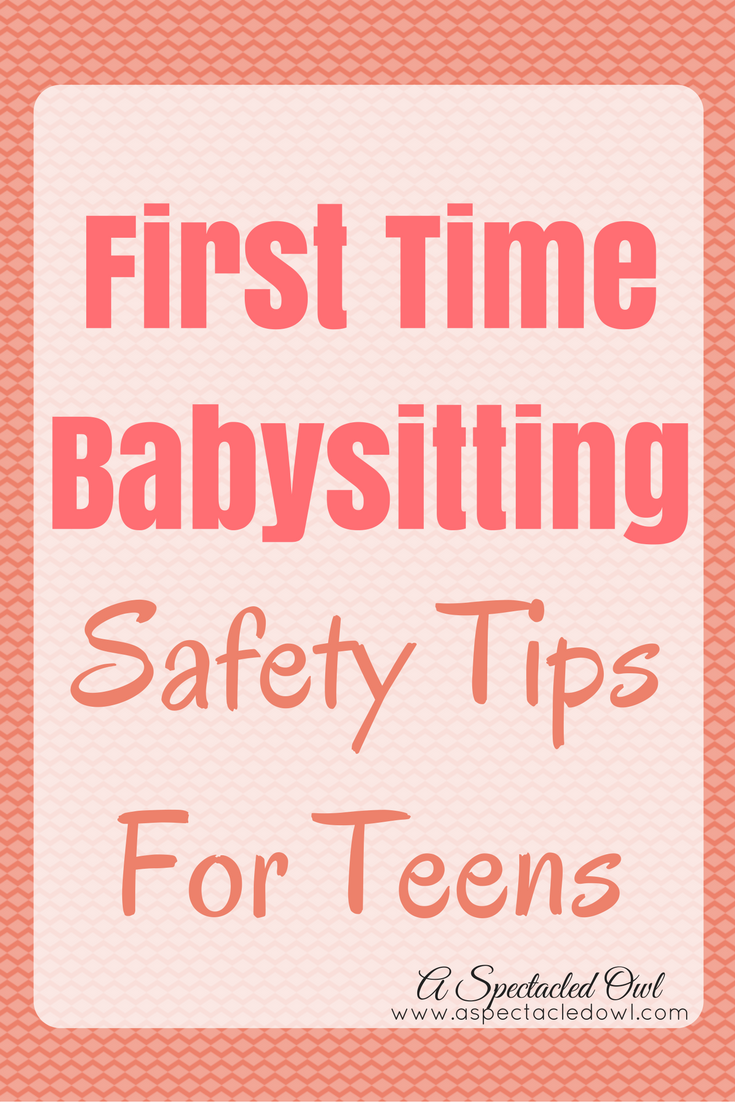 There is nothing more thrilling for a teenager than to make their first few dollars, and these first time babysitting safety tips for teens are sure to make that new babysitting job even better.  Babysitting is a great way for a teenage girl or boy to make money while doing something fun.  Since taking care of another kid is such an important responsibility, there are some safety guidelines they should follow as well as things they should know just in case.
First Time Babysitting Safety Tips For Teens
Get CPR certified.  This is important no matter how safe you believe conditions are.  Everyone who is in charge of children should take a CPR class.  Not only will these typically teach your child about CPR, they often cover other things like how to recognize if someone is drowning, or even hot to do the Heimlich maneuver.  You can contact your local hospital, Red Cross or even local health department to find out where to take a class.
Have emergency contact information for parents. While most parents are proactive about providing this, it is important that your teenager ask as well. Not only will it show responsibility, it will cover any potential forgotten items.  The items below are important to have on hand.
Location where the parent(s) is going
Cellphone information for parent(s)
Family Physician or Pediatrician name and contact information
Any known allergies
Poison control number
Alternate emergency contact phone numbers
Babysit with another teenager.  There is often safety in numbers.  Not only can this help with first-time job nerves, it can help to be more secure if you are watching more than one child.  Having another person on hand to help or manage kids is a great idea.  Splitting the income with a responsible friend is a great way to have a fun night and get some experience under your belt in the babysitting world.
Ask about allergies and medical needs. This is listed in the emergency information as well, but it is a very important babysitting safety tip for teens.  Make sure you understand any allergies or potential medical conditions.  Things like asthma, daily medications to be given or even sensory issues should all be understood before caring for a child.
Avoid ordering takeout.  The movies will tell you that every babysitter should order pizza delivery.  However, this is one thing that is a safety precaution to be handled differently than the movies.  Instead of ordering delivery after parents are gone, ask if you can pick something up on the way, have it delivered while the parents are still there or even cook at their home.  Having a stranger bring food to a home you are unfamiliar with can give them an easy entrance to the home, and leave you in a position of not feeling secure.  For a new babysitting teen, this is just a safety precaution they should take. Avoid inviting a stranger to the home when no adults are around.
Avoid playing on your phone or with electronic distractions.  Teenagers are glued to their cellphone these days, and that sometimes that can be okay. However, in this instance a phone call, text message or game can distract from what children are doing and lead to accidents.  Other than keeping the volume on for parents to contact, a babysitter should keep the phone tucked away and focus on the children.  Play games, watch a movie together, read books or make crafts. The cell phone, friends, messages and games will be there after the kids are safely tucked in bed for the night.
What other safety tips would you add for First Time Babysitters?