Whether you like your pork chops fried, grilled, oven-baked, bone-in, or boneless, we've got a recipe for you! These 24 easy pork chop dinner ideas will show you how to cook perfect pork chops every time.
There's nothing better than a tender, flavorful pork chop with your choice of delicious sides. Spoil yourself and your family tonight with these tasty, budget-friendly pork chop recipes.
Easy and tender pork chops smothered in cream of mushroom soup make a comforting meal in just under 30 minutes. Serve it up with rice, pasta or mashed potatoes and vegetables and you will have a complete meal. I promise you will love these mushroom pork chops!
Smothered in a mouthwatering gravy, slow cooker pork chops turn out both juicy and satisfying with just 10 minutes of prep. Pleasing to just about any palate, kids and adults alike will love the mix of flavors here. The best part? It's both paleo and keto friendly!
Juicy, flavorful and ready in just 15 minutes, these skillet boneless pork chops don't require any marinating or breading. The new go-to meal for those busy days and those picky eaters, your entire family will enjoy this meal again and again! Plus, they're low-carb, budget-friendly and easy to cook!
The sous vide method cooks the bone-in or boneless pork chops to your targeted temperature precisely. Sous vide means "under vacuum" in french. We'll take you through five different, popular, flavors!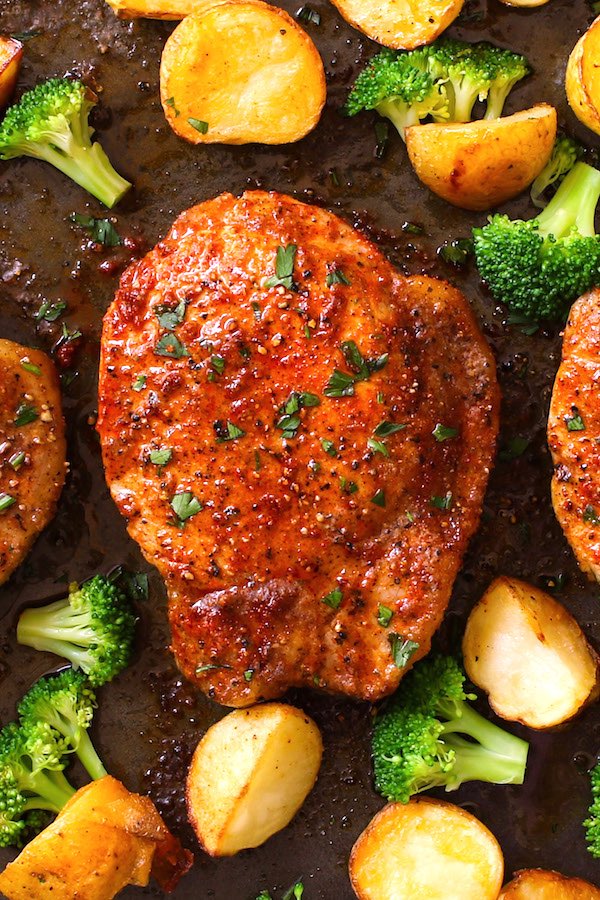 Tender, juicy and easy to make, these baked pork chops have a flavorful dry rub that is worth trying. Cooking these chops at a high temp allows you to cook vegetables at the same time. In just 20 minutes you can have a high-budget tasting meal without the price tag.
Delicious, creamy rich onion gravy smothered on pork chops, this recipe can compete with just about any restaurant out there! Easily made in one pan, they easily become addicting with the flavor of onions and creamy gravy. The tip here is to use buttermilk instead of regular milk to ensure ultimate creaminess.
Tender, moist, and grilled to golden perfection! Say that a few times, and tell me you're not salivating?! A marinate here can make a massive difference, and we'll even take you through that as well.
With just three ingredients, these tender and flavorful chops come with a creamy gravy.
Serve with rice and potatoes and your family or friends will be sufficiently satisfied!
Try cream of chicken soup instead of cream of mushroom if you'd like.
Tell me this doesn't at least tempt your taste buds…juicy, tender, sticky and garlicky!
These bone-in pork chops are a perfect balance between savory and sweet.
The key here is to select the right pork chops, and we'll take you through that process, too.
One of our favorite instant pot recipes. Full of honey garlic flavor and so easy to make!
Throw in your choice of vegetables to cook with, and if you're not a fan of honey garlic try ranch or bbq sauce! Prep time is only five minutes, so get at 'em'!
Five ingredients, and ready in 15 minutes! Yes, please!! We'll guarantee moist pork chops with this recipe. Our rub will please your taste buds as well. and one thing a lot of people forget when cooking pork chops – let them sit for five minutes to allow the juices to retreat into the meat.
Keto anyone? Keto pork chops with a finger-licking dijon sauce are both tender and flavorful and ready in just 20 minutes. Go ahead, grab the broth, avocado oil, cream, parsley and dijon mustard for a mouthwatering chop that can't be beaten!
An easy meal with just 10 minutes of prep? Sign me up! The rice and pork easily bake together in this recipe, perfectly hearty and perfect for busy weeknights. Honestly, dinner doesn't get much easier than this.
If you're thinking of an interesting combination here – you're right!
This recipe will make the whole family happy!!
Two things stand out here: 1) You can jazz up this recipe the way you want, and 2) How do 37 grams of protein sound?
Simple, quick and you can cook broccoli right alongside your pork chops. Ready in just minutes, and you can top that broccoli with some melted cheese! This dish serves up 40 grams of protein!!
Pat that pork chop dry, cover it in the flour mixture, dip in seasoning mix and put it in the skillet on the stove – simple steps to make the perfect fried pork chops. Ready in just 20 minutes, be sure to have a splash screen ready because frying can be fun but messy!
The name alone should sell you on this recipe – apple bacon stuffed with cheese, pork chops that are cooked to perfection and loaded with incredible flavor! You'll love how well the apple pairs with the pork chops here; it's an ideal combination like peanut butter and jelly or fish and chips!
Tender and juicy with a crunchy coating! Need we say more?
Just a few ingredients are all you'll need.
Boneless center-loin pork chops are what we suggest, and always remember thinner chops cook faster!
Only minutes to prepare, these pan-roasted pork chops can be flavored with your favorite dry rub to tailor suit your palate. The tip here is to use chops that are at least ¾ thick to prevent drying out when cooking and cook until they reach an internal temperature of at least 140°F. Don't be afraid to get a little creative here!
A whole family dinner consisting of pork chops, potatoes, and green beans, and we'll even take you through making raspberry ketchup! This has healthy written all over it!
What are you waiting for…get cooking!
Say goodbye to dry and flavorless pork chops and hello to juicy, tender and flavorful chops that take little effort. You'll love how easy these are to cook and even easier to go down. The tip here is to take the pork chops out of the fridge at least 30 minutes before you cook them to bring them to room temperature, allowing them to cook more evenly.
Quick, inexpensive and delicious!
From the honey mustard sauce to the finished product, you could be eating within 10 minutes of start/prep time. Did we mention that 41 grams of protein await you?!
Grab the thick-cut pork chops here for the perfect thick-cut pork chops recipe – they will rival any steak recipe out there! With just 20 minutes of cooking time, the ingredients make it even more simple, only requiring salt, pepper and oil.
New to smoking meat? This recipe is perfect for the beginner to meat smoking and will produce a juicy, thick pork chop that will stop you in your tracks every time. The key here is to buy a thick cut of meat – about 2-inches thick! Just take a breath, take your time and enjoy this one!
Best Pork Chops Recipe
The sous vide method cooks the bone-in or boneless pork chops to your targeted temperature precisely. Sous vide means "under vacuum" in french. We'll take you through five different, popular, flavors!
Ingredients
Base:
4

Pork Chops

2

tablespoons

olive oil

divided

1/2

teaspoon

salt

1/2

ground black pepper
Honey Garlic Sauce:
1/4

cup

honey

2

cloves

garlic minced

2

tablespoons

soy sauce

2

tablespoons

white vinegar
Balsamic Mustard Sauce:
1/4

cup

balsamic vinegar

2

tablespoons

mustard

1

tablespoon

minced rosemary

salt

to taste
Maple Syrup BBQ Sauce:
1/4

cup

maple syrup

3

tablespoons

ketchup

2

tablespoons

soy sauce

2

tablespoons

white vinegar
Applesauce:
1/2

cup

apple sauce

1 ½

tablespoons

brown sugar

1/2

tablespoon

ground mustard

1/8

teaspoon

cinnamon powder

salt

to taste
Keto Seasoning:
1 1/2

teaspoons

garlic powder

1

teaspoon

paprika

or smoked paprika

1

teaspoons

salt

1

teaspoon

black pepper
Instructions
Pre-heat the sous vide water bath: Add water to the sous vide container or a large pot, set the Sous Vide Precision Cooker to (140°F/60°C) for medium-rare doneness. If you'd like to cook it more or less, see the temperature chart in the post above. (It's best to place the container on a cutting board or pad to prevent it from burning the surface of your counter.)

Season the pork chops: Rub the pork chops with 1 tablespoon oil on all sides.

Season both sides with salt and pepper.

Sous vide the pork chops: Add the seasoned pork to a zip-loc bag in one single layer. (You can also use vacuum seal bags if you have a vacuum sealer.)

Seal all but one corner of the bag, and slowly place it into the water bath. Make sure everything below the zip-line is covered by water. Then seal the rest of the bag. (Use a kitchen tong to help to push down the bag if the water is too hot.)

Leave the bag in the water bath and make sure it is fully submerged.

Cook for 1 hour for 1-inch pork chops.

Make the sauce or seasoning: While the pork chops are cooking in the sous vide water bath. You can mix the sauce or seasoning ingredients in a small bowl. If you choose to use one of the sauces, cook it in a skillet over medium-low heat until thickens. (Note that it will become thicker after cooling down.)

Sear the pork chops: When the timer goes off, remove the bag from the water bath and transfer it to the fridge or an ice bath. Let them chill for about 10 minutes.

Remove the pork chops from the bag and wipe off the moisture with paper towels. (It's very important to dry the surface completely, otherwise, it will interfere with the searing.)

Place the cast-iron skillet on medium-high heat. Add the remaining olive oil.

If you're cooking the pork chops with one of the sauces, add the pork chops and sear about 1-2 minutes for the first side. Flip the pork chops, and add the sauce. Cook for another 1-2 minutes, and toss the pork chops with the sauce. If you're cooking the pork chops with the Keto seasoning, sprinkle the seasoning on the pork chops and sear in the skillet for about 1-2 minutes each side.

Let the pork chops rest for about 5 minutes and serve.