Spice things up in the kitchen this month by adding a few delicious and flavorful Mexican dishes to your meal plan. We love these tasty recipes because they are packed with interesting ingredients, plus they are easy to pull together on any weeknight.
Read on to discover at least 18 easy Mexican dishes to try this month. Deliciosa!
These chicken fajitas are an easy dinner with tender chicken breasts, bell peppers and sweet onions tossed in homemade seasonings and piled high on tortillas! Serve with your favorite toppings like sour cream, salsa, guacamole or cheese.
This is a versatile ingredient that can be enjoyed in many dishes. From nachos to enchiladas and even pizza, this Mexican staple adds delicious flavor and a good source of protein to dishes.
These carnitas are so moist and tender on the inside and crispy on the edges! This recipe is a foolproof and no-fuss way to cook the Mexican pulled pork to the perfect texture, as you can set the temperature precisely to your desired doneness. There is no chance of overcooking. It's completely a game-changer!
Tamales are a traditional dish in several Central and South American countries, and Mexican tamales are perhaps the most famous recipe. They're loaded with flavors and fun to eat with family and friends, so make your next Taco Tuesday a Tamale Tuesday with this recipe!
If you're a fan of shredded beef, you'll want to give this Mexican shredded beef recipe a try! Also called Machacha, it is full of delicious Mexican flavor and would be the perfect dish to feed a crowd on game day!
These blackened shrimp tacos are full of bright color and flavor! The mango adds a hit of juicy sweetness and the avocado is rich and creamy. Make a plan to serve these gems for next week's Taco Tuesday!
Mulitas are basically a double-deck quesadilla with two tortillas and meat on the inside. They're loaded with gooey melted cheese and a flavorful carne asada, with crispy tacos on both sides. Talk about mouth-watering Mexican comfort food everyone loves!
This Chili Dog Casserole is hot dog wrapped with biscuit dough, then baked in a homemade chili sauce with shredded cheese. An easy Tex Mex meal tastes like your favorite Mexican restaurant. It's the best chili dog recipe you will EVER have!
This Taco Casserole recipe is loaded with tortillas, ground beef, corn, salsa and lots of shredded cheese, all baked in layers until bubbling and hot! It's a fall and winter staple that's full of crave-worthy Mexican flavors.
You'll love the spicy flavor of these shrimp fajitas! Serve them with sour cream, guacamole, and lime wedges! This dish takes just 15 minutes to make – the perfect solution for busy weeknights.
If you're looking to enjoy iconic sandwiches from all over the world, the Mexican torta has to be on your list! This Torta Mexicana recipe combines a juicy, well-seasoned sirloin steak with your favorite Mexican ingredients like refried beans and cotija cheese.
This Chicken Fajita Casserole is loaded with onions, bell peppers, cheese and fajita seasonings. It's a mouthwatering meal that's low-carb and ready in just 30 minutes with easy prep!
Refreshing, zesty and flavorful, jaiba ceviche is a tasty Mexican crab salad that's enjoyed by seafood lovers in many Latin American and Caribbean countries. Made with succulent crab meat, fresh lemon and lime juices and colorful tomatoes, it's a perfect summer side dish. You can use real crab meat such as jaiba blue crab or imitation crab meat for this easy recipe.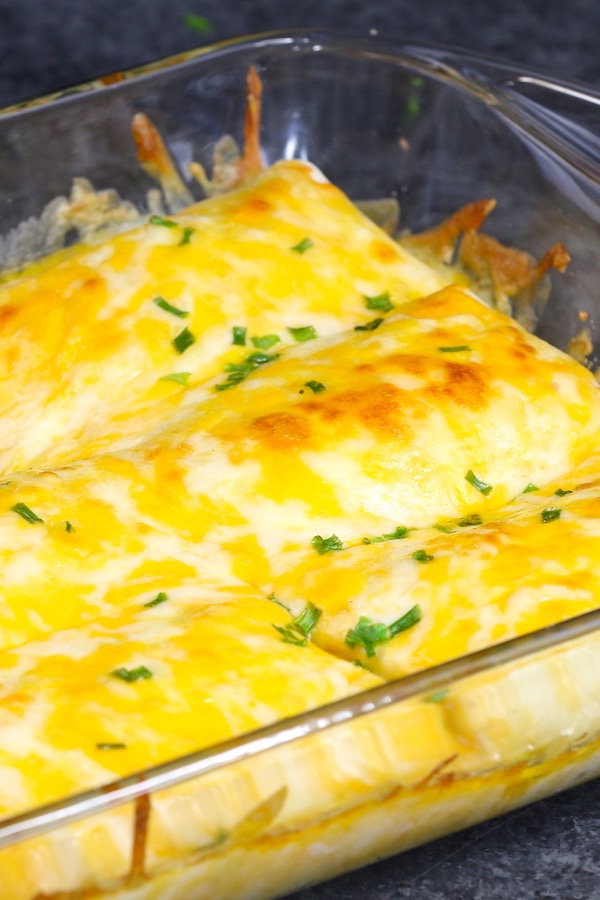 Burrito Casserole is an easy and delicious beef burrito recipe where ground beef is sauteed with beans, onions, corn and other seasonings. Then the mixture is wrapped in flour tortillas and baked until golden brown. It's a cheesy Mexican burrito recipe that everyone loves.
You'll love the flavors and textures of these shrimp tostadas! The shrimp is grilled until plump and juicy and is served with creamy guacamole on a crisp tostada.
Mexican beef and rice casserole ticks all of the boxes. There's tons of cheesy flavor, it's loaded with hearty seasoned beef and taco toppings, it looks delicious, and it's perfect for a weeknight dinner option.
This traditional seafood soup is a delicious combination of red snapper, blue crab, shrimp, and crawfish! It takes about 45 minutes to make and is the perfect meal to enjoy on a chilly evening.
This Beef Enchilada Casserole is super easy to make and deliciously tasty. You'll love the Mexican flavors of the creamy refried beans, layered beef, corn tortillas, and melted cheese smothered in a flavorful enchilada sauce and baked to a bubbly perfection!
Easy Mexican Dish: Refried Beans Recipe
This is a versatile ingredient that can be enjoyed in many dishes. From nachos to enchiladas and even pizza, this Mexican staple adds delicious flavor and a good source of protein to dishes.
Ingredients
2

cans pinto beans

15 ounces each

1

tablespoon

olive oil

½

cup

finely chopped onion

¼

teaspoon

fine sea salt

2

cloves

garlic

pressed or minced

½

teaspoon

chili powder

¼

teaspoon

ground cumin

½

cup

water

2

tablespoons

chopped fresh cilantro

1

tablespoon

lime juice

about ½ medium lime, to taste
Instructions
In a medium saucepan set to medium heat, warm the olive oil until it shimmers. Add the onions and salt. Cook, stirring occasionally, for about 5-8 minutes until the onions have softened and are turning translucent.

Add the garlic, chili powder and cumin. Cook, stirring constantly for about 30 seconds until fragrant. Add the drained beans and the water. Stir, cover and cook for 5 minutes.

Reduce the heat to low and remove the lid. Use a potato masher or the back of a fork to mash at least half of the beans until they reach the desired consistency. Continue to cook the beans, uncovered, and stirring often for about 3 minutes.

Remove the saucepan from the heat and stir in the cilantro and lime juice. Taste, and add more salt and lime juice if needed. If the beans are dry, add a very small amount of water and stir to combine. Cover until ready to serve.