Crockpot chicken is easy to make and full of flavors. We've rounded up 19 of the best Crock Pot Chicken Recipes to get you inspired.
Say these slowly. Chicken Noodle Soup. Chicken Curry. Chicken Teriyaki. Butter Chicken. Hungry yet?
Now imagine all that goodness served up in a slow cooker! Salivating yet? Thought so!!
Probably the easiest and completely delicious soup you will ever make! Slow Cooker Chicken Noodle Soup is a comforting and nourishing meal that takes just 10 minutes of prep and the crock pot does the rest.
Crock Pot Chicken Cacciatore is not only easy to make but healthy too!! It's a tender and flavorful Italian chicken dinner recipe made in a slow cooker. Simply simmer the chicken thighs or chicken breasts in mouth-watering cacciatore sauce, absorbing all the delicious flavors! Your house has never smelled so good!
With succulent chicken thighs, vegetables and a finger licking, sticky honey garlic sauce, this slow cooker honey garlic chicken thighs is nothing short of easy. With just 15 minutes of prep, your slow cooker will do the rest!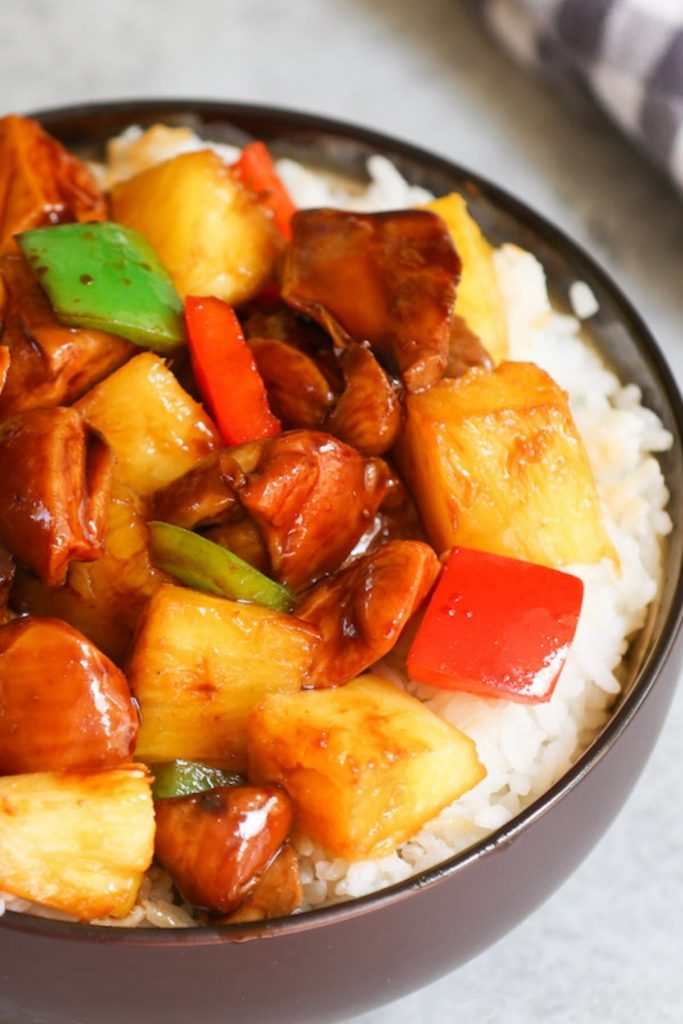 If you're craving sweet and sour chicken but don't want to eat out, this sweet Hawaiian crockpot chicken is the perfect recipe for you. It's easily made in the crockpot, freeing up the amount of time you need to spend in the kitchen. It's also easy to prepare, thanks to the boneless, skinless chicken thighs. We think your family will love the tropical pineapple flavor!
Tender, juicy and flavorful, these slow cooker bacon wrapped chicken breasts are made with just 4 ingredients. Wrapped in bacon, the chicken pieces are marinated while they cook in the crock pot – absorbing the flavor from the bacon and spices.
Crispy pieces of fried chicken cooked with a sweet tangy sauce in the slow cooker. Does it get any better? General Tso's Chicken has continued to gain popularity in North America and we'll show you why with this recipe. Deep fry your chicken for a crispier result.
Only five minutes to prepare, and five or less ingredients, for mouthwatering Mississippi Chicken. Juicy and flavorful chicken awaits!
Easy to make and no marinade required, this slow cooker chicken fajitas turn out both tender and juicy. The chicken breasts are cooked in the crockpot with bell peppers and onions with flavorful fajita seasoning, and completed by serving with flour tortillas.
These Crockpot Chicken Thighs may just be the best you'll ever taste! The slow cooker method here produces super tender and succulent chicken thighs with incredible flavor. Serve with veggies and potatoes or rice, and be sure to drizzle it all with the thick and delicious gravy.
A clear broth soup, this Slow Cooker Chicken Tortilla Soup is warm enough to enjoy during those cold nights and light enough to enjoy in warmer weather . Squeeze some lime on top, and serve with a nice cold drink!
If you love chili then you'll certainly love this creamy white chicken chili – it may just take the top spot in your weekly meal go to! It's so deliciously savory with just the right amount of spice! Plus, it's almost effortless since it cooks in your slow cooker!
The combination of warm curry flavors and coconut milk add the perfect amount flavor and moisture to the lean chicken breasts in this Slow Cooker Chicken Curry recipe. Plus, you'll love that this is an authentic one-pot dish!
homestyle comfort food at its finest! Crock Pot Chicken and Dumplings are made easy. If you love traditional chicken and dumplings, you'll love this easy crockpot chicken recipe! Plus, you may just enjoy making each dumpling by hand!
This slow cooker butter chicken is the definition of simple. It's a no fuss, authentic Indian Butter chicken dish that calls for specific spices. Don't worry though, you will definitely enjoy this recipe that's loved by tens of thousands of people.
Ready for some mouth watering chicken thighs? These Crockpot Chicken Thighs are the best you'll ever taste!! They are super tender and succulent, and the overall flavor is something you will continuously crave.
Juicy on the inside with delicious, herbed, crispy skin on the outside, this certainly is the best slow cooker rotisserie chicken. Prep this in just 15 minutes in the morning and come home to a finished dinner and a house smelling amazing!
I think I can sum this recipe with a few factual points. First of all, it's absolutely delicious. Now add to that it's gluten and dairy free, and paleo friendly and I think it's a win-win for everyone!
A versatile dish that your whole family will love! Slow cooker ranch chicken can be served by itself or into meals like tacos, pizza toppings, salads, sandwiches, wraps and so much more. Makes enough to feed a large crowd and only takes 5 minutes of prep!
Tender juicy chicken cooked in a creamy homemade sauce with pasta in a slow cooker. Can you sign me up! One of our most popular dishes, and you'll soon find out why.
Best Crock Pot Chicken Recipe Collection
These Crockpot Chicken may just be the best you'll ever taste! The slow cooker method here produces super tender and succulent chicken thighs with incredible flavor. Serve with veggies and potatoes or rice, and be sure to drizzle it all with the thick and delicious gravy.
Ingredients
4-5

chicken thighs

bone-in, skin on, about 1½ – 2 pounds

2

tablespoons

olive oil

Salt and pepper

to taste

1

pound

baby potatoes

1

pound

carrots

peeled

1

cup

onions

sliced
Brown Sugar Garlic Sauce
1/3

cup

brown sugar

2

tablespoons

garlic

minced

½

cup

soy sauce

low sodium recommended

¼

cup

ketchup
Instructions
Season the chicken thighs with salt and pepper, rubbing it into all sides.

Heat a large skillet over medium-high heat, and once hot add olive oil.

Add the chicken and brown on both sides, about 3-4 minutes each side.

Transfer the chicken to the crockpot, and add carrots, potatoes and onions.

In a small bowl, whisk together brown sugar, garlic, soy sauce and ketchup.

Pour the sauce mixture on top.

Cover the lid and cook for 2-4 hours on High or 4-6 hours on Low.

(Optional) Broil the chicken for 2-3 minutes before serving for additional crispiness and color.

Remove the chicken and veggies onto serving plates.

(Optional) Thicken the sauce by adding a slurry of 1 tablespoon of cornstarch mixed with 1 tablespoon water. Cook for about 10 minutes until the sauce is thickened.

Drizzle with sauce and garnish with optional parsley.
Notes
Avoid over-cooking by checking the chicken at the earliest time of the range.
If you are making crockpot chicken breasts, follow the same instructions but adjust the cooking time.
Don't put the frozen chicken into the crockpot, let it thaw first before cooking.
Guidance on how long to cook chicken in a crockpot:

Bone-in Chicken Thighs: 3-4 hours on High or 4-7 hours on Low
Boneless Chicken Thighs: 2-3½ hours on High or 4-5½ hours on Low
Bone-in Chicken Breasts: 2-3½ hours on High or 4-5 hours on Low
Boneless Chicken Breasts: 2-3 hours on High or 3-4 hours on Low
Whole Chicken (6 lbs): 6-6½ hours on High or 7-8 hours on Low