If you're looking for some new ways to add a spark to your breakfast, we've got you covered. Keep reading to check out our collection of 15 Creative Breakfast Ideas that are fun and easy to make.
Healthy Breakfast Pie that's easy to make with a few simple ingredients: granola, peanut butter, almonds, cinnamon, yogurt, berries and nuts. A great vegetarian breakfast or brunch idea.
Pie for breakfast? Nope, but close! It's quiche! Another great make-ahead meal that's filled with all your favorites – from cheese to veggies, it has it all!
Do you have any pizza fans in your house? Then you're about to make them happier with this bacon egg cheese breakfast pizza. It's delicious and easy to make right in the oven. Plus, you can even get your kids to help make this!
Picture this, scrambled eggs, sauteed vegetables and salsa stuffed inside a tortilla shell! Now imagine eating that for breakfast! Wouldn't that just put a little pep in your step?
Kids and adults alike will love this one! It brings the love of cereal and dessert all in one dish! Fruity pebbles dessert bowls perfectly combine 3 ingredients for one memorable treat!
Who doesn't love a buttery crescent roll? This recipe takes that love and steps it up a notch! It's an easy and hearty breakfast that is sure to please! Made with just 5 ingredients, this crescent roll breakfast casserole is loaded with sausage and ooey gooey cheese!
Made with eggs, cheese, bacon and veggies, these breakfast egg muffins are the answer to easy meal prepping! With just a few minutes required to put this together, this recipe allows you to freeze and pop in the microwave when you're ready to eat.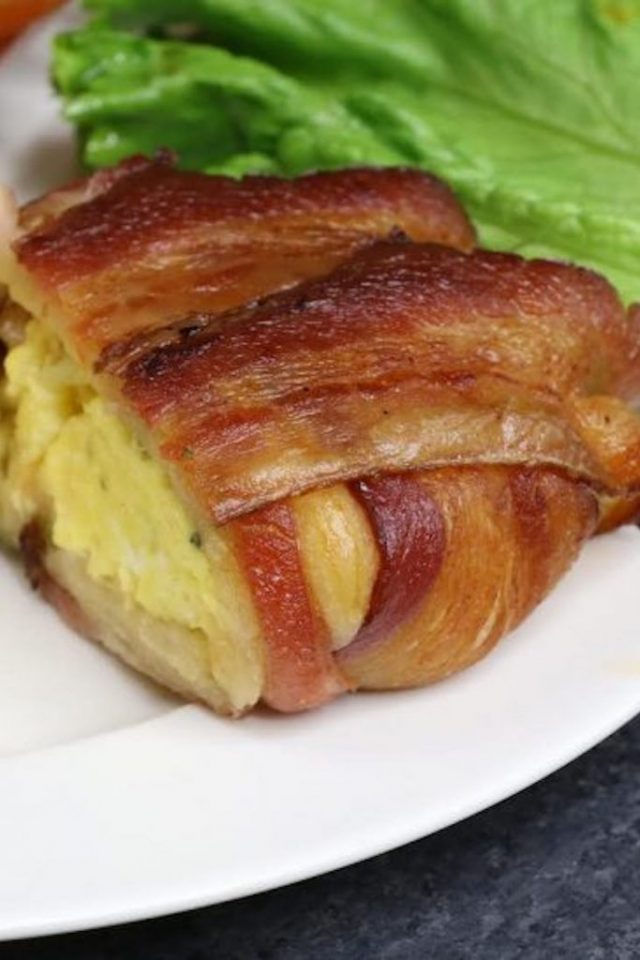 Who doesn't love bacon? If you don't, you're certainly missing out! This breakfast bacon covered crunch wraps recipe is perfect for those lazy Sundays! Plus, your kids will have fun helping create these too!
Holiday breakfast croissant boats are a creative meal option that can be used for breakfast or brunch. Made with eggs, ham, and cheese, baked right in the croissants! Top with some veggies and you're good to go!
Craving something a little heartier? Try this breakfast burrito recipe! They're loaded with sausage, eggs, cheese, and a homemade avocado-tomato salsa.
Healthy cookies? Yes, they're a thing and they're for breakfast! Great to make ahead of time and even make a perfect on the go snack! With just a little bit of sugar for taste, this recipe is nothing short of a delicious treat!
Quinoa can be an acquired taste, but does it have to be? This recipe makes a breakfast bowl that is perfectly seasoned with cinnamon. The excitement doesn't stop there! It's also vegan, gluten-free, and full of protein!
These Breakfast Sliders feature fluffy eggs, crispy bacon, bell peppers and cheese baked in dinner rolls. They're delicious straight out of the oven or you can make them ahead of time to freeze too!
These cupcakes are a delicious way to start your day featuring a granola crust, yogurt and fresh fruits. They're easy to make in about 15 minutes for the entire family with a few simple ingredients.
This is a unique dish that is sure to impress everyone at your next get-together. Made with eggs, cheddar cheese, and bacon, this savory bread is ready to enjoy in just 50 minutes, and is a meal of its own!
Creative Granola Breakfast Pie Recipe
Healthy Breakfast Pie that's easy to make with a few simple ingredients: granola, peanut butter, almonds, cinnamon, yogurt, berries and nuts. A great vegetarian breakfast or brunch idea.
Ingredients
3

cups

granola

1

cup

peanut butter

1/3

tbsp

cinnamon

1 1/2

cups

greek yogurt

1/3

cup

chopped almonds

Toppings of your choice: such as more granola blackberries, raspberries, chopped almonds, pistachios, dried cranberries, shredded coconut, chocolate chips
Instructions
In a large bowl, mix the granola, chopped almonds, cinnamon, and peanut butter until combined.

Add the granola mixture into a 9-inch pizza pan lined with parchment paper. Press down firmly.

Chill for an hour to let it set. Or you can leave it in the fridge overnight

Remove from pan, then top with yogurt. Add your favorite fruit and toppings. Serve and enjoy!