If you're looking for a dish that can be easily made in a cast iron skillet, then you've come to the right place. Whether it's breakfast, lunch, or dinner, there are tons of delicious recipes you can turn to without leaving a messy kitchen behind. Here are some of our favorite Cast Iron Skillet Recipes that we think you'll love just as much as we do.
The best part about this meal is that it results in meat that is cooked to perfection! Pan-sear this mouthwatering filet mignon and pop the skillet in the oven to finish up. This will leave you with savory, tender meat covered in a tasty caramelized crust. Bonus: it's ready in just 15 minutes.
Chicken fajitas are always a crowd-pleaser. Tender chicken breast sautéed with bell peppers and onions and smothered in authentic homemade seasonings, this quick and easy dish is perfect for a busy weeknight. Serve with warm tortillas and top with guacamole, salsa, sour cream, or cheese.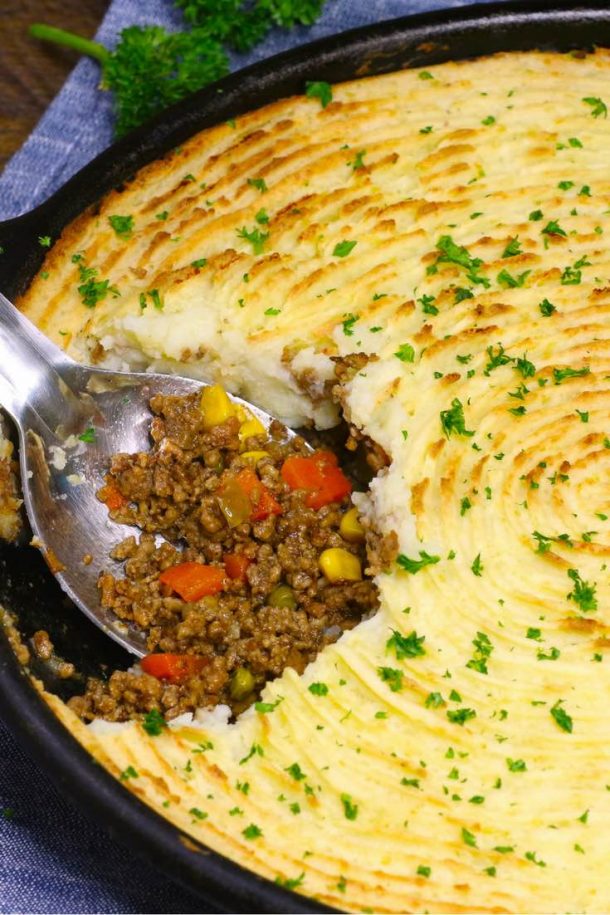 Juicy beef sautéed with onions and carrots and topped with whipped mashed potatoes, this Shepherd's Pie recipe is easy and satisfying. The best part? There's only one pan to clean afterward!
This baked ham and Swiss sliders recipe is loaded with flavor. Lathered in a mouthwatering butter sauce, these bite-sized bits are delicious. They make the best appetizers, too.
Bet you didn't know you can make the best pizza ever, right in your cast iron skillet. This deep-dish pizza is a guaranteed family favorite.
Garlic butter-seared steak is as delicious as it sounds. It's easy to whip up and it is bursting with tender, juicy flavor. Busy weeknight? No sweat. This delicious meal is ready to serve in just 15 minutes.
Chicken cutlet is a quick meal to make and it doesn't have to be boring. Made with a creamy sauce, tomatoes, zucchini, and authentic Italian spices, this quick dish is sure to be a hit. Even your pickiest eaters will love this chicken alongside some whole wheat pasta or fluffy rice.
This steak pizzaiola is a unique and flavorful dish the whole family will love. Hearty and delicious, this meal is always a winner.
Seasoned with authentic Mexican spices like cumin, chili, paprika, and garlic powder, these blackened shrimp fajitas are zesty and delicious. Plus, you only have one pan to clean when you're done.
Simple and delicious, this ground beef casserole can get you out of a jam on a weeknight but is also great for serving a crowd.
Smothered in gravy and crispy bacon, this fried chicken is the only fried chicken you'll ever want to eat again.
Gorgonzola pairs so well with portobello steak and this recipe proves it. Your whole family will devour this quality meal.
Is there anything better than a tasty, cheesy taco? This meal is easy to make and quick to clean up after. What more could you ask for?
This traditional Puerto Rican dish is a mouthwatering meal your family will love. It's a filling and satisfying dish that will tantalize your taste buds.
This savory dish is bursting with flavor. Strips of juicy beef cooked with tasty bell peppers and a flavorful sauce, this meal comes together in just 30 minutes.
Made with smoky sausage and tender veggies, this pasta dish is loaded with protein and flavor.
Bacon jalapeño cornbread is a twist on cornbread that everyone is sure to love. Your family will beg for seconds.
This traditional Greek dish is layer after layer of goodness. Tasty tomato sauce, savory ground beef, tender eggplant, and a topping of rich béchamel sauce, this comfort dish is sure to satisfy.
Pesto chicken is a refreshing and savory meal that looks like a five-star chef prepared it. Tasty and simple to make, this creamy dish is going to become a family favorite.
This brunch side dish is crispy, tasty, and satisfying. Made with shredded hash browns, peppers, bacon, eggs, and melted cheese, this gluten-free side is always a crowd-pleaser.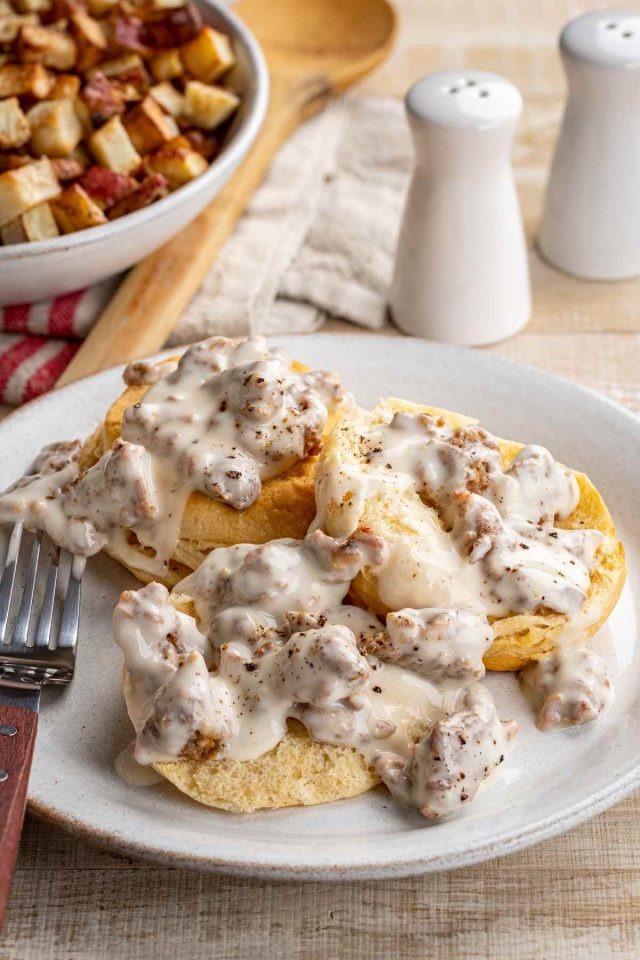 This Southern biscuit and gravy recipe is made with creamy buttermilk, smoky sausage, and loads of drippings. It's a savory comfort dish that really hits the spot.
This tangy and delicious meal is restaurant-quality delicious. It comes together with a lightly caramelized crust, lathered in a zesty lemon caper sauce. Plus, it's simple to make!
Best Cast Iron Chicken Fajitas Recipe
Chicken fajitas are always a crowd-pleaser. Tender chicken breast sautéed with bell peppers and onions and smothered in authentic homemade seasonings, this quick and easy dish is perfect for a busy weeknight. Serve with warm tortillas and top with guacamole, salsa, sour cream, or cheese.
Ingredients
Fajitas
3

boneless skinless chicken breasts

3

bell peppers

thinly sliced

1

medium onion

sliced

1

lime

3

tablespoons

olive oil

divided
Fajita Seasoning
1

teaspoon

cumin powder

1

teaspoon

chili powder

1

teaspoon

garlic powder

or minced garlic

1/2

teaspoon

paprika

1/4

teaspoon

cayenne

optional

salt

to taste
For serving
8-10

tortillas

flour or corn, 8-inch

cilantro

chopped (optional)
Instructions
In a small bowl, add the cumin powder, chili powder, garlic powder, paprika and cayenne. Stir and set aside.

Place the chicken on a work surface. Slice lengthwise horizontally into slabs about 1/2-inch to 3/4-inch thick. Then cut against the grain into thin strips. (Note: You can freeze the chicken breasts for 30 minutes for easier slicing.)

To a medium bowl, add the seasoning mixture, 2 tablespoons lime juice and 1 tablespoon of olive oil. Add the chicken strips and toss to coat. Cover and refrigerate for 15 minutes or up to 4 hours for extra flavor.

Place a large skillet or cast iron pan on medium-high heat. When the pan is hot, add the olive oil and half of the chicken. Sauté for 1-2 minutes until tender and lightly browned. Remove to a plate and cover with foil. Repeat for the remaining chicken.

Wipe the pan with a moist cloth. Then add 1 tablespoon of oil plus the onions and bell peppers. Sauté undisturbed for 2 minutes. Then stir and cook for 2 minutes more, or until crisp tender.

Add the chicken back to the pan and stir to combine. Drizzle with droplets of fresh lime and some chopped cilantro if desired. Serve on warm tortillas with toppings.