Every so often, we're all faced with a major decision: what am I doing for dinner tonight? If you're still deliberating, you're sure to find 16 of the best American Dinner Ideas you've been craving in this roundup.
Forget everything you know about Sloppy Joes! This simple recipe brings the Philly cheesesteak and the sloppy joe together for one mouthwatering sandwich.
This authentic Italian recipe yields a tasty pizza that gives your family lots of variety. The Four Seasons Pizza is divided into quarters, each section having unique toppings to represent each of the four seasons.
The homemade burger is a simple, tasty dinner option that works every single time. This recipe gives you a juicy, flavorful patty that sears perfectly on the grill or stovetop.
Learn the technique for making a juicy, fall-off-the-bone rib eye steak. This recipe is quick to cook and sure to please.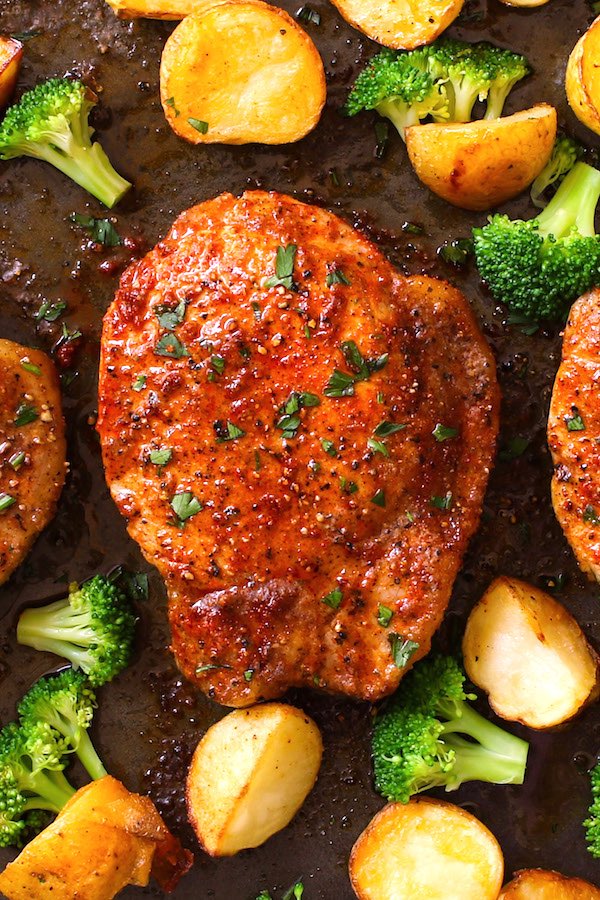 A special blend of seasonings makes these boneless pork chops downright scrumptious. Enjoy with roasted potatoes and steamed broccoli.
Treat that special someone to a restaurant-worthy pan-seared sirloin steak. Serve with mashed or roasted potatoes and sautéed mushrooms for a romantic homemade meal.
A packet of Lipton Onion Soup Mix gives this meatloaf its rich, flavorful taste. Enjoy with your favorite sides like mashed potatoes and asparagus.
Juicy jumbo shrimp are smothered in a sweet-and-savory honey garlic sauce. Serve with rice or quinoa and steamed veggies.
It takes just three ingredients and five minutes of prep to make this family-friendly dinner. The crock pot does all the work for you, making this a hassle-free option for busy weeknights.
Here's the ultimate recipe for the best homemade pesto pasta. Add your favorite protein and veggies for a simple Mediterranean meal.
This Southern recipe is incredibly simple to make in the oven or on the grill. Juicy shrimp, sausage, corn and potatoes are cooked to perfection in a flavorful blend of Cajun seasonings.
Thanks to an enchanting blend of seasonings and a smoky barbecue sauce, these ribs may be the best you've ever had. Grill, bake or smoke these ribs until they're fall-off-the-bone tender.
Here's a vegan-friendly pasta salad the whole family can enjoy. This satisfying cold salad is a tasty addition to your summer picnic menu.
In just 25 minutes, you can have a classic beef stroganoff that's fit for a king. This recipe is perfect for a date night at home.
The entire family is guaranteed to love this cheesy casserole. Broccoli Mac and Cheese is comfort food at its finest, plus a sneaky way to get in a serving of veggies.
Succulent jumbo shrimp are simmered in a rich Mozzarella sauce for the ultimate pasta dinner. Complete the meal with sun-dried tomatoes, basil and a hint of paprika.
Best American Dinner Ideas Philly Cheesesteak Sloppy Joes Recipe
Forget everything you know about Sloppy Joes! This simple recipe brings the Philly cheesesteak and the sloppy joe together for one mouthwatering sandwich.
Ingredients
1

pound

ground beef

1

tsp

vegetable oil

1

medium onion

diced

1

medium green bell pepper

diced

1

cup

beef broth

2

tbsp

ketchup

1

tbsp

Worcestershire sauce

salt and pepper to taste

1

tbsp

cornstarch

6

ounces

provolone cheese

sliced or in chunks

8

hamburger buns

1

tbsp

butter

optional
Instructions
Place a large nonstick pan or cast iron skillet over medium-high heat.

Coat the pan with oil, and add the ground beef.

Stir for 3-5 minutes until the beef is mostly browned. Strain out most of the fat that accumulates.

Add in the onions and bell peppers, and stir for 2-3 minutes until the onions are translucent.

Add in the beef broth followed by the ketchup, Worchester sauce, salt and pepper.

Mix cornstarch with a tablespoon of water in a cup, and add to the pan, stirring constantly as it will start thickening quickly.

Within a few minutes, the mixture should be thick enough to start forming mounds.

Remove from heat, add cheese and slowly stir it in. Meanwhile, start toasting the buns.

Once cheese is fully melted, spoon onto buns. Serve immediately and enjoy!
Notes
Use a large skillet to brown your ground beef so it's not too crowded. If your skillet is not big enough, you can brown the meat in two batches. To get the maximum flavor, it's better to cook the beef until it forms a deep brown crust.
Make sure NOT to dry out all the sauce. The best sloppy joes have a thick but moist consistency. So cook your mixture until it still has about 10% to 15% liquid.
You can toast your buns under broiler or bake the assembled buns for a few minutes. The toasting and baking process will prevent your buns from getting too soggy. Another tip is to add butter to your buns and it will give your sloppy joes extra delicious flavor.