A lot of times, we start off the New Year wanting to make big changes in our lives, Whether it's going back to school, losing weight, finding a new job or getting a membership to a gym, we all want to make our lives the best that they can be. When you're trying to lose weight, it can be very overwhelming and difficult.
As someone who has struggled with their weight over the last couple years, I can completely understand how daunting it can be but it really doesn't have to be! There are SO many great websites out there that can help you with all the information you need to start doing a program like Weight Watchers and who are amazing at taking recipes (or creating new ones) and making them healthy and yummy!
I've gone through some of my favorite sites and found 45 of the best Weight Watchers recipes and wanted to share them with all of you! I hope you can find a few of them that are just right for you & your tastes and ones that can help you on your weight loss journey!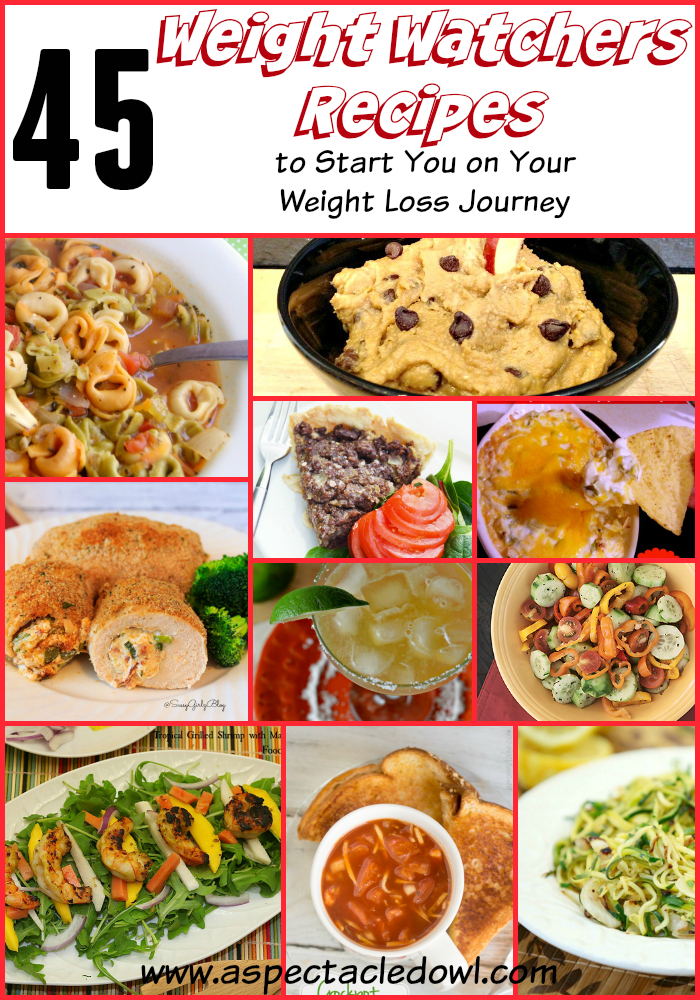 If you're looking for more Weight Watchers recipes, you'll want to check out my Weight Watchers category where I have more main dish recipes, desserts, snacks, breakfast recipes, lunch recipes & so much more!
Sticky Buffalo Chicken Tenders

– You Brew My Tea

Zero Point Muffin Tin Eggs

– You Brew My Tea
Cookie Dough Dip – All Mommy Wants
Jalapeno Poppers -All Mommy Wants
Skinny Margarita – A Crafty Spoonful
Salmon Burgers -A Crafty Spoonful
Three Cheese Zucchini Lasagna Rolls – SkinnyTaste
Crock Pot Balsamic Pork Roast – SkinnyTaste
Spaghetti Squash Primavera – SkinnyTaste
Chunky Crockpot Tomato Soup – A Mom's Take
Chicken Angel Hair Pasta Bake – A Mom's Take
Meat Pie – This Mama Loves
Tortellini Soup – This Mama Loves
Jalapeno Popper Stuffed Chicken – Sassy Girlz
Broccoli Slaw – The Halfway Homemaker
Meatloaf with Zucchini – Food Done Light
Tropical Grilled Shrimp Salad with Mango Vinaigrette – Food Done Light
Sauteed Zucchini Noodles with Lemon & Thyme – Food Done Light
Crockpot Taco Soup – Stockpiling Moms
Jalapeno Popper Dip – Stockpiling Moms
Low Fat Chicken Enchiladas – Stockpiling Moms
Low Fat Snickers Pie – Stockpiling Moms
Peanut Butter Cool Whip Treat – Stockpiling Moms
Cuban Pork Chops – Just 2 Sisters
No Oil Greek Salad – Frugal Living Mom
2 Ingredient Lemon Muffins – Penny Pincher Jenny
Minty Chocolate Delights Cookies – Penny Pincher Jenny
Roasted Salmon with Basil Mint Sauce – LaaLoosh
Crockpot Tortilla Soup – LaaLoosh
Low Calorie Pumpkin Pie – LaaLoosh
Crockpot Chicken & Dumplings – LaaLoosh
Roasted Brussels Sprouts with Sriracha Aioli – LaaLoosh
Slow Cooker Hamburger Stew – Simple Nourished Living
Enchilada Cheese Rolls – Emily Bites
Loaded Cauliflower Bake – Emily Bites
Cheesy Chicken, Broccoli & Rice Casserole – Emily Bites
Sausage Tortellini Skillet – Emily Bites
Turkey Chili Mac with Jalapenos – Organize Yourself Skinny
Honey Mustard Broccoli Slaw – Skinny Kitchen
Orange Chinese Chicken – A Helicopter Mom
Cinnamon Rolls – Recipe Diaries
Thai Curried Butternut Soup – Recipe Diaries
Skinny Funfetti Cupcakes – Recipe Diaries
Lightened Up Beef Stroganoff – Recipe Diaries
Spaghetti Carbonara – Recipe Diaries