Leftovers are a gift when you're pressed for time during the week. However, it's tough coming up with new and interesting ways to eat last night's chicken. Luckily, we've done the hard work for you!
Below you will find 15 easy recipe ideas for leftover chicken – from delicious casseroles and sandwiches to pasta and soups. You'll never have to wonder what to do with leftover chicken again!
There truly isn't anything more comforting than Bisquick chicken and dumplings! They're hearty and easy to make in a Dutch oven or a slow cooker. Ready in just 30 minutes, your mouth and stomach will thank you for all the flavors you experience with this one!
This cheesy chicken casserole is simple to put together for your family or a crowd any night of the week! Plus, it's cheesy, creamy and packed full of veggies!
Looking to switch things up a bit with your weeknight meals? Try this veggie-loaded chicken casserole! Low-carb, packed full of veggies and makes enough for leftovers! The secret ingredient here is Greek low-fat yogurt! Don't skip that ingredient, but if you want, you can substitute fresh veggies with frozen.
Perfect for those busy weeknights, this chicken and rice casserole is the answer to comfort food cravings. Made with leftover chicken, rice, almonds, celery, and so much more! You won't be sorry you made this meal, you'll be sorry you waited so long to try it!
Chicken Alfredo casserole on a weeknight? Yes, please! Plus, this recipe is super kid-friendly! Ready in just 25 minutes, and you'll appreciate that the alfredo sauce is super creamy and lighter than the jarred version. If you're lucky enough to have leftovers, store them in the fridge for up to 4 days.
This chicken salad sandwich makes the perfect sandwiches for those hot summer months! Made with creamy mayonnaise and yogurt, crunchy celery, and that oh-so-good rotisserie chicken, it will all be ready in just 20 minutes tops!
Bursting with cheesy goodness and a tomatoey flavor, keto chicken parmesan casserole is a super easy dinner recipe that will easily please your whole family. You will easily be satisfied with being able to throw everything in a dish and pop it in the oven! If you really want to speed things up, just swap out the homemade sauce for store-bought marinara.
20 minutes is all it takes and you will have an easy Tuscan chicken with penne pasta dish. Comforting, warming and delicious, everyone will be eating this up before you can offer up seconds. You definitely can't deny creamy and cheesy carbs!
Healthier than most salads, this leftover chicken salad takes minimal effort but has delicious results. Just combine chicken, yogurt, some veggies, and spices and skip the cooking – just chill and enjoy!
Prep and cook time combined is about 30 minutes here! Believe it! The main flavour here doesn't go all to the pasta but comes from the mix of shiitake mushrooms and asiago cheese. The way the flavors play off each other is absolutely mouthwatering!
The perfect go-to soup for those cold damp nights or those days where you're suffering from the sniffles, chicken noodle soup is a must! Using leftover chicken, low sodium chicken broth and so much more! It's warm, it's simple, it's comfort!
There truly is nothing better than meals prepared in one pot and this one-pot low-carb leftover chicken with spinach lives up to that. Ready in just 15 minutes, with 5 ingredients you can get creative with your substitutions and toppings too!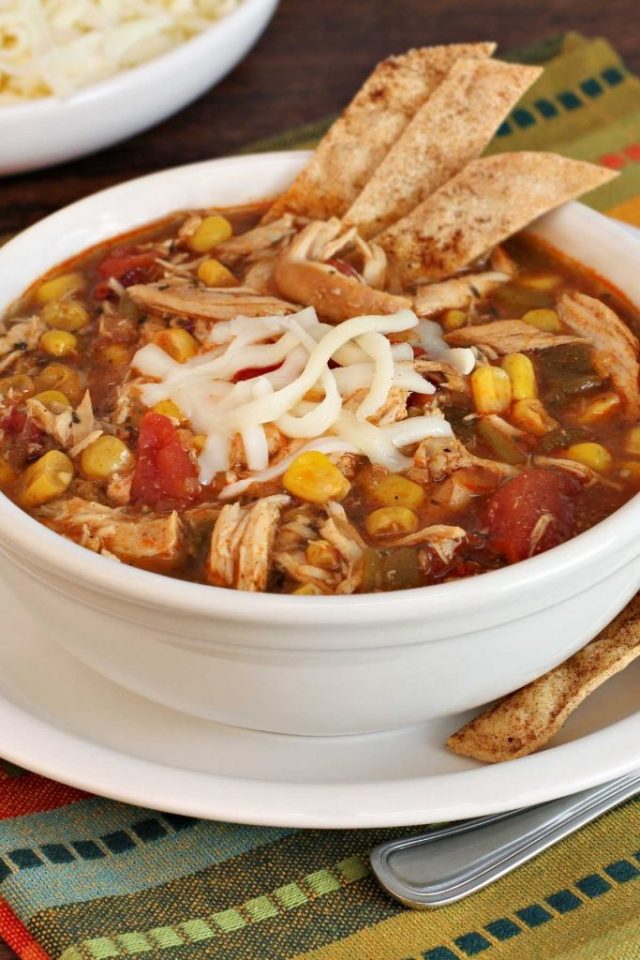 Sometimes soup just hits the spot! This is fast and easy, and better than a restaurant!! This hearty soup is also a tremendous source of protein (39 grams) and fiber (18 grams).
Did you say low carb? Well, here it is!! This low-carb chicken with bacon and ranch casserole is, believe it or not – low carb! It's cheesy, it's quick, takes 5 minutes of prep and is easily a recipe your whole family will love.
On a low-carb diet? Look no further than this keto chicken cheese bake! It's a creamy and delicious chicken and cheese casserole — perfect for anyone craving seriously good comfort food. Plus, it's loaded with tender pieces of chicken, mushrooms, crisp bacon, and spinach in a delicious creamy sauce.
Easy Leftover Chicken and Dumplings Recipe
There truly isn't anything more comforting than Bisquick chicken and dumplings! They're hearty and easy to make in a Dutch oven or a slow cooker. Ready in just 30 minutes, your mouth and stomach will thank you for all the flavors you experience with this one!
Ingredients
Broth / Soup
2

cups

shredded cooked chicken

use store-bought rotisserie chicken to save time, or you can boil whole chicken from scratch

1

tablespoon

olive oil

1

onion

chopped

3

large carrots

chopped

3

stalks celery

chopped

6

cups

chicken broth

plus more to cover the chicken completely if needed

salt & pepper

to taste

bay leaf
Bisquick Dumplings
2

cups

Bisquick mix

2/3

cup

milk
Instructions
Make the Soup
Add oil to a large dutch oven or pot over medium-high heat.

Add onions, carrots, and celery. Sauté for about 5 minutes or until vegetables begin to soften.

Add chicken broth and bay leaves. Bring to a boil, and season with salt and pepper to taste.

Let the soup gently boil for about 5 minutes or until vegetables are tender. While the broth is simmering, prepare Bisquick dumplings below.
Make Bisquick Dumplings
In a large mixing bowl, combine bisquick mix and milk.

Knead a few times until you get a sticky and soft dough.
Cook Bisquick Chicken and Dumplings
When the vegetables are tender. Remove them from the soup.

Reduce the heat, and spoon out a piece of Bisquick dumpling dough and drop it into the soup. Repeat this process until you used up all the Bisquick dough.

Simmer uncovered for 10 minutes, and cover with a lid and cook for another 5-10 minutes or until the dumplings are cooked through.

Add shredded chicken and vegetables into the broth, and cook for about 3 minutes or until heated through.
Notes
To avoid your dumplings from falling apart, make sure to remove the vegetables first.
Don't stir the dumplings after dropping the dough into the pot. Just let them simmer. Keep the heat low so that the broth gradually simmers. A rolling boil will destroy your delicate dumplings.