This is a sponsored post written by me on behalf of Foster Farms All Natural Sliced Turkey.
Thanksgiving is by far one of the best holidays of the year. There is nothing better than turkey, cranberries, mashed potatoes, sweet potatoes, stuffing…I'm getting hungry just thinking about it. But I hate waiting all year for it, so from time to time I will buy an entire turkey and make it with all the fixings. One thing you should know about me…I am not a great cook so making all of these dishes isn't exactly fun and easy but the end result is so worth it.
When I'm crunched for time but still want my 2 favorite Thanksgiving foods (turkey and cranberries), I make up some really yummy and simple sandwiches for my family. The number one rule is the sandwich has to have healthy premium lunchmeat because I want it to actually taste like Thanksgiving. I use Foster Farms new All Natural Sliced Turkey because it tastes delicious, contains no chemicals or preservatives, has lower sodium and no nitrates or nitrites. It's not your basic turkey lunchmeat!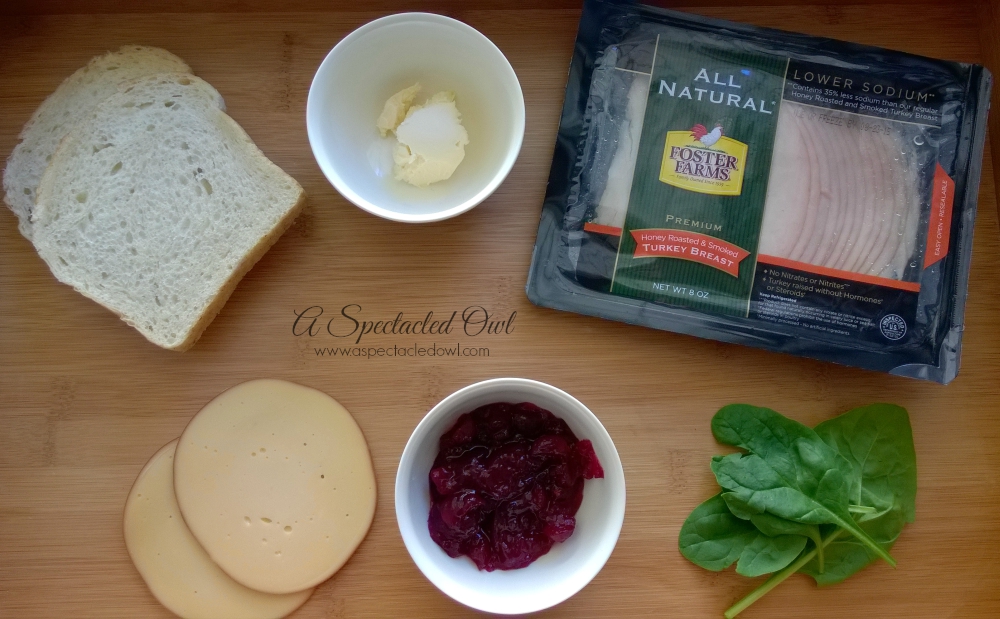 Making this turkey sandwich is rather simple: grab Foster Farms All Natural Sliced Turkey, your favorite cheese (I used gouda this time because my son's been asking for it but I've used havarti & white cheddar in the past too), sourdough bread, a little butter, your favorite greens (I used spinach) and cranberries. You can use leftover cranberries or canned (I know that some people hate canned cranberries but I love cranberries of any kind). Butter one side of each piece of bread and lay the first one down in a heated pan, butter-side down. I like to put the cheese on first so it will melt, then cranberries, greens, turkey and then the other piece of buttered bread, butter-side up. Let it get brown on one side, flip it and wait until the other side is nice and golden brown. That's it…that's all there is to a Cranberry Turkey Sandwich that you can enjoy any time of year.
Foster Farms is holding a sandwich making contest and I would love for you to enter! Here's how you enter: Make a turkey sandwich using Foster Farms All Natural Sliced Turkey lunchmeat and any other creative ingredients you choose. Post your sandwich photo to Instagram and in the caption of the photo, list the ingredients, tag @FosterFarms & use the hashtag #DontCallMeBasic (also, don't forget that your profile needs to be set to public so Foster Farms can see your picture).
If you don't have an Instagram account (you could always get one and follow A Spectacled Owl!),you can also email your entries [email protected]
You will be entered to win a two-night stay for two at a Napa Valley luxury hotel, travel to/from and a gourmet picnic lunch ($4,000 value) or $4,000 cash prize. There will also be random weekly drawings held every Friday for even more chances to win! For the weekly drawings, you might win high-end Panini presses or gourmet picnic baskets. The contest will last the month of August (National Sandwich Month) and is open to all U.S. residents over the age of 18. The sandwiches will be selected and judged by a panel of culinary and food media professionals, and they will choose five recipe finalists. The grand prize winner will be selected from the finalists by a panel of five food and lifestyle blogger judges and will be announced in early September.
Save on your next package of Foster Farms All Natural Sliced Turkey! "Save a Dollar Now" by downloading a coupon that can be found HERE.
This is a sponsored post written by me on behalf of Foster Farms All Natural Sliced Turkey.