Feeding teens and tweens can be a real challenge. In my experience, it seems like their tastes in food changes and their appetites, too. I have two kids that are now teens (13 & 17) and they are completely different when it comes to eating. My 17-year-old is a boy and the rumors that boys will eat you out of house & home are completely true (at least as far as my son goes). My 13-year-old is a girl and has never been a big eater. In fact, getting her to eat anything at all is a real challenge. While both of the kids are complete opposites when it comes to how much they'll eat, one thing is true for both of them…making sure they eat a complete, well-balanced breakfast before they start their days is a MUST.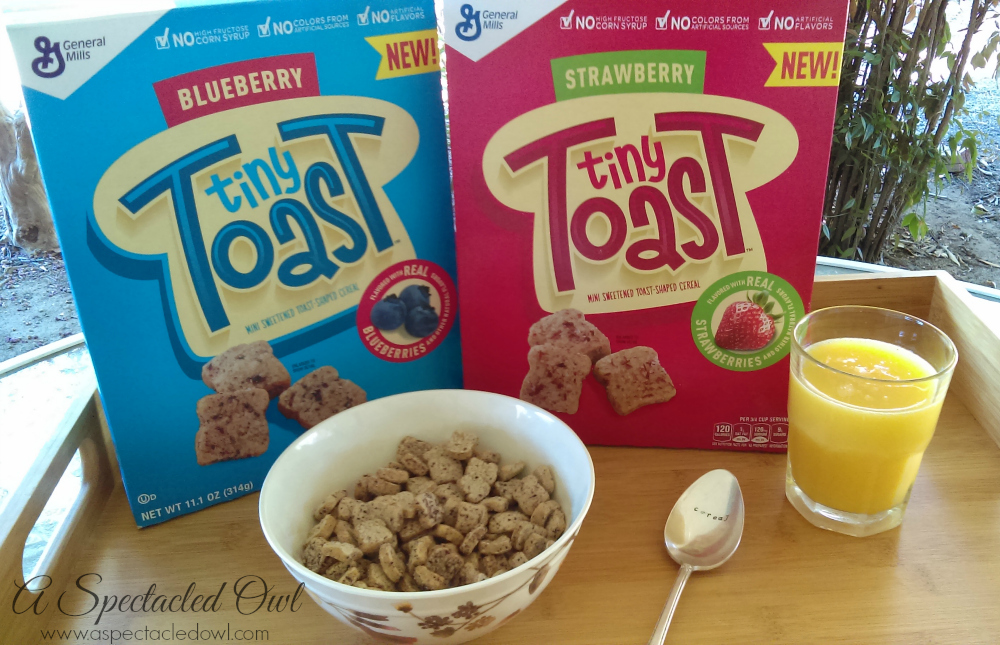 I will admit that I am a HUGE cereal eater. My cereal tastes haven't really grown up and I still reach for the cereals that most people wouldn't allow their kids to eat. While I don't mind having those in the house sometimes, I know that I need to have options that taste great and don't contain a lot of extra "stuff" that isn't necessary.
That's why when we saw Tiny Toast Cereal from general Mills at Kroger, we knew we had to give it a try and see if the teens liked it. Tiny Toast is a brand new twist on the cereal that my teens grew up with. It's available in two flavors, Strawberry and Blueberry. But, the best part? No artificial flavors & coloring, no high fructose corn syrup and only 9 grams of sugar! My 8-year-old son loved them too, so that's definitely a win for the whole family!
Tiny Toast Cereal is flavored with real fruit and you can taste it in every bite! The first ingredient in the cereal is whole grains so you can feel good knowing that your kids are starting their day off with a filling breakfast that they'll love!
While it's a great cereal to eat in a bowl with milk, I love that it's an easy cereal to toss in a sandwich baggie and eat on-the-go. My teens don't even like cereal in a bowl with milk so this is a great option for them to eat in the morning!
Print out a coupon for $1 off a box of Tiny Toast! Your tweens & teens will thank you!
Follow Tiny Toast on Social Media
Facebook | YouTube | Instagram | Snapchat: TinyToastCereal