Breadcrumbs are useful to help bind mixtures together in many different types of recipes. They also work well to coat meat and other protein sources to provide a crispy result. You can toss them in salads or over casserole dishes, too.
Just checked the pantry and realized you're all out? No worries. Using a few kitchen essentials, you can make your own breadcrumb mixture in no time. You can even add a personal twist with ingredients like lemon zest, dried herbs and spices, parmesan cheese, minced garlic, dried onion, or any other flavors you like.
What are Healthy Alternatives to Bread Crumbs?
If you're looking for a healthier alternative, you can turn to almonds, walnuts, hazelnuts, chia seeds, or flax seeds instead. Add them to a food processor to grind them into a fine powder or look for already ground options at your local grocery store.
What Can You Use Instead Of Panko Breadcrumbs?
Panko crumbs are breadcrumbs made from white bread without any crust. They're Japanese-style breadcrumbs with larger, crispier flakes than traditional breadcrumbs. They're perfect for tempura meals, but can also be a substitute for regular breadcrumbs.
If you don't have panko on hand, you can crush tortilla chips or melba toast. You can also use dry stuffing or crushed cornflakes. The texture of these alternatives will be suitable for your recipes.
Bread Crumb Substitutes
Crushed Chips
If you need breadcrumbs as a topping for casseroles or dishes like mac n' cheese, crushed chips can be a good substitute. You can use tortilla chips or plain potato chips for a tasty and gluten-free alternative to breadcrumbs. Crushed chips can also work well to coat fish or chicken cutlets, and can be used to bind meatball mixtures together, too. Keep the high salt content of the chips in mind when seasoning your meats.
Crushed Pretzels (or Crackers)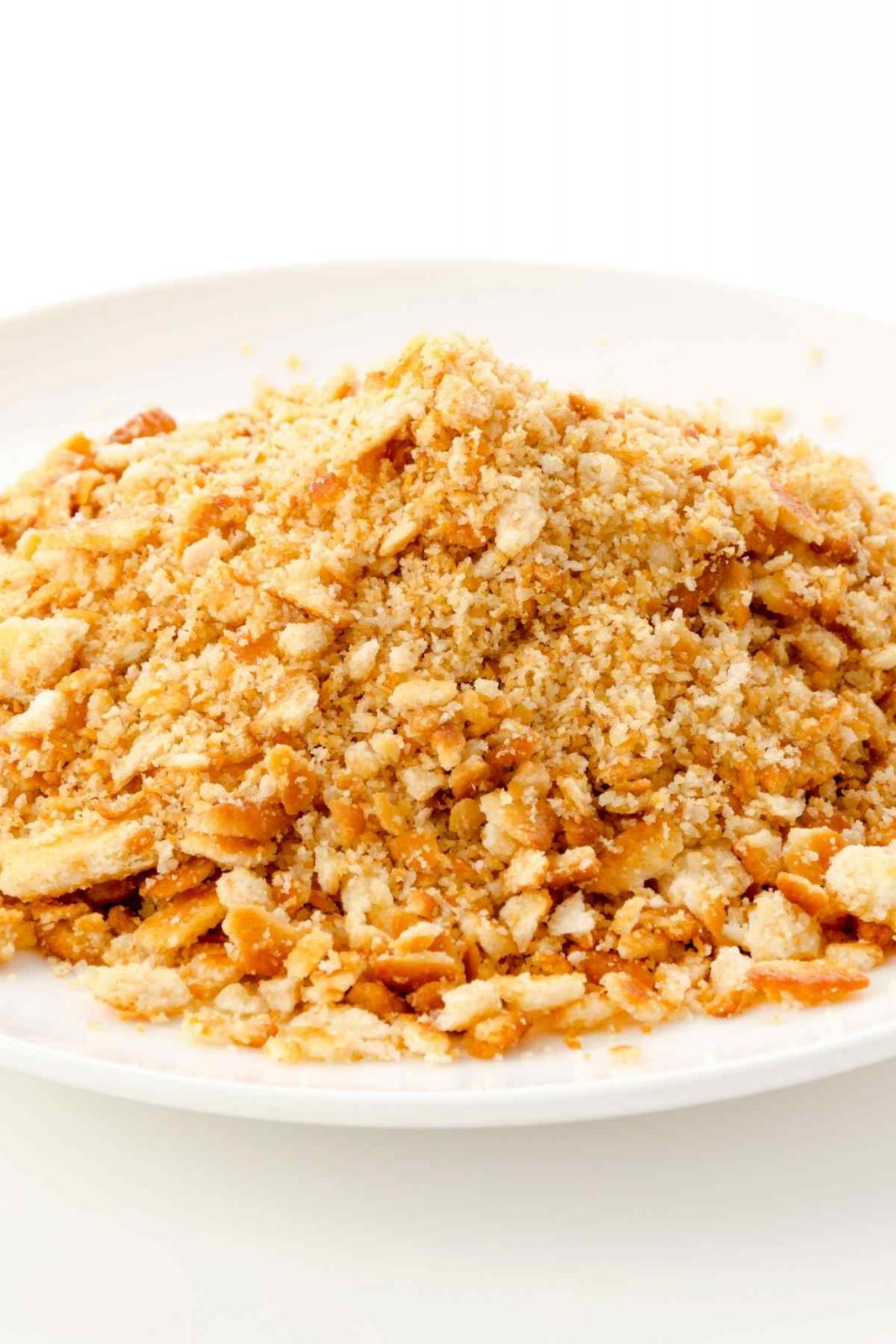 Crushed pretzels or crackers can be crushed easily. Place them in a plastic bag and crush with a rolling pin. They work well as a substitute for breadcrumbs.
You can coat meat or fish with these snack crumbs or sprinkle them over salads. If you prefer a healthier meal, stick to low-salt pretzels.
Crushed Dry Stuffing Mix
Do you have some leftover dry stuffing mix that you haven't touched yet? Crush the contents of the package to make your own tasty breadcrumbs when you're in a pinch.
Matzo Meal
This unleavened flatbread is traditional Jewish bread. You can buy it or make some yourself. Crushing matzo bread can create a breadcrumb substitute to bind meat mixtures together, top casseroles, or even make potato pancakes.
Nuts
If you're looking for added flavor and a kick of protein, consider using crushed nuts as a substitute for breadcrumbs. They can add flavor to meat and poultry dishes and taste delicious in salads and casseroles, too.
Crushed Cereal
Cereals that are not sweet (like cornflakes, bran cereals, or other corn-based cereals) can be crushed in a food processor to make a breadcrumb substitute in no time.
Almond Meal
Almonds are one of the only nuts that are easy to find pre-ground at the store. They can coat meats or fish, work as a binding agent in mixtures, or top salads and casseroles.
Oats
Making a meatloaf or some meatballs? Oats can be a great binding agent to use in place of breadcrumbs. They won't work to create a crispy coating for meat and fish, but they can be used in meat mixtures.
Coconut
Shredded coconut (also known as desiccated coconut) can be a useful substitute for breadcrumbs. It has a similar texture but the taste is unique. If you enjoy coconut flavor, you'll love how it brings out the flavor in salty foods like pork.
How To Make Breadcrumbs From Scratch
If you have stale bread lying around, you can easily make your own breadcrumbs. If you have fresh bread, you can toast it and turn it into breadcrumbs, as well.
Instructions
Preheat the oven to 300°F.

Toast your fresh bread for about 15 minutes or until completely dry.

Place the toasted bread in a food processor and grind to crumbs.