A friend of mine was looking into buying a new home but had no idea where to begin with cleaning up her credit. After much research, several telephone calls, and a visit with an attorney, this is how she did it: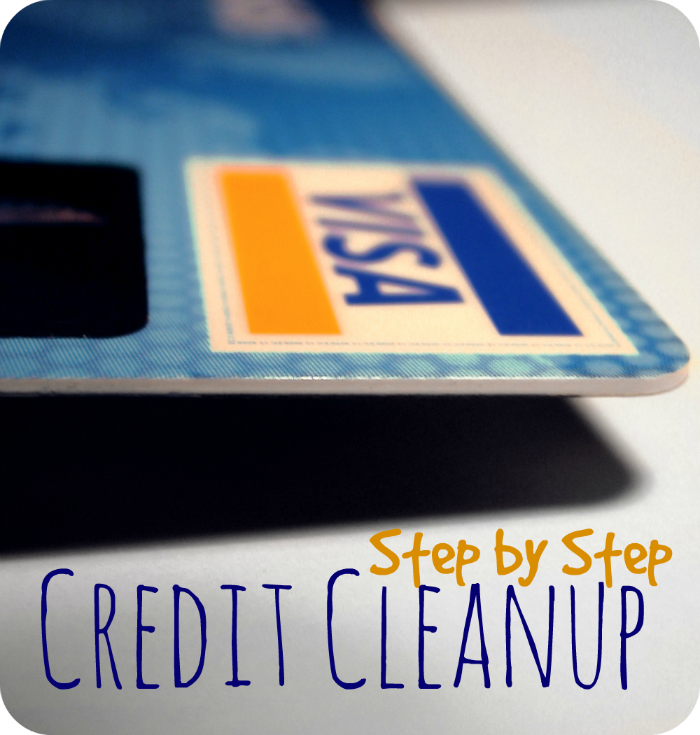 Knowing Where you Stand:
Before you can begin cleaning up your credit, you need to know where you stand. You can receive your free report for each reporting agency from Annual Credit Report once per year. Please take special note that AnnualCreditReport.com is the ONLY official site explicitly directed by Federal law to provide free reports.
Once you have received your report(s), staple each individual report together so you don't become confused. This will help you notice duplicates and discrepancies easier. Get your multicolored pens and highlighters ready…
While reviewing your report circle anything there is a discrepancy on. Some examples would be: is the delinquency over 7 years, a dispute with the creditor, multiple companies reporting on the same debt, or fraudulent activity. Prepare a letter to the credit bureau explaining your disputes. Afterwards, send a copy of the letter to each credit reporting agency (Equifax, TransUnion, & Experian). You can learn more on how to dispute errors at the Federal Trade Commission.
Getting It Together:
Use a check mark in the margins to note all accounts in good standing.
Highlight unpaid medical bills, student loans, and valid claims in separate colors.
Make sure each item on your report has been reviewed. Checking, circling, and highlighting serves several purposes, one of them is so you are certain you have reviewed each claim.
Make a list or spreadsheet of what you need to payoff on your credit, setting aside the disputed claims until you have a final outcome of your dispute.
Place your debt in order from the greatest to least amounts.
Paying It Off:
Starting with the smallest debt, call the creditor and ask for a settlement. Make sure you keep detailed notes of your conversation – first and last name of who you are talking to, extension number, time & date you called, reference number of the call, every detail you can write down.
Special Note: DO NOT TELL THEM YOU ARE PLANNING A BIG PURCHASE IN THE FUTURE. If they know you are cleaning up your credit for a large purchase, they won't work with you. Horrible, isn't it?
Once a settlement is agreed upon, don't pay over the phone! Tell the customer service representative to please send a letter, in writing, showing they will settle for the agreed amount "for your records". Ask to speak with their supervisor if they continue to pressure you to pay over the phone.
Once you receive your settlement offer in the mail, pay it immediately. If you don't receive the letter within a few days, call back.
Why start small? First, if you start with the smaller amounts, there will be less creditors reporting poorly on your credit. Secondly, you may begin to feel hopeless if you begin with the larger debts.
After you pay the smallest debt, begin saving money to save the next debt in line. Once you have enough money gathered to pay seventy-five percent of the debt, call and begin settlement arrangements, just as before.
Once it is paid: Cross out each debt once they are paid instead of removing them from your list This will help to remind you of the progress you are making.
Important Settlement Tips:
If you are able to payoff your debt, in full, within ten days of the settlement discussion, you will receive a better settlement offer than someone who needs payment arrangements. Do you very best to avoid payment arrangements!
NEVER agree to pay anything you cannot afford to pay. This will ruin your credibility with the company and hinder future settlement discussions.
Paying Off Large Debts:
Unless you are able to payoff the debt in full, you will need to contact the creditor and make monthly payment arrangements. Again, never agree to pay anything you cannot afford to pay. The credit collector's job is to pull the maximum amount of money from you as possible. If the representative you are speaking with doesn't understand that you can only give x amount of money, ask to speak with the supervisor.
Medical Bills:
Save medical bills for last (unless they are teeny tiny). Creditors understand medical bills. They are inevitable, almost everyone has them.
Before paying your medical bills, be sure to request your billing records directly from the hospital/doctor. Often, medical bills on your credit reflect an inaccurate amount due to poor insurance processing. Be sure your insurance was processed properly.
Never use your credit cards to payoff medical bills. Most medical bills do not accrue interest. If you are being pressured to payoff your medical bills, discuss payment arrangements (that you can afford) but never use your credit cards to pay them.
Consult an Attorney:
Consult with a bankruptcy attorney. Not to file bankruptcy, but to help you with anything that is leftover, or if it seems too big for you to handle on your own. Sometimes creditors won't work with you, but if they think you are going to file bankruptcy, they will work with them. If you can get it down to only a few, you may be able to hire a bankruptcy attorney to take care of the rest for you. If it is a large debt, it is worth it.
Do you have any tips for cleaning up credit? How about a Success Story?