*I received a product from Squishable in exchange for this review. All opinions are 100% honest & may differ from yours*
When was the last time you cuddled with a cow, squeezed a squid, hugged a honey bear or petted a peacock? Sounds pretty crazy right? But, here in our house we've been cuddling a peacock for a little bit now & we love it! Squishable sent us a peacock to squish and call our own. We actually got to choose any of the 15″ Squishables and something about the peacock made me want to squish him so bad so we were thrilled when he arrived at our house.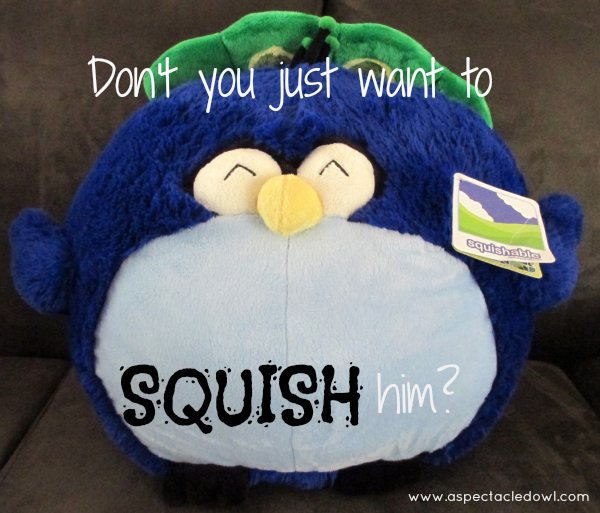 As soon as our peacock arrived (we're still debating on what to name him, thoughts?), the kids couldn't wait for me to open the box & take him out. When I did, I couldn't stop petting him! The dark blue fabric that makes up the majority of Mr. Peacock is THE softest fabric I have ever felt. Every time I walk past him, I have to pet him. And trust me, I don't get to pet him very often because my 10 year old daughter has stolen him from me! His colors are extremely vibrant & fun. Obviously with a name like Squishable, you would expect him to be very squishy and he does NOT disappoint! My daughter takes him to bed with her every night and uses him as a pillow when she's laying on the floor watching TV.
Not only do I absolutely love our peacock, I love the company he comes from and their fun, quirky ways. You have to love a company that writes the following on their website as the description for our peacock:
"So remember that time you wanted to impress the ladies and gents down at the club, so you put on your most expensive shoes, your cutest little outfit and your bling-iest jewelry? And then just before you left you stuck a huge pile of 8-foot psychedelic feathers to your rear? OH WAIT, THAT WAS ME!
Yes, I find the best way to make sure I have everyone's attention is feathers so long you can't tell if they're a tail or a train! Feathers so bright it actually makes sense to wear sunglasses indoors! Feathers so big, you KNOW that they're going to listen when I yell "Play Freebird!"
And after a long night of strutting on the dance floor, I can return home to cuddle up in bed knowing that no way will anyone ever forget I was there. Especially not the ones who tripped on my plumage."
Awesome, right? I've had so much fun reading descriptions of the other Squishables on their site. I'm also blown away at home many different animals they have made into Squishables! Some are my favorites are the Octopus, Jellyfish, Squid, Manatee and Pink Kitty. Not all the Squishables are animals though..you can grab a Cuppa Joe with your Pancakes and Bacon & Eggs.
Some Squishables are Limited Edition. With these Squishables, only 1,000 of each of the Mini Squishables have been created. Once they are sold, there aren't going to be more made so they truly are limited edition. Squishables also come in so many different sizes…Micros (3 inches, perfect to clip on a backpack), Minis (7 inches), Big Animals like the one we have (15 inches) &  Massives, which are big enough (24 inches) to sit & lounge on!
While you're at Squishables.com, you can vote on new designs and help decide which ones will come to life, in squishy, fuzzy form. Are you an artist? You can even submit a design & who knows? It might just become part of the Squishable line! Check out The Squishable Hangout while you're there to see pictures of people with their Squishable, play videos, see fan art and much more.
I couldn't be happier with our peacock Squishable and my daughter is already deciding which one she wants us to buy next.  I'm feeling like we need a little ninja in our lives to be quite honest!
Want to buy a Squishable of your own? Head on over to their site and check out all the different types of Squishables, plus what size your new friend is going to come in. You can also LIKE Squishable on Facebook, FOLLOW them on Twitter, Pinterest and Google+.
One of my lovely readers is going to WIN a mini Squishable of their own! You will get to choose an In Stock Mini Squishable to call your own! Enter below on the Rafflecopter and GOOD LUCK!
a Rafflecopter giveaway
By: Tara Kramarsky
Disclosure: I may be an affiliate for products that I recommend. If you purchase those items through my links I will earn a commission. You will not pay more when buying a product through my link.  Any monies earned from these purchases goes right back into running A Spectacled Owl.