Spaghetti is a classic pasta dish you can savor in many ways. Here are some of our favorite spaghetti dishes that you're sure to love, too.
The key to a delicious spaghetti dish is cooking the noodles until they are just right, which is slightly al dente. You'll need a large pot of heavily salted water to ensure your spaghetti doesn't stick and cooks perfectly.
The only thing better than spaghetti is baked spaghetti topped with a creamy béchamel sauce. This recipe will turn ordinary spaghetti into the best meal ever.
Looking for a protein-packed meal that's bursting with flavor? This chipotle chicken spaghetti recipe is sure to spice things up.
A classic Italian dish that only calls for five simple ingredients, this spaghetti meal is always a crowd-pleaser.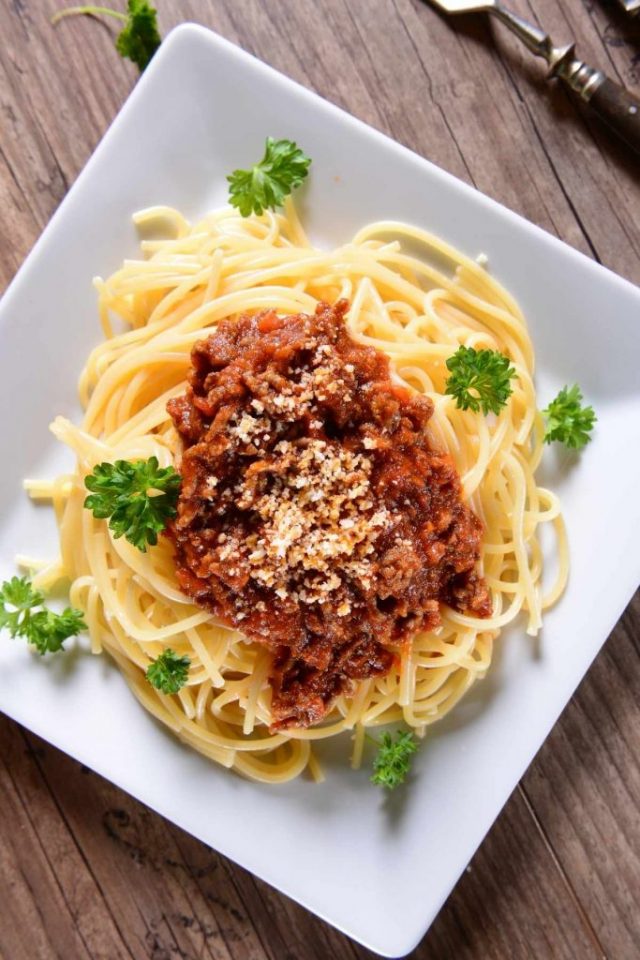 Traditional spaghetti Bolognese is a comfort meal the whole family will love. Loaded with tender beef in a flavorful tomato sauce, this sauce absorbs so many flavors as it slowly simmers for hours. It's always worth the wait!
Looking for a quick way to prepare your favorite pasta dish? Try this instant pot recipe to help you serve up a mouthwatering meal even on a busy weeknight.
Made in a savory homemade marinara sauce, this spaghetti and meatballs recipe is a classic dish that's loaded with flavor.
With tasty noodles covered in cheese and a homemade meat sauce, this casserole dish is easy to make and absolutely delicious. Plus, it's an affordable meal option for serving your family on a budget.
Bring your favorite comfort meals together with this taco spaghetti recipe. The best part? You can prep this dish in just 30 minutes.
Loaded with creamy spaghetti, this Italian pie-style dish is guaranteed to be a hit.
Love traditional spaghetti and meatballs but don't have the time to prepare it? No worries. This slow-cooker option is the answer.
This is a hearty meal the whole family is sure to love. With a homemade marinara sauce, al dente pasta, and melty cheese, this casserole has a little bit of everything.
If you love lasagna but don't love the work to make it, then you'll love this simpler recipe. Loaded with just as much meat sauce and cheese and topped with ricotta and Parmesan, this meal is hearty and delicious.
This one-pot spaghetti with a Mexican twist is perfect for feeding your family on a busy weeknight.
This tender, juicy, and savory meat sauce is so delicious. Plus, it freezes well and can be warmed up quickly when you're tight on time.
Best Spaghetti and Meatballs Recipe
Made in a savory homemade marinara sauce, this spaghetti and meatballs recipe is a classic dish that's loaded with flavor.
Ingredients
1

pound

spaghetti

1

pound

ground beef

1/3

cup

bread crumbs

1/4

cup

finely chopped parsley

1/4

cup

freshly grated parmesan

plus more for serving

1

large egg

2

teaspoons

minced garlic

1/2

teaspoon

red pepper flakes

2

tablespoons

olive oil

1/2

cup

chopped onion

1

can crushed tomatoes

1

bay leaf

salt and pepper

to taste
Instructions
In a large pot of salted boiling water, cook the pasta until al dente. Drain.

In a large bowl, combine the beef with the bread crumbs, parsley, parmesan, egg, garlic, 1 teaspoon salt, and the red pepper flakes. Mix until just combined and then form into 16 meatballs.

In a large pot over medium heat, heat the oil. Add the meatballs and cook for about 10 minutes, turning occasionally, until browned on all sides. Transfer the meatballs to a plate.

Add the onion to the pot and cook for about 5 minutes until soft. Add the crushed tomatoes and the bay leaf. Season with salt and pepper and bring to a simmer. Return the meatballs to the pot and cover. Simmer for 8-10 minutes until the sauce has thickened.

Serve the pasta with the meatballs and sauce. Top with parmesan cheese and enjoy!