Whether you're traveling for a few days, a few weeks, or a few years, it's completely possible to keep homeschooling! If you're traveling for long periods of time, you might be doing what they call "roadschooling". Roadschooling is where a family packs up their belongings and hits the road, all while continuing to learn and homeschool! There are Facebook groups, and even a Facebook fan page for Roadschooling families.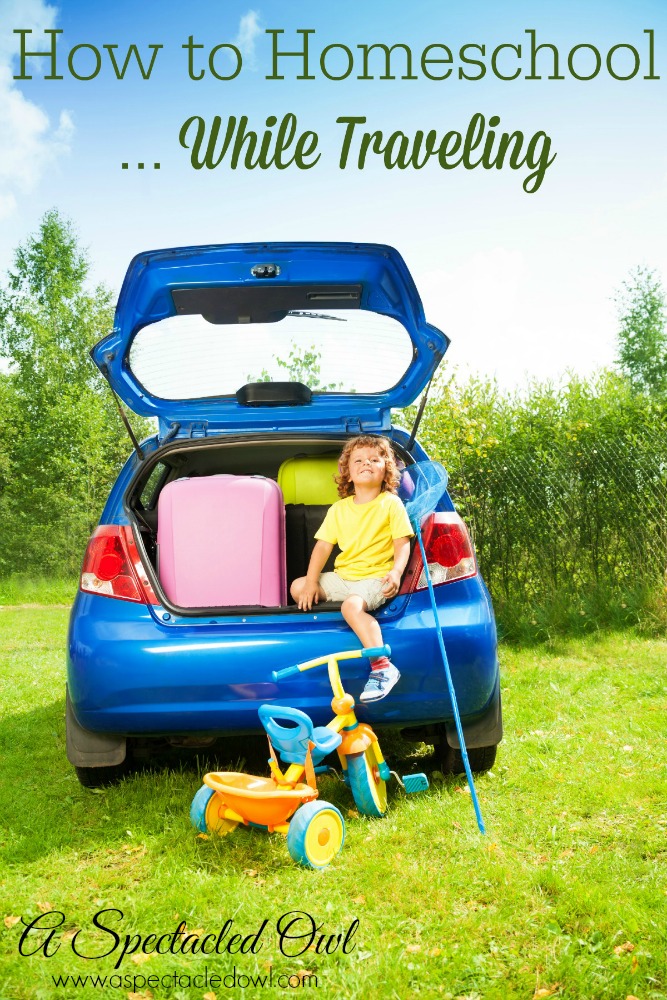 Traveling fosters creativity in children, and can be a learning experience for everyone in the family! Being on the road will teach you many things – things you can't learn in text books.
How to Homeschool While Traveling
Utilize electronic devices. While we don't like having our kids plugged in all of the time, some of the time is okay – and can actually be beneficial! Find shows from channels like the History Channel, National Geographic, etc and upload them to your child's electronic device. There are also tons of free apps available for all subjects.
Use your driving time. Keep your eyes on the road, though! Use driving time to take advantage of your child's independent learning time. Let the kids use your tablet to play educational games, or print fun travel bingo worksheets before you leave, so they can practice spotting and reading road signs (or license plates). Plug your iPod in and listen to audio books, educational songs (like math facts, spelling, etc), and more!
Get inspired. Running on fumes? Read inspirational stories about other families that homeschool while traveling. My favorites: Happy Trails (they quit their jobs, sold their home, and travel the states while homeschooling), and Family on Bikes.
Another great resource for homeschooling while traveling is Around The World With Kids.
Make stops. When I'm driving to a destination that's a few hours away, I really prefer if we don't stop. With small kids, stopping is pretty much a given – but with older kids, you can usually get away with driving all the way through. However, when it comes to your child's education, you have to stop and smell the roses! Use Google (and blogs!) to find local activities, events, and historical sites to check out during your travels. These are all experiences that you'll want your child to have.
Use nature. At a campground? Take time to do a nature hunt, do some leaf rubbings, or even conjure up a science experiment.
Stay creative. While you might think you're running out of ideas, there are ideas all around! All you have to do is look with a fresh set of eyes. Ask your friends, partner, kids, and anyone else you can think of for new ideas when you run out! This will give you a bit of a break, and a few moments to relax!
Here are some great books to get you started on Roadschooling:
Roadschooling: The Ultimate Guide to Education Through Travel

Roadschooling Ryan: Learn As We Go

Our Year on the Road: finding peace and place in an old school bus
Have you tried homeschooling while traveling? Share your experiences in the comments!