Breakfast is your opportunity to fuel your body to conquer the day with delicious, filling foods. Below you will find 20 of the most popular morning breakfast foods that will have you wondering which to try first!
Is there anything more comforting than warm bread? How about bread pudding? It's irresistible and will easily become your family's favorite breakfast dish! Be sure to serve this meal warm and right out of the pan to experience all its goodness!
Combine ground pork with plenty of seasoning to create this simple and easy breakfast sausage recipe in the comfort of your home!
Made with eggs, cheese, bacon and veggies, these breakfast egg muffins are the answer to easy meal prepping! With just a few minutes required to put this together, this recipe allows you to freeze and pop in the microwave when you're ready to eat.
Do you have any pizza fans in your house? Then you're about to make them happier with this bacon egg cheese breakfast pizza. It's delicious and easy to make right in the oven. Plus, you can even get your kids to help make this!
These healthy muffins are loaded with blueberries! Full of flavor, moist and fluffy – what more could you ask for? Low in sugar and fat too!
Here's your chance to try dragon fruit! It's a breakfast smoothie that's ready in less than 5 minutes! Bonus, this recipe is dairy-free and vegan!
It's a coffee cake made from Bisquick! Moist, buttery, and incredibly tasty! Just wait, it gets better – this treat is topped with a cinnamon streusel. This treat will easily satisfy your morning sweet cravings.
A breakfast staple in many homes, pancakes are perfect any day of the week! This recipe helps you make them easily, so they turn out light and fluffy every time! Serve them with jam, fruit, or syrup!
Remember those little tater tots you would buy and pop into the oven? Now you get to be a little creative and make a whole casserole out of them! Plus, this dish is loaded with peppers, meats, and eggs! It certainly doesn't get better than that!
Pie for breakfast? Nope, but close! It's quiche! Another great make-ahead meal that's filled with all your favorites – from cheese to veggies, it has it all!
This recipe won't fill your house up with amazing smells, but it'll save you rushing in the morning. Overnight breakfast oats are perfect for meal prepping too! It's an easy dish for beginners, plus you can add in some of your favorite toppings too!
Kids and adults alike will love this one! It brings the love of cereal and dessert all in one dish! Fruity pebbles dessert bowls perfectly combine 3 ingredients for one memorable treat!
Gone are the days where you just ate omelets for breakfast and welcome the days of a breakfast strata! With just 10 minutes of prep time, this recipe is perfect when looking for a more laid-back breakfast!
Whether on the go or looking for a lighter breakfast option – you've come to the right place! These parfaits are quick, easy to make ahead and will help you start your day right! Made with just combining yogurt, granola, and fruit.
Ever wonder how to cook your eggs with perfectly crisped edges? This over-medium eggs recipe produces yolks that are slightly runny but perfect for dipping. So be sure to make some toast too!
Is there anything that is more of a breakfast staple than steak and eggs? Here's a classic recipe that's ready in 20 minutes, will fill you up and bring back your love of steak in the morning.
Holiday breakfast croissant boats are a creative meal option that can be used for breakfast or brunch. Made with eggs, ham, and cheese, baked right in the croissants! Top with some veggies and you're good to go!
Craving something a little heartier? Try this breakfast burrito recipe! They're loaded with sausage, eggs, cheese, and a homemade avocado-tomato salsa.
Tired of having the same bagels over and over again? Don't worry, you're about to get about 15 ideas thrown at you! From sandwiches to what toppings to put on – it'll be hard to choose just one!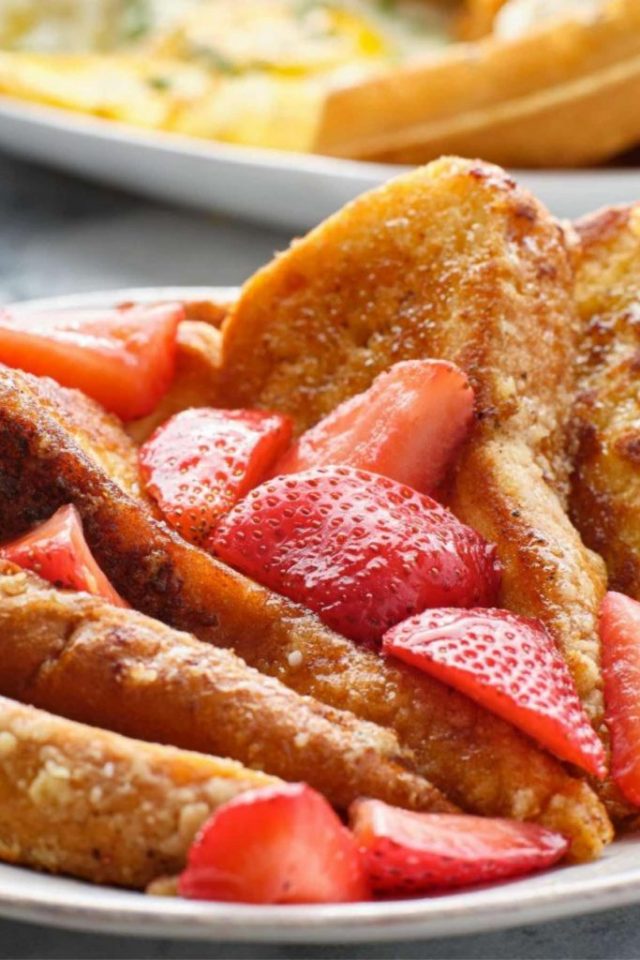 Love IHOP but not the prices?! Then you've come to the right place! It's a copycat recipe that's super easy to make! French toast is made with brioche bread, cinnamon, and vanilla! Serve with some fresh fruit and syrup!
Healthy Morning Breakfast Egg Muffin Recipe
Made with eggs, cheese, bacon and veggies, these breakfast egg muffins are the answer to easy meal prepping! With just a few minutes required to put this together, this recipe allows you to freeze and pop in the microwave when you're ready to eat.
Ingredients
Non-stick cooking spray

(It's important to use non-stick cooking spray, as the regular oil spray won't prevent eggs from sticking.)

12

large eggs

1

cup

cooked bacon

crumbled (I use store-bought pre-cooked bacon, but you can cook your own if inclined)

1

cup

fresh baby spinach

roughly chopped

1

cup

red bell pepper

diced

½

cup

onions

diced

1

cup

shredded cheddar cheese

(I use pre-shredded cheddar cheese, you can use your favorite cheese such as mozzarella)

1/4

teaspoon

salt

1/4

teaspoon

pepper
Instructions
How to cook egg muffins:
Preheat the oven to 350°F (180°C). Spray a 12-cup muffin pan with non-stick oil spray and set aside.

Wash, dry and dice red bell pepper and onions. Dry spinach and chop it roughly.

Add cooked bacon, red bell pepper, onions and spinach in each muffin tin, about 2/3 full. (Divide evenly among greased muffin cups.)

In a large measuring cup, whisk eggs and season with salt and pepper. Mix until well combined. (I recommend using a measuring cup for easy pouring.)

Add in the egg mixture and fill each muffin tin 3/4 full. Sprinkle cheddar cheese on top.

Bake for about 20 minutes or until a toothpick inserted in the center comes out clean.

As soon as you take the muffins out from the oven, run a small spatula around the edges of each muffin to loosen.

Remove them from the muffin tin. Serve warm immediately or freeze for meal prep.
How to freeze egg muffins:
Let baked egg muffins cool down completely.

Wrap them in plastic wrap individually and place them in a freezer-safe zip-lock bag. (They'll last for up to 3 months when stored properly in the freezer.)
Notes
You can also use paper liners instead of cooking spray to prevent the egg muffins from sticking to the muffin tin.