Disclosure: This shop has been compensated by Collective Bias, Inc. and its advertiser, Walmart Family Mobile. All opinions are mine alone. #YourTaxCash #CollectiveBias
A year and a half ago, when I separated from my ex-husband, I knew that I was going to have to take a long, hard look at where I was financially. Eight months after that, we had to move out of our home of 8+ years and find something else quickly. Not only did that move hurt us financially, it also changed the family budget. Now I had to pay things like gas, water, and trash at our new place when I didn't have to do that before. Every bill that I had, I critiqued to make sure it was a NEED rather than a WANT. I even checked to make sure that the cell phone carrier I've been using for 3 years was the best deal. I can confidently say that even though I use a lot of data in a given month, Walmart Family Mobile is the best deal at the best price!
This year is also the first time in a LONG time that I am getting a tax refund. Of course, I would love to go spend it on things that are fun and that we WANT but honestly, it's going to be used for the NEEDS. One of those things is buying a new cell phone and paying for several months of my Walmart Family Mobile service. My cell phone is used for so much so having a reliable phone, plus reliable service is a must. From emails to managing my Facebook Page, Tweeting, Pinterest and everything in between, having great service at a fantastic price is definitely a NEED.
Over the last 3 years of having WFM as my carrier, there have been very few times when I couldn't get service. Even when I was in places where my family or friends couldn't get service with their carriers, I had no problem with my 4G LTE service.
Walmart Family Mobile offers a Plus Plan that includes Unlimited Talk, Text, & Data which includes up to 10GB of 4G LTE then 2G plus a free VUDU movie credit every month ($7 value) per line for $49.88. For less than $50/mo, you're getting great cell phone service, a lot of data (even with how much data I use, I've never gone over 6GB of data in a month) and you get to watch a free movie on VUDU with your family every month! That's a great deal!
It's simple to get started with Walmart Family Mobile, too. I'm not the most tech-savvy person when it comes to cell phones but even I can set up a phone with WFM. As a new customer, you'll need to buy a Walmart Family Mobile phone (or you can bring one of your own) and a SIM Kit for only $19.88. Since Family Mobile bills you later, you only have to pay $19.88 when you sign up. I chose the Samsung Galaxy On5, which has a Rollback price of $69 right now!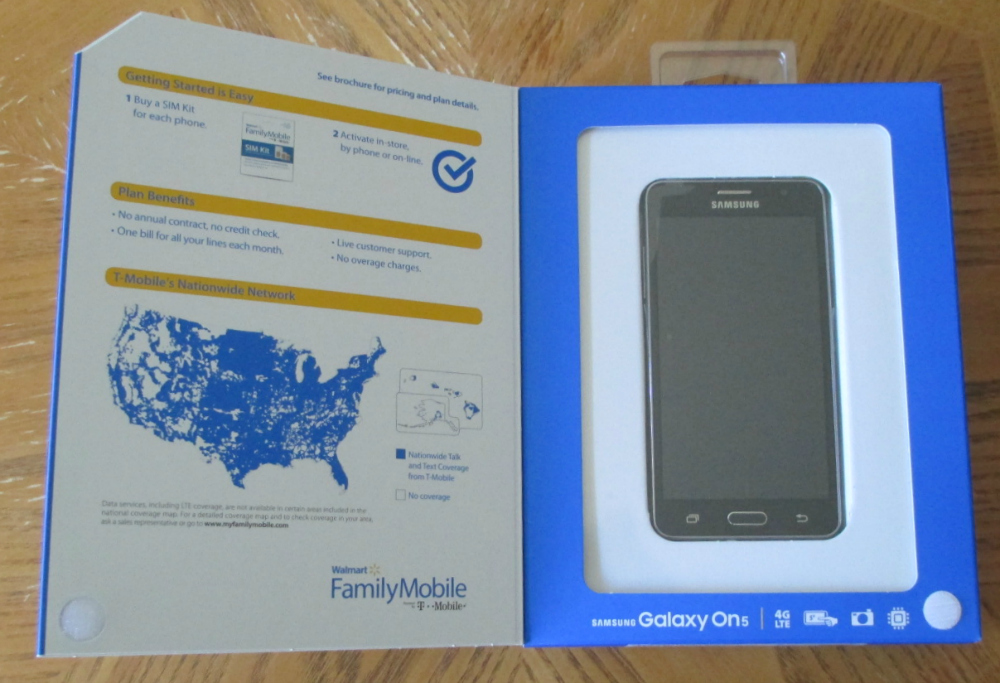 The added bonus of having the Walmart Family Mobile Plus Plan means that every month, I'm able to rent a movie for my family with my $7 credit at VUDU. Not only am I saving money on my cell phone bill, I'm also able to give the family a fun family night at home!
As you receive your tax refund, don't forget to think long-term! Stretch your tax refund through the whole year with a new Walmart Family Mobile Plus Plan.
The Walmart Family Mobile PLUS Plan is perfect for me and my family. With it's Unlimited* Talk, Text, & Data, it really helps my family stay on budget every month (*Includes up to 10GB of 4G LTE† data then 2G).
Disclaimer: All prices for phones and plans included in this post are accurate as of the date of posting; however, these prices are subject to change. Please refer to http://cbi.as/7e-jr or your local Walmart for current pricing.