Having 3 kids, especially one who is 4 years old and always into something, means there are a lot of washed hands happening in this house. I'm always so grossed out when I go to wash my own hands & the soap dispenser is all dirty and grimy.  I was so thrilled when Lysol sent me their No-Touch Hand Soap System to try out and review.  Every time we go into a public restroom & there is an automated soap dispenser, I am MUCH happier.  I didn't think I could get one here in my house, though!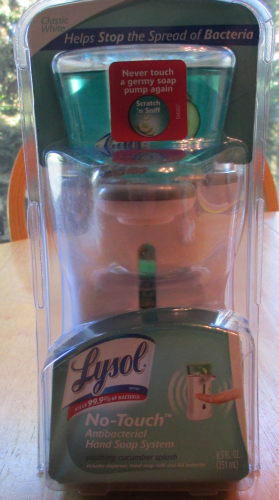 When I opened up our box that we received from Lysol, I was so excited to see that we had received two No-Touch Hand Soap Systems. I already knew that one would go in the bathroom that my husband & I share with our 4 year old and the other went into our kitchen.  Nothing is worse than touching meat & then having to go wash your hands and getting all creative with how you're going to get soap on your hands from the pump without touching the soap pump & contaminating it!  Having the system in my kitchen means I can make dinner, walk over and get set without having to touch anything, keeping my family safe.
When I am doing crafts projects with paint, I'm constantly coming in the house & getting paint on the soap dispenser and then having to wash the soap itself!  Now, I won't have to!  I can walks inside, use LYSOL's No-Touch Hand Soap and not make an entire mess in my kitchen because chances are if *I* am doing a project, there is already a giant mess somewhere I have to clean up!
There are 4 scents of soap that you can buy for your system.  Refreshing Grapefruit Essence™, Soothing Cucumber Splash™, Aloe Vera & Vitamin E with Moisturizers & Antibacterial Total Care.  In both of the No-Touch Hand Soap System, we got the Soothing Cucumber Splash™ and while it wouldn't have been my first choice if I picked it out at the store (I want to get the Refreshing Grapefruit Essence™ next!), it really does have a nice smell to it.  All in all, I am really happy with the LYSOL No-Touch Hand Soap System and can't wait to try other soap scents.  All of my kids love it too!
On February 25th, LYSOL launched a contest called The Kid Who Touches Everything Contest.  The grand prize is a trip to Disney World! No purchase necessary. Contest runs from 2/25/13- 5/25/13. Open to US residents ages 18+. Void where prohibited. Click here for official contest rules. 
"I participated in a campaign on behalf of MomCentral Consulting for LYSOL®. I received product samples to facilitate my review and a promotional item to thank me for participating."