When it comes to gift giving, I absolutely love it…when I know exactly what I want to buy someone. If I don't have the perfect gift in mind and have to just go shopping to find something, I get all stressed out. I want to be able to give a gift that the receiver will love and be able to use. For Christmas, I knew I had the PERFECT gift for my fiancée when I saw a company called Elite Team and their awesome luxury NFL blankets.
Being a sports fan is in Delia's blood, and while I'm not a sports fan, I've even found myself asking who's playing on what day or what team her favorite team is playing against. Her whole family are Denver Broncos fans so whenever I find something with their logo, I love picking it up for her.
When I saw the Denver Broncos blanket from Elite Team, I know if would be a great addition to what she already has and it would be perfect for cuddling up & watching the game together.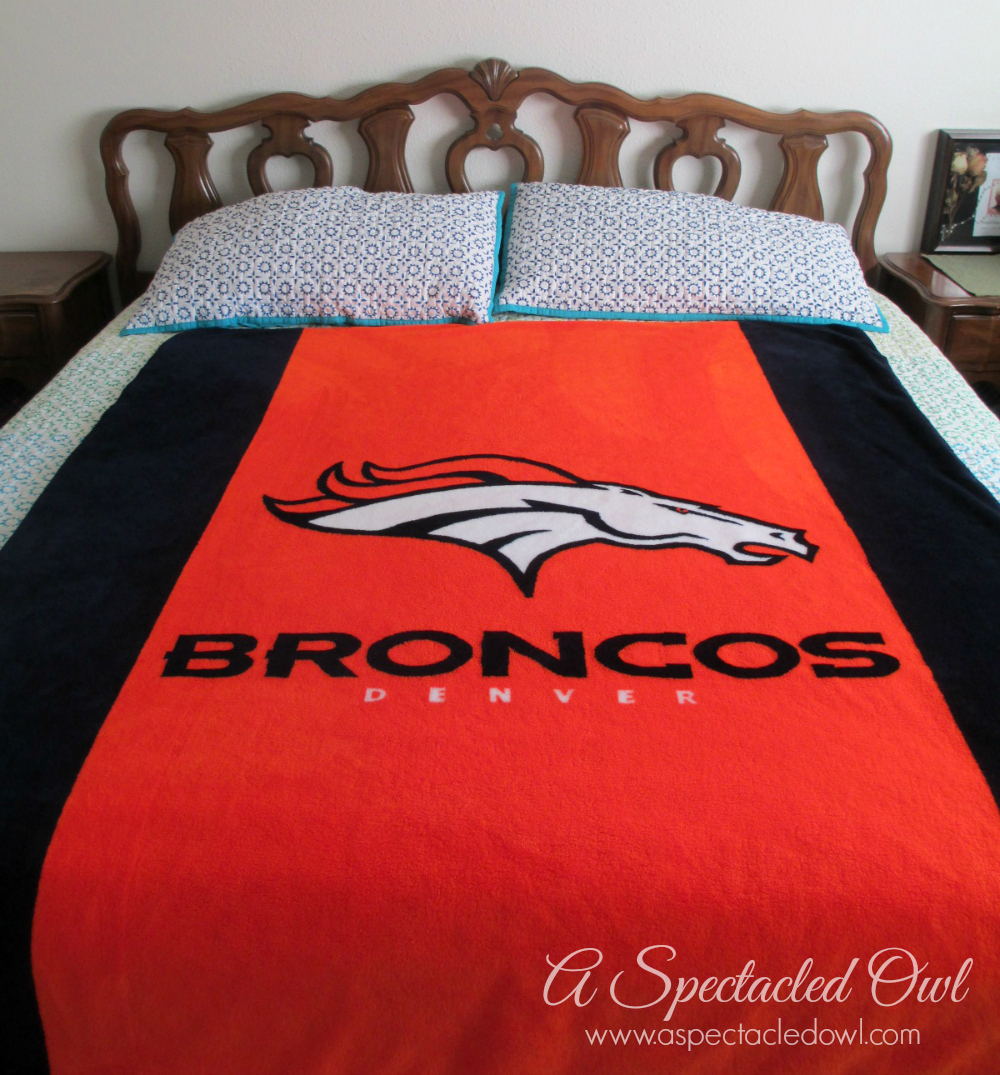 Before we received the blanket, I wondered if it would be different than other blankets I had looked at for her. I also wondered if it would be worth the price because it's "just a blanket", right? I can honestly say it's one of the nicest, softest, warmest blankets I have ever felt. Delia uses it every single night and even though our house tends to get cold, she's never cold with her blanket.
What makes this blanket different?
Ultimate Comfort: Microplush® Super-soft fabric is like wrapping yourself with a cloud
Survives Washing: Made to withstand heavy laundering and gets softer with every wash
Made in USA: American craftsmanship combined with 100% acrylic imported from Portugal
True Colors Won't Bleed: Colors are dyed onto the fabric itself and look as good after years of use as it did on day one
Regulates Temp: Innovative fiber technology is designed to regulate temperature, keeping you comfortable in any temperature or in any season 
Two Blankets in One: These blankets are actually two blankets hand sewn together for luxury you can feel and durability you can depend on
Drapability: Lightweight fibers and flexible, filament-knit backing provide astonishing softness and drape    
44% Larger: Significantly bigger than your average blanket for true head-to-toe coverage
Whether you're tailgating and watching your favorite team play at the stadium or watching the game at home with your favorite snacks, make sure you're showing off your team loyalty with a comfy blanket from Elite Team! You'll find a great selection of NFL blankets, college blankets (a perfect addition to any dorm room!), and Cristiano Ronaldo blankets.