From the first time my daughter & I saw the Lalaloopsy dolls in stores, we've thought they were some of the cutest dolls we had ever seen. As their line of dolls have grown, we are always so impressed that they keep getting cuter & cuter!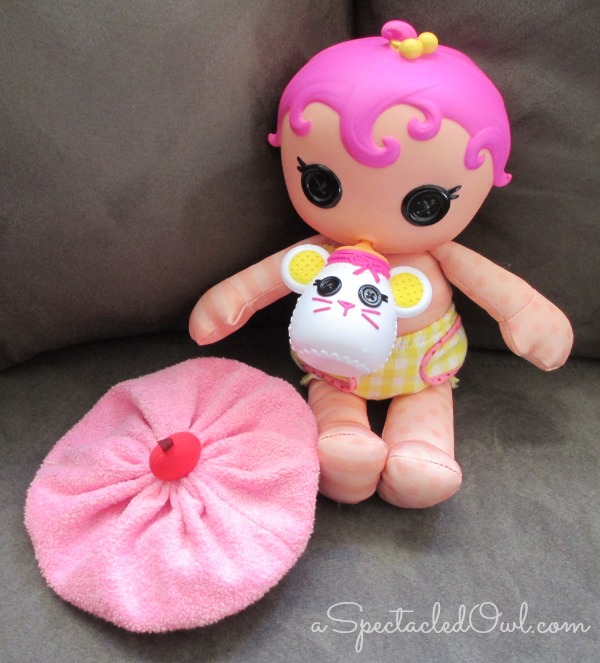 We were sent a Lalaloopsy Babies Doll to review. The Lalaloopsy Babies let you see what your favorite characters were like as babies. We were sent Baby Crumbs Sugar Cookie™ and she just could NOT be any cuter! I was incredibly happy that the Babies have a soft body, where as the other Lalaloopsy dolls have the harder bodies. This makes the Babies a perfect choice for girls that want to take their Lalaloopsy doll to bed with them!
There are four different Lalaloopsy Babies to choose from:
Baby Crumbs Sugar Cookie™ is super sweet, she loves fresh cookies when it's time to eat. She's always happy and she's never sad, and if you give her a treat she'll be oh so glad.
Baby Pillow Featherbed™ loves to sleep, she'll nap all day without making a peep. Although she's quiet she sometimes snores, so make sure to tip-toe across the floor.
Baby Jewel Sparkles™ is a princess at heart, wearing something shiny, that's how every day starts. She's the most royal baby you'll ever meet, but she'll burst into giggles if you tickle her feet.
Baby Mittens Fluff 'N' Stuff™ loves cold and snow. Her favorite warm drink is hot cocoa. When it's cold outside and her cheeks get red, she'll stay indoors and snuggle in her bed.
Each of the babies comes with a bottle that is shaped like their pet, a hat that matches their personality & a character specific pattern printed on their soft doll body. On each of their bums, their is a date printed, which is the date they were sewn, plus each have a belly "button" that is sewn on & adorable!
We are very pleased with the Lalaloopsy Baby and my daughter has already told me she wants another one. You can take a look at all the Lalaloopsy Babies (and LOTS more) by visiting the Lalaloopsy Website, plus you can also visit them on Facebook, Google+, Pinterest, Instagram and YouTube.
You can find the Lalaloopsy Babies (and other dolls in the collection) at Walmart, Target, Kmart & Toys R Us. You can also find them on Amazon.