Japanese noodles (particularly ramen) are delicious, satisfying, quick, and versatile. From soups and salads to moreish stir-frys, there's no limit to what you can make from them.
There's also no limit to what you can pair with your flavorful noodles. Whether you prefer them spicy, meaty, packed with veggies, or gluten-free, there's a recipe here that will tempt your taste buds. Read on for 15 delicious Japanese noodle recipes that you will want to try right now!
'Satisfying' is the only word to describe this recipe! Hearty ramen noodles, savory chicken broth and toppings like soft-boiled eggs and green onions – all with minimum effort! Use chili bean paste to make this as authentic and spicy as you like.
Delicious and comforting, Tsukemen ramen is made with Japanese noodles, a mouthwatering broth, tender pork belly, fresh vegetables, and a soft cooked egg. Ready and on the table in less than 30 minutes – it's healthier and tastier than the restaurant version.
There's something about spicy shrimp that hits your palate differently than any other form of protein. And, if you don't like shrimp, you can change up the protein at any time. And for the vegetarians out there – try tofu.
Healthy, vegan, oil-free, and full of fresh ingredients, you certainly can't go wrong with this vegan ramen noodle soup. Ginger, garlic and green onions add a burst of flavor with every spoonful and you may be surprised that this recipe only calls for 8 ingredients total! You'll definitely be ditching the pre-packaged ramen.
With a flavorful broth, roasted chicken, fresh vegetables, lots of noodles and a soft cooked egg, this chicken ramen noodle recipe is a must-try! Inspired by Japanese cuisine, it will be ready and on your table in under an hour.
Versatile, flavorful comfort food. From the scrumptious noodles to the exciting eggs… oh, and did we mention shiitake mushrooms as well? Prepped and ready on your table in just 20 minutes!
A speedy soup with flavorful broth served with a soft-boiled egg. Get this – the longest aspect of this 20-minute ready-to-serve recipe is cutting the carrots and onions and boiling the egg. Yep, that's it!
Freshly made, quick and easy vegetarian ramen packed with fresh vegetables, noodles, and authentic flavours, and ready in just 15 minutes? Believe it! The best thing about this recipe is that the protein and veggies can change each time you make it. The most important thing is the broth, and we'll take you through that.
This gluten-free ramen noodle recipe will prove to you that they are quick, easy and delicious! They have the perfect balance of intense flavors and are completely customizable allowing you to use a variety of different vegetables. Get as creative as you'd like with these gluten-free ramen noodles.
It's tender, full of springy ramen noodles, chicken, broccoli and a sweet and savory sauce, you'll love just how easy this 20-minute chicken ramen noodle stir-fry is!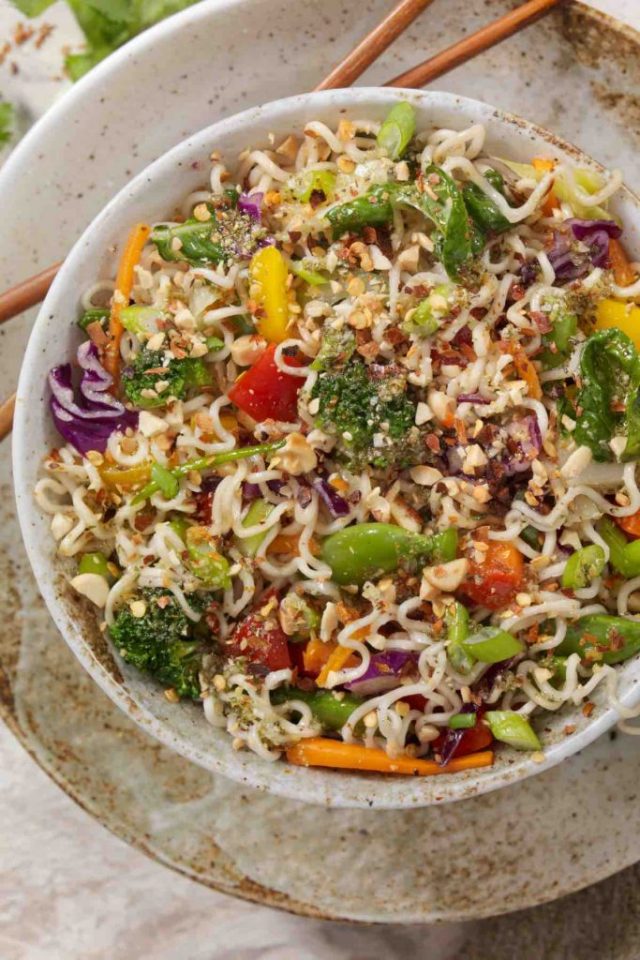 How does this sound… sweet, tangy and crunchy? Ready in 15 minutes, and there's a reason we call this the best Ramen Noodle Salad you will find. Served with almonds and sesame seeds, it's a can't-miss savory salad!
These just may be the easiest ramen noodles you've made at home. Use the pre-packaged ramen noodles, ditch the seasoning package and grab the sesame oil, garlic, soy sauce, brown sugar and sriracha. You can add more or less sriracha depending on the heat level you're craving.
With only one pot and about 20 minutes of your time, healthy chicken ramen noodles is a flavorful soup with a ton of noodles, healthy veggies, a dash of chili oil, and soft set eggs. You may just be surprised that this soup is 'clean-eating'.
If you're looking for a ramen noodle dish that comes together fast and is comforting, then this is your dish! Filled with tender ground beef, sweet and savory peanut sauce, and only takes 30 minutes – you'll instantly fall in love.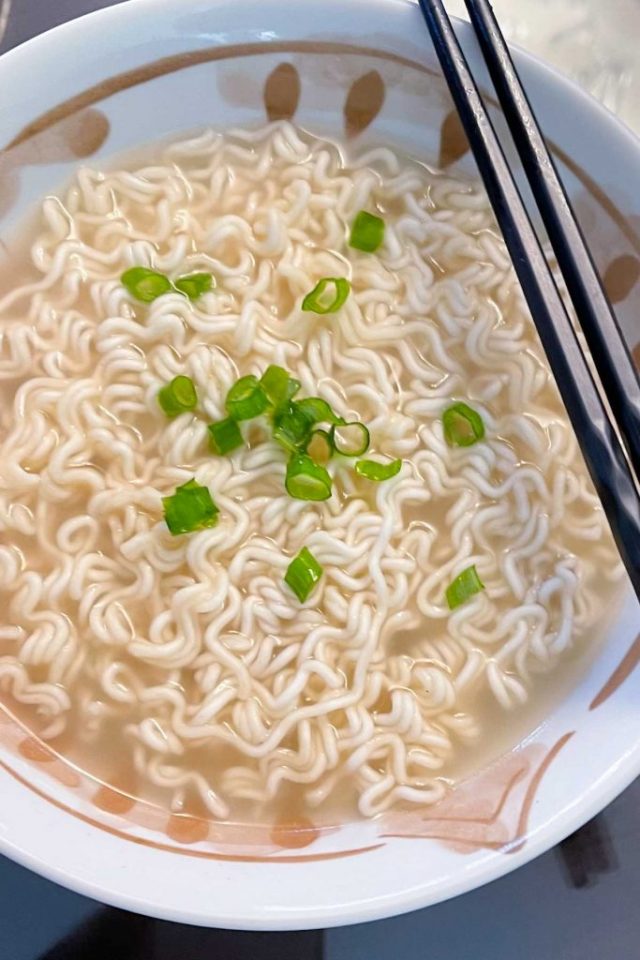 A two-minute recipe, I like to have these noodles on a cold or damp day, but to be honest, they hit the spot on any day of the week! Add the flavor pack to the noodles or dress up these quick and easy ramen noodles with the toppings you like.
Best Japanese Noodles Recipe
'Satisfying' is the only word to describe this recipe! Hearty ramen noodles, savory chicken broth and toppings like soft-boiled eggs and green onions – all with minimum effort! Use chili bean paste to make this as authentic and spicy as you like.
Ingredients
Spicy Miso Ramen Broth
3

tablespoons

miso paste

2

teaspoons

chili bean paste

or doubanjang, or Korean gochujang. Add more for a more spicy soup, and omit this ingredient for a non-spicy version

1

teaspoon

sesame oil

2

cloves

garlic

minced

2

teaspoons

freshly grated ginger

1

shallot

minced

1/4

lb

ground pork

2

cups

chicken stock

I used reduced sodium

3

tablespoons

low-sodium soy sauce

2

green onions

salt and pepper

to taste
Toppings
2

soft-boiled eggs*

See how to make them in the notes

chopped green onions
Instructions
Make Spicy Miso Broth
Heat sesame oil in a large pot over medium heat. Add minced garlic, ginger, and shallot, and cook until fragrant, about 1-2 minutes, stirring frequently.

Add ground pork, and stir-fry until no longer pink.

Add chili bean paste and miso paste. Stir fry with the meat.

Add chicken stock, soy sauce, and green onions.

Cover and bring to a boil. Remove the lid, lower the heat and simmer for 10 minutes. (While you are waiting, you can make ramen noodles.)

Taste and season with salt and pepper to taste. You can add more chili bean paste if you'd like your soup to be extra spicy. Stir lightly. Remove from heat and set aside.
Cook Ramen Noodles
Cook ramen noodles al dente according to the instructions on the package.

When the noodles are cooked, drain completely and divide the noodles into 2 bowls.
Add Toppings
Pour the ramen soup on top of the noodles, and add toppings such as soft-boiled eggs and green onions. Serve and enjoy!
Notes
You can add more red chili paste to the broth if you'd like to add more heat to your dish.
Season with salt and pepper AFTER simmering so that your broth won't be too salty.
*To make soft-boiled eggs: Fill a saucepan with water and bring to a boil. Gently lower cold-from-the-fridge eggs into the water. Simmer for 7 ½ minutes, adjusting the heat as necessary to maintain a gentle boil. Transfer the cooked eggs to iced water and chill for 3 minutes. Crack the eggs all over, peel the shell and slice in half lengthwise.