Spice up your lunchtime routine with these satisfying sandwich meals. Below are 18 healthy protein wraps for lunch that are fresh, filling, and delicious, thanks to a tasty combination of protein and vegetables. Try them all to decide which one will be your favorite.
Serve these sweet and savory wraps at your next get-together! They feature tender chunks of chicken and broccoli with a delicious homemade teriyaki sauce.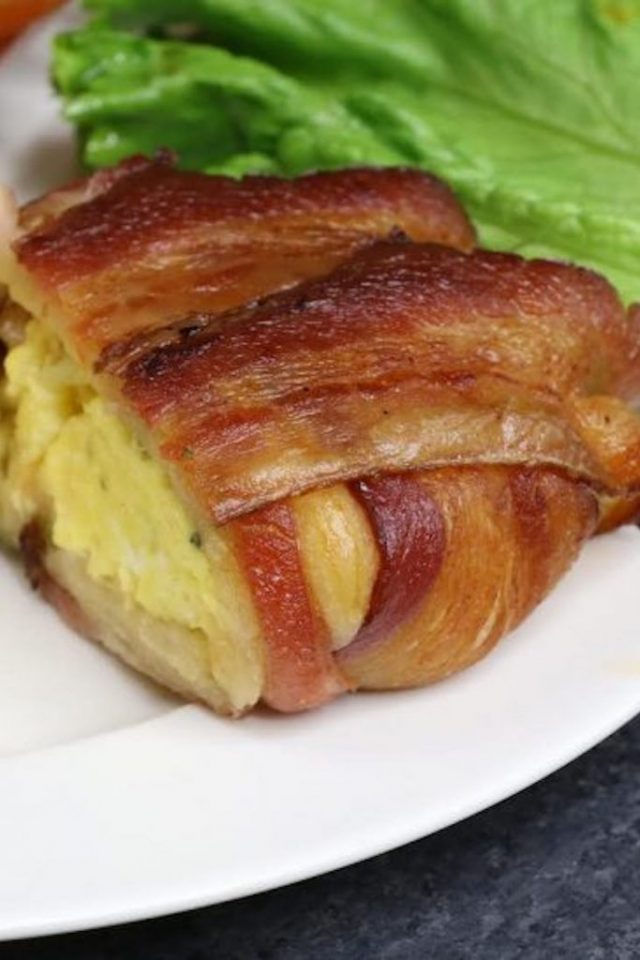 If you haven't tried a crunch wrap, you've been missing out! Crunchwraps are tortillas wrapped five times into a bundle that's crispy on the outside and soft on the inside. This version is filled with savory eggs and covered in crispy bacon! They're perfect for Sunday brunch.
Enjoy the spicy flavor of Buffalo wings in a wrap! They take about 30 minutes to make and are full of crispy lettuce, shredded cheddar, and creamy avocado.
This wrap is perfect for breakfast or lunch on the go. They take just 10 minutes to make and you can easily switch out the turkey or the cheese with your favorite sandwich fillings.
Instead of having a BLT on sandwich bread, try it in a wrap instead! They're quick and easy to make, and your kids will love them.
These healthy vegan wraps are filled with Mediterranean flavors of olives, chickpeas, and red onions. They're also vegan-friendly and take just 30 minutes to make!
Serve these delicious chicken caesar salad wraps for dinner! Pair them with your favorite soup for a healthy and satisfying meal.
Lunch couldn't be easier with these healthy wraps. They take just 15 minutes to make and feature a delicious ranch flavor.
Leftover chicken or a rotisserie chicken from the grocery store makes easy work of these delicious wraps. The recipe serves four and they're ready to enjoy in just 10 minutes!
With a can of tuna and some seasonings, you'll be enjoying a wrap full of delicious flavors and textures! Use more or less of the sriracha to suit your taste.
These tasty wraps have everything you love about cobb salad – blue cheese, shredded lettuce, chicken, tomato, boiled eggs, and bacon! Enjoy them as a delicious mid-day meal.
If you love toasted sandwiches, give this recipe a try! The tortilla is stuffed with shredded chicken, shredded cheese, and avocado, and is then grilled until warm.
The broccoli in these grilled chicken wraps is the perfect complement to the chicken. It adds a touch of texture and has great flavor. If you don't have a panini press you can use a skillet to heat the wraps.
These wraps are loaded with healthy protein and fiber! They're also vegetarian and vegan-friendly. Serve them with a side of sour cream, salsa, and guacamole!
These grilled chicken wraps should be served with a crisp green salad on a warm night. The chicken is perfectly seasoned and you won't be able to resist the spicy garlic sauce included in the recipe!
The cranberries in these wraps bring a touch of sweet and tart flavor, and the pecans add a subtle crunch! Enjoy them as a filling mid-day meal.
You'll love the balance of sweet and savory flavors in these wraps! They're filling, delicious, and the perfect size for lunch!
These delicious wraps come together in just 15 minutes. Serve them with your favorite soup for a healthy and satisfying meal!
Easy Healthy Protein Wrap Recipe: Teriyaki Chicken Wraps
Serve these sweet and savory wraps at your next get-together! They feature tender chunks of chicken and broccoli with a delicious homemade teriyaki sauce.
Ingredients
5

flour tortillas

8-inch

1

tablespoon

vegetable oil

1 1/2

pounds

boneless skinless chicken breasts

cubed

1/4

cup

honey

1/4

cup

soy sauce

2

tablespoon

rice vinegar

or cider vinegar

1/2

teaspoon

ginger powder

or minced fresh

2

cloves

garlic

minced

1

tablespoon

cornstarch

salt and pepper

to taste

2

cups

broccoli florets

or other vegetable of choice
Instructions
Preheat oven to 400°F. Set aside a large muffin tin or baking sheet.

In a small bowl, whisk together honey, soy sauce, ginger powder, garlic, vinegar and cornstarch.

Place tortillas on a work surface and cut into halves.

Form each half into a cone shape, and fasten with a toothpick.

Place cones upside down on muffin tin/baking sheet and brush lightly with oil.

Bake for 6 minutes. Meanwhile, make the teriyaki chicken and cook broccoli if desired.

Place a large skillet on medium-high heat. Add 1-2 tsp oil and cubed chicken.

Fry 2-3 minutes per side until nicely browned. If not browning, increase heat and continue for another minute.

Add sauce mixture to chicken and stir continuously until it thickens to coat the chicken. Remove from heat.

Remove cones from oven and fill with teriyaki chicken and broccoli. Serve and enjoy!
Notes
For the chicken to brown properly, there should be a bit of space between the pieces in the pan.
Fry in batches if your pan is small or you're doubling the recipe.