Ground sausage has a unique flavor that lends itself to various delicious recipes. For example, whether you like pizza, pasta, soup or casserole, you can elevate each dish by swapping your regular protein for ground sausage.
Below, we've got 18 ground sausage dinner recipes you will love. Each one is tasty and creative, and will have your taste buds begging for more!
Okay, who doesn't remember cafeteria pizza? We'll let you customize yours with this made-at-home recipe as well. Travel back in time, and remember your childhood here too.
Sous vide Italian sausage with pasta is nothing short of delicious, tender and juicy! Cooked at a precise temperature, cut into rounds and then tossed in pasta with veggies and sauce that can't be beaten!
Who says you can't have pizza for breakfast? With this sausage breakfast pizza, you'll be wanting it for breakfast every day! Using a premade crust, you'll top with eggs, cheese, and crumbled sausage with gravy as the sauce!! Yum!!
Lots of options here, but the bottom line is if you like mushrooms and or sausage this recipe will check off all the boxes.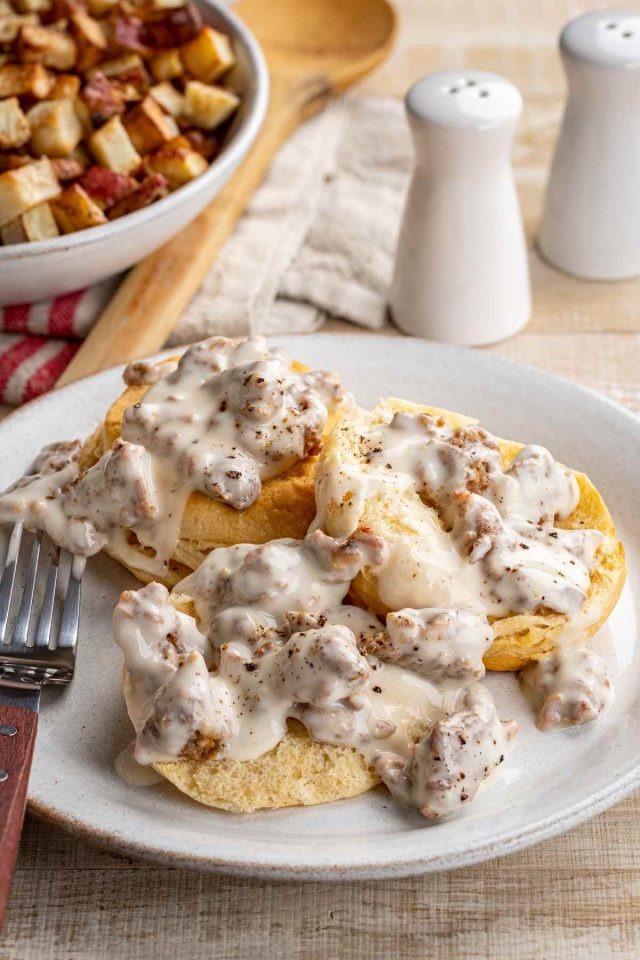 This recipe will easily make you want to get out of bed on a Saturday morning! From the gravy to the biscuits, you'll want to have this at every meal! The gravy is the perfect combination of sausage, flour, half and half and seasoning and easily can be used on burritos, roasted potatoes, eggs and your breakfast skillet.
Sausage on the grill! Anything on the grill usually sounds, and more importantly, tastes good! The key: You've got to be careful and keep a steady eye when grilling sausages.
Twenty minutes of "indirect" heat should do the trick!
Your new favorite recipe for the holidays or even your next family gathering. Sausage herb stuffing uses store-bought stuffing cubes to help cut out the steps of drying out and slicing the bread. You can easily make this recipe a day ahead of time, put it in the fridge and cook it the next day.
Easy, low-carb, one-pot dinner, this keto sausage and cabbage skillet is ready in under 20 minutes! All it takes is cabbage, sausage, butter, garlic, onion powder, and paprika and you will have a delicious dish that has less than 6 carbs per serving.
These cheesy sausage balls are a holiday favorite. Can we call it comfort carb-loaded goodness? The best thing here is you can use whatever type and flavor of sausage you want…but it has to be ground sausage.
Soup warms the soul, and this Italian Sausage Soup is no exception! An easy recipe that gives you many options, including pork or turkey sausage. And you can cut some of the sodium with unsalted chicken stock.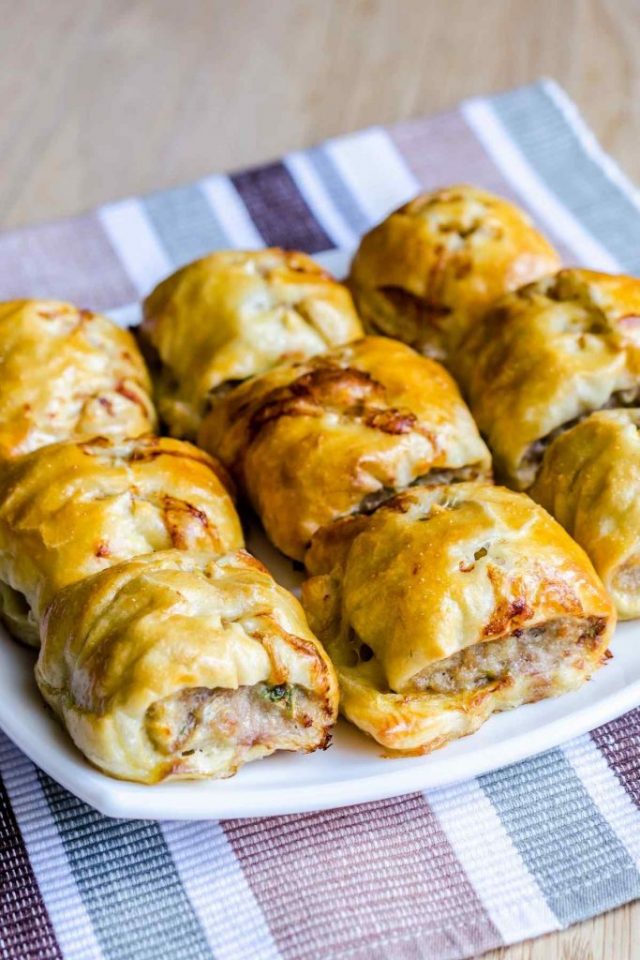 Easy to prepare and ready in just thirty-five minutes, sausage rolls are made entirely in one pot. It's creamy, it's cheesy, it's bursting with flavor, veggies and bold Italian flavors. Serve it alongside some garlic bread, roasted mushrooms or a nice salad for a well-balanced meal.
Looking for that comfort food in the morning that a bowl of cereal just won't satisfy? Try this sausage breakfast casserole – the hashbrowns are the best part! If you're lucky enough to have any leftovers here, they may even be better than when this is first made!
Made in one pot with minimal ingredients. Irresistibly creamy, deliciously cheesy and bursting with flavors! Can it sound any better? Wait until you taste it!
Pair it up with garlic bread or roasted mushrooms, and this will become an instant family favorite!
Yes, for sure, on Christmas, Easter and Thanksgiving, but also anytime too!
An easy, five-minute, recipe to put together. Rumor has it you'll have requests for this recipe after serving it up to your family and friends!
Busy during the week, and not sure what to cook up for dinner? We've got the perfect dish for you! This one-pot pasta is full of flavor and is topped with cheese.
If none of the above sells you on this recipe, this will: Sauteed onion and garlic for base flavors! Yes, before you even get to the sausage penne!!
Smoky chicken sausage, juicy bell peppers, and brown rice in a zesty tomato sauce. Yes!
Protein, veggies and whole grains. Yep!! Take note that cooking time(s) will vary if you use white rice.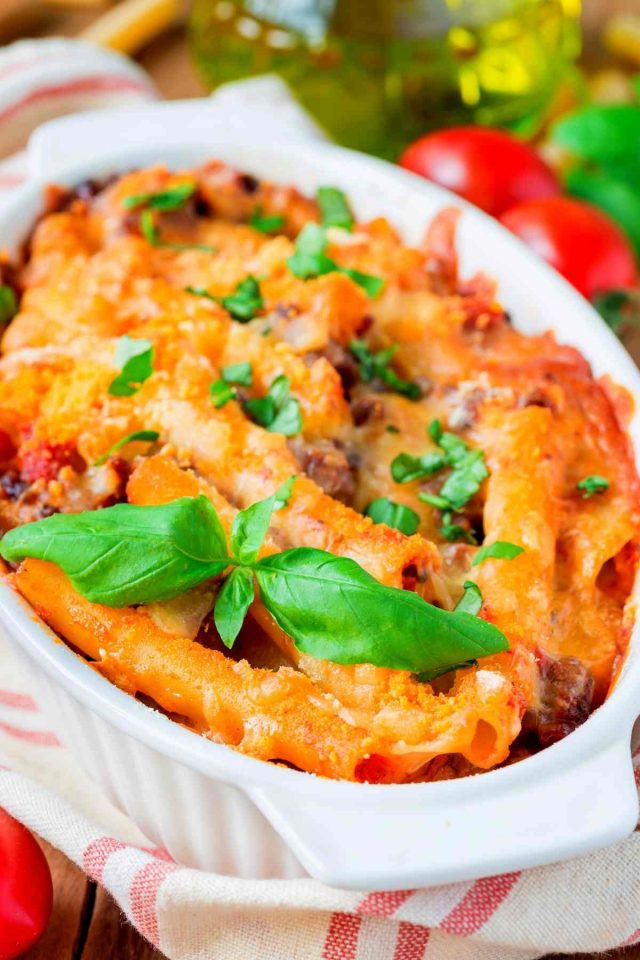 If you love lasagna, you're going to absolutely love baked ziti with sweet Italian sausage. Plus, it's easier to make and your kids will love it, too! The sausage gives it the protein you're looking for to fill you up and the flavor you seek to satisfy your palette.
Looking for a restaurant-quality dish? Look no further than this Italian sausage and peppers recipe! An Italian dish that is made in one pan, combining peppers, onions, and of course sausage! Eat it plain or roll it up in a sandwich!
Easy Ground Sausage Dinner: School Pizza Recipe
Okay, who doesn't remember cafeteria pizza? We'll let you customize yours with this made-at-home recipe as well. Travel back in time, and remember your childhood here too.
Equipment
Baking Sheet

Non-stick Skillet
Ingredients
Pizza Dough:
1

packet

active dry yeast 2 ¼ teaspoons

1

cup

warm water 110-120°F

1

teaspoon

sugar

2 ½

cups

all-purpose flour

½

teaspoon

salt

1

tablespoon

olive oil
For the Toppings
2

teaspoons

olive oil

1/3

cup

tomato sauce

or pizza sauce

2

cups

Mozzarella shredded

1/2

onion

1

pound

cooked ground sausage

other toppings such as cooked ground beef, pepperoni, ham, and bell pepper
Instructions
Make the pizza crust
Whisk together yeast, sugar and warm water in a small bowl. Let it sit for 5-10 minutes until foamy.

Mix together flour and salt. Add olive oil, yeast mixture to the dry ingredients. Mix with a wooden spoon until the dough just begins to come together.

Knead the dough by hand for about 5 minutes until it's soft and elastic. Place the dough in a greased mixing bowl. Cover with plastic wrap and let it rise for about 30 minutes or until doubled in size.
Cook the Sausage
Heat a non-stick skillet over medium-high heat. Add the sausages, breaking htem into small pieces using a wooden spoon. Cook until no pink remains about 7-8 minutes.
Cook the Pizza
Preheat oven to 450°F. Prepare a large baking sheet lined with parchment paper.

Place the dough onto the parchment paper. Stretch the dough by gently flattening the dough ball. (You can spread it out thinner if you prefer a crispy crust.)

Use a fork to poke holes across the surface of the dough.

Brush the dough with olive oil. Spread tomato sauce evenly, leaving about ¼-inch border on all sides.

Add Mozzarella cheese, distributing it evenly over the surface.

Add cooked ground sausage on top of the cheese.

Bake for 12-15 minutes or until the cheese is melted, and the crust is golden brown.

Remove the pizza from the oven, and transfer to a cutting board. Slice and serve immediately.
Notes
You can make the dough ahead of time. Let it rise first, and then wrap with plastic wrap and place it in a freezer-safe bag. Thaw in the refrigerator and then bring it to room temperature before using.
To reheat leftover pizza, bake it in the oven for about 5 minutes or until the crust is crispy.