How do you make tacos even better? By grilling them, of course! If you've never tried a grilled taco before, you are in for a treat. We've got 12 of the Best Grilling Taco Ideas For A Mexican Feast, and believe us, you won't be disappointed.
From steak and chicken to shrimp and black beans, these grilling taco ideas are flavorful, easy, and perfect for your next barbecue. All that's left to do is grab your apron and dive in!
The key is in the marinade. Perfectly marinated steak promises a juicy result that's ready in just a few minutes. Splash with lime, onion, tomato, and cilantro for a truly authentic Mexican meal.
What could be better than chicken tacos? Jerk chicken tacos! Heat the grill and fire up that marinated chicken. Add some kiwifruit salsa and sweet coconut plantains and serve for the ultimate summer dish.
Grilled black bean tacos? Yes! In just 5 minutes, you can whip up these hearty, healthy, and tasty tacos. The whole family is sure to love these.
Grilled salmon tacos are loaded with flavor but they're also healthy and high in omega fat. Top with fresh mango avocado salsa with a zest of lime and you won't eat tacos any other way again.
Seasoned with lemon and oregano for a Greek twist, these marinated lamb tacos are delicious. Loaded with tomatoes, cucumbers, fresh greens, red onion, and tzatziki sauce, these soft corn tortilla-wrapped tacos are good from start to finish.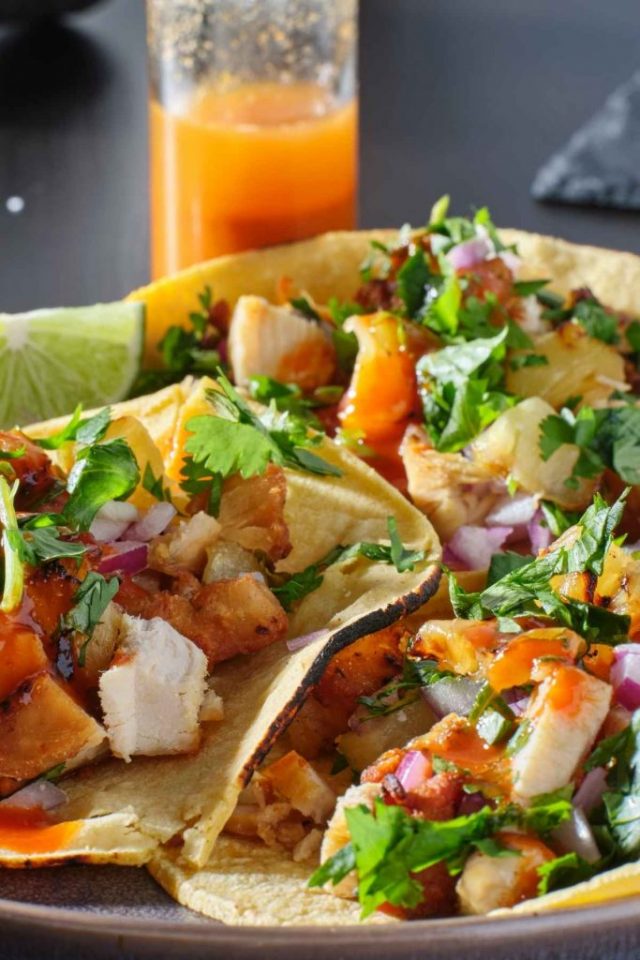 For a healthy taco filling, marinated chicken is perfect. Made with lean, juicy, tender chicken, these grilled tacos will satisfy your craving.
Looking for the perfect recipe for your next Cinco de Mayo celebration? No matter what the occasion, grilled flank steak tacos are hearty, delicious, and tender. They're perfect for busy weeknights when you're short on time.
Fish tacos topped with cabbage, pico de gallo, and homemade sauce make these grilled fish tacos the best vegetarian tacos ever. Plus, you can prep this healthy recipe in just 30 minutes.
A staple in Mexican cuisine, tacos de asador are made with a marinated, juicy steak, and wrapped in warm corn tortilla bread. Garnish with guacamole for an authentic street-style flavor or whatever other taco seasonings and toppings you like.
Shrimp tacos are light, tasty, and even refreshing. Packed with spicy shrimp, salsa, avocados, red onion, and cilantro, and covered in cheese, these seafood tacos are even better than your usual meat tacos.
You can prep this tasty pork recipe in just 20 minutes. Just make sure to marinate the meat ahead of time and your next taco dinner can be quick to prep and tastier than ever.
These meatless tacos are just as tasty as your usual beef tacos. In just 10 minutes, these flavorful veggie tacos are ready to go. Zucchini, red onion, bell pepper, and corn combined with loads of seasoning make this recipe mouthwateringly delicious. Add fresh cheese and cilantro for a touch more flavor.
Best Grilling Taco Idea: Grilled Steak Tacos Recipe
The key is in the marinade. Perfectly marinated steak promises a juicy result that's ready in just a few minutes. Splash with lime, onion, tomato, and cilantro for a truly authentic Mexican meal.
Ingredients
Steak taco marinade
2

tablespoon

lime juice

from 1 lime

3

tablespoon

orange juice

from 1 orange

2

teaspoons

ground cumin

2

cloves

garlic

minced or 1 teaspoon garlic powder

1

jalapeño pepper

minced – optional

2

tablespoon

olive oil

salt and pepper

to taste

1

pound

steak

flank steak or skirt steak (see note)
Grilling and assembly
cooking oil spray

8

tortillas

corn or flour, 8-inch size

1/2

medium red onion

diced

1

medium tomato

diced

guacamole

optional, or diced avocado

queso fresco cheese

or Cotija cheese (see note)

fresh cilantro

fresh lime

wedges
Instructions
In a medium bowl, mix together the lime juice, orange juice, cumin, garlic, olive oil, salt and pepper.

Place the steak in the bowl and coat thoroughly with the marinade. Reserve for one hour at room temperature (see note), or refrigerate for up to 8 hours.

In the meantime, preheat the grill medium heat or 400°F (204°C) and prepare toppings, i.e. dice the tomatoes, dice the red onion and crumble the cheese.

Spray the grill grates with oil spray.

Place the steak on the grill and cook for 3-4 minutes per side until medium-rare or medium, using an instant-read thermometer to check doneness (130-140°F or 54-60°C).

Remove steak to a cutting board, cover with foil and let rest for 5 minutes to preserve juiciness.

Cut the steak crosswise against the grain into thin 3-inch (8 cm) slices, about ¼ inch or ½ cm. Reserve.

Please a skillet over medium-high heat. Add a tortilla and heat for 30 seconds until puffy. Remove to a plate for assembly into a steak taco. Repeat for remaining tortillas.

Add a few slices of steak to the middle of the tortilla, followed by toppings, cheese and cilantro. Repeat for remaining tortillas. Serve and enjoy!
Notes
The best steak for tacos is flank steak or skirt steak (hanger steak), but sirloin steak fajitas and ribeye steak fajitas are also delicious.
Room temperature steak will cook more evenly for juicier steak.
You can pan fry the steak in a grill pan or cast iron skillet if you prefer not to use the grill.
Mexican Cotija cheese is the most authentic, although it can be difficult to find. Queso fresco is another great option, with feta or Monterey Jack as alternatives.