Disclosure: This shop has been compensated by Collective Bias, Inc. and its advertiser, Walmart Family Mobile. All opinions are mine alone. #YourTaxCash #CollectiveBias
We all love saving money, right? Even people that love shopping, love getting a great deal and saving money. No matter if it's buying the kids a new pair of shoes, shopping for groceries or paying for cell phone service, I love saving money. For the last 3 years, I have had Walmart Family Mobile as my cell phone provider and have been saving money ever since.
Stretching dollars is important now, more than ever. Going through a divorce has made money very tight around here so we're having to cut back on any extras and only keeping the essentials. Since it's tax time (and I got money back for the first time in years), I wanted to make sure that that money was used for important things that would matter throughout the entire year. Getting a new cell phone was first on my list.
I decided to get the Samsung Galaxy On5, which has a Rollback price of $69 right now (regular retail price of $119)! With Walmart Family Mobile, you don't have to pay a lot of money upfront, like a lot of other cell phone companies. Since Family Mobile bills you later, you only have to pay $19.88 when you sign up. Just pick a phone or Bring Your Own, and get your SIM Kit for only $19.88. Plus, with the Walmart Family Mobile Plus Plan, you get Unlimited* Talk, Text, & Data which *includes up to 10GB of 4G LTE then 2G and a free movie credit on VUDU every month ($7 value) for $49.88 per month, per line.
I love that every month, we can watch our free movie on VUDU and turn it into a Family Movie Night. It brings us all together and we're saving money on renting a new release (not to mention how expensive it is to go to the movie theater!) Usually, when we do a movie night, we love making a family favorite recipe or trying out a new recipe that we think everyone will love. Nothing's better than hanging out in the family room, gathered around our TV, watching a new release movie on VUDU through our Roku® & eating something great. This time, we tried out a new recipe that we ended up loving: Flourless Chocolate Pecan Cake. It was different than other cakes we've tried but it was delicious & simple to make!
When we were done with Family Movie Night & cake, we decided to use our leftover paper cups & create a fun craft. The kids had a blast and we love how our craft turned out! We can't wait for our next movie/dessert/craft night next month with our VUDU movie credit! (Scroll down for the recipe & the directions to our craft!)
[amd-yrecipe-recipe:8]
Supplies
Red paper or plastic cups
Large googly eyes
Red, blue, green, blue, and orange craft feathers
White card stock
Black marker
Yellow and orange yarn
Hot glue/hot glue gun
Scissors
Directions
1. Fold your white paper in half, draw a beak with the flat side on the folded edge, and cut out with scissors.
2. Color the bottom half of your parrot beak with your black marker and glue to the center of your red cup.
3. Glue two googly eyes above the beak.
4. Wrap a yellow and orange piece of yarn around the cup about 4 times going around the beak and eyes and secure the ends with glue.
5. Group 3-4 feathers together for parrot wings and glue them to the front sides of the cup with the bottoms by the bottom edge of the cup.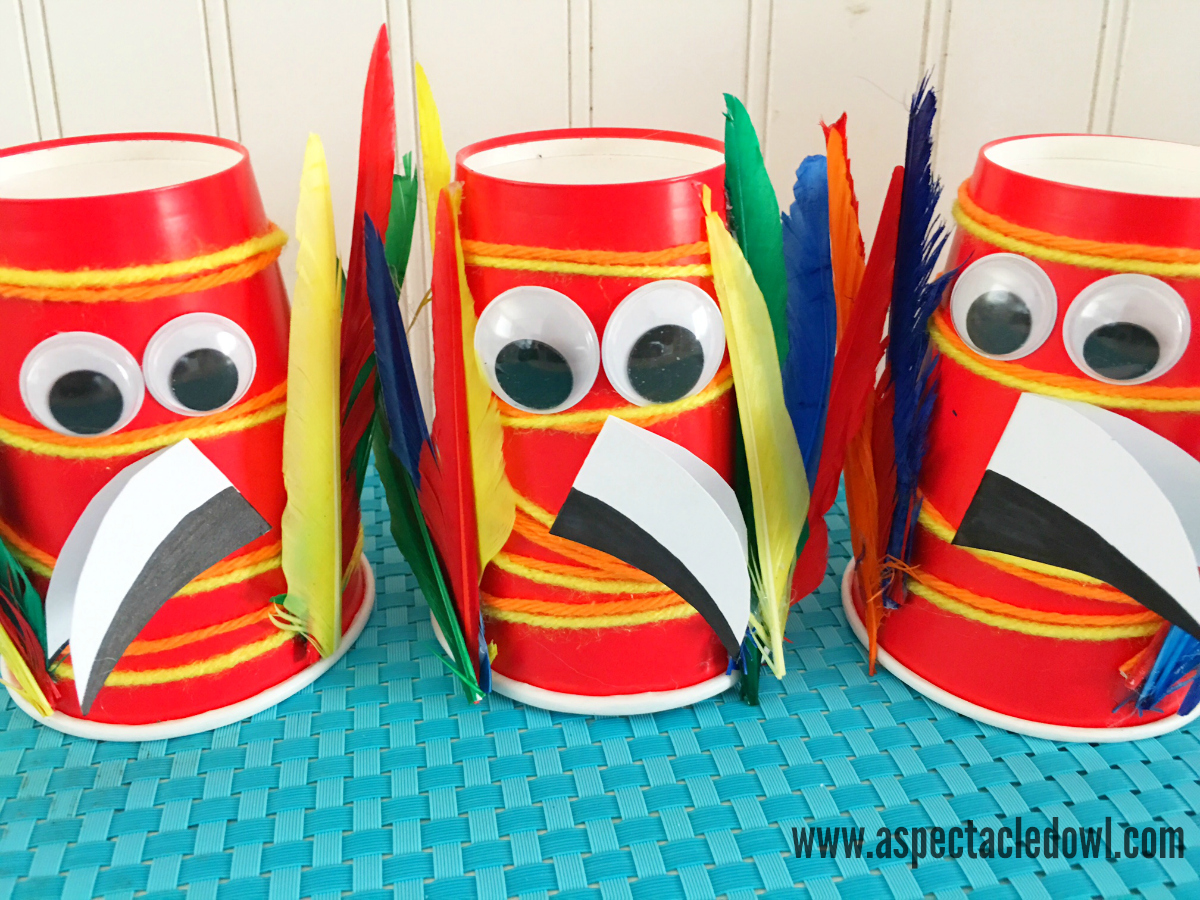 The Walmart Family Mobile PLUS Plan is perfect for me and my family. With it's Unlimited* Talk, Text, & Data, it really helps my family stay on budget every month (*Includes up to 10GB of 4G LTE† data then 2G).
Disclaimer: All prices for phones and plans included in this post are accurate as of the date of posting; however, these prices are subject to change. Please refer to http://cbi.as/7e-jr or your local Walmart for current pricing.