You know that moment when you think, "I don't have time to make lunch"? Well, banish that thought forever. The reality is that you can and should make time for lunch. Eating regular, balanced meals will keep your blood sugar levels normal and give you the energy to face your day.
We've found 22 fast lunch ideas so you never skip a meal. They're delicious, satisfying, simple, and best of all, they're ready in a jiffy!
A popular dish at a Japanese restaurant, dragon roll sushi is filled with shrimp tempura and cucumber! The avocado topping resembles a dragon's scales which gives this dish its name. Plus you'll find some great tips here to make these with ease at home.
An ideal option for those work potlucks, games, gatherings or holiday parties. BBQ chicken meatballs are tender, juicy and covered with a sweet and tangy sauce and all you need is 6 ingredients! Pair them with some green beans, noodles or rice for the perfect meal prep dishes.
The perfect fried chicken sandwich with a zing! This copycat recipe is perfect for those who love a little extra heat! Simply place chicken thighs between two brioche buns with a nice creamy burger sauce. This may just become your most requested meal.
Ready in just 20 minutes, beef lo mein may just be the easiest and most flavorful meal prep meal you've made! A healthy meal to go that saves you time. If you have extra time, marinate the steak for up to 2 hours before mixing it with the lo mein noodles.
Both hearty and flavorful, you'll love this steak sandwich! Loaded with thinly sliced, tender steak, caramelized onions, greens, and mustard all served up nicely on lightly toasted bread. It's the perfect option when you're looking for a bit more casual lunch or dinner option.
Delicious, easy to prepare and refreshing? Sound satisfying enough yet?
This salad is full of fibre, protein & nutrients and offers up a low-carb lunch or dinner.
Try toasting your sesame seeds for added flavor and crunch!
The perfect meal to take you back to your school days! School pizza is just like the pizza they used to serve up in the cafeteria. Cheesy, doughy, and easy to make, you can customize it with your favorite add-ins to switch it to a breakfast pizza or a more hearty dinner pizza.
Crispy chicken, bell peppers, onions, and pineapple in a mouthwatering sweet and sour sauce make up this delicious meal prep. Ready in just 20 minutes, you'll easily have lunches and dinners for the entire week.
This recipe captures the exact flavors of the McDonald's quarter pounder all in the comfort of your own home. It's a copycat recipe that includes a quarter pounder burger, cheese, bacon, lettuce, and of course sesame seed buns! Serve it up with some fries and you are set!
Creamy and delicious, chicken avocado roll-ups are filled with either grilled or leftover chicken, avocado, bell pepper, and cheese. Ready in about 20 minutes, they make the perfect party appetizer!
Loaded with roast pork, salami, cheese, ham, pickles and yellow mustard, this is a sandwich that will certainly satisfy all your cravings. Cuban sandwiches are a satisfying lunch option that is ready in just 20 minutes.
Refreshing and colorful, this BLT pasta salad is perfect for those family gatherings or BBQs. Ready and on your table in just 15 minutes your family and friends will be asking for it again and again.
Healthy, low-carb, appetizer or snack made without oil! Air fryer buffalo cauliflower spicy vegan bites are healthier than your buffalo chicken wings and are ready in less than 20 minutes. So if you don't have an air fryer, go run out now to get one!
An easy dump-and-go meal that is full of flavor, cooked to perfection and falls off the bone. Crock pot pork shoulder is flavored with barbeque sauce and spices and is perfect for sandwiches, tacos, or for serving at a picnic.
The easiest and most delicious way to enjoy pad thai, chicken pad thai meal prep. Healthier and less expensive than the restaurant version, this dish is easy to make and saves you a ton of time during the week!
In less than 5 minutes you will be able to enjoy this easy keto-friendly egg salad. Perfect for low-carb sandwiches or lettuce wraps, you'll be surprised at how versatile and delicious this egg salad is!
Loaded with chicken, cheese and ranch, these lunch recipes are both hearty and healthy. They come together in just under 15 minutes, and if you're looking to add a bit more girth to your wrap simply add in some tomatoes, avocados, cooked bacon or whatever your heart desires!
Comfort food that is light and fresh, this tuna salad is made with a few simple ingredients – canned tuna, mayonnaise, onion and celery. It's the perfect combination of creamy and crispy and easy to enjoy in a lettuce wrap, a sandwich or stuffed inside avocado halves.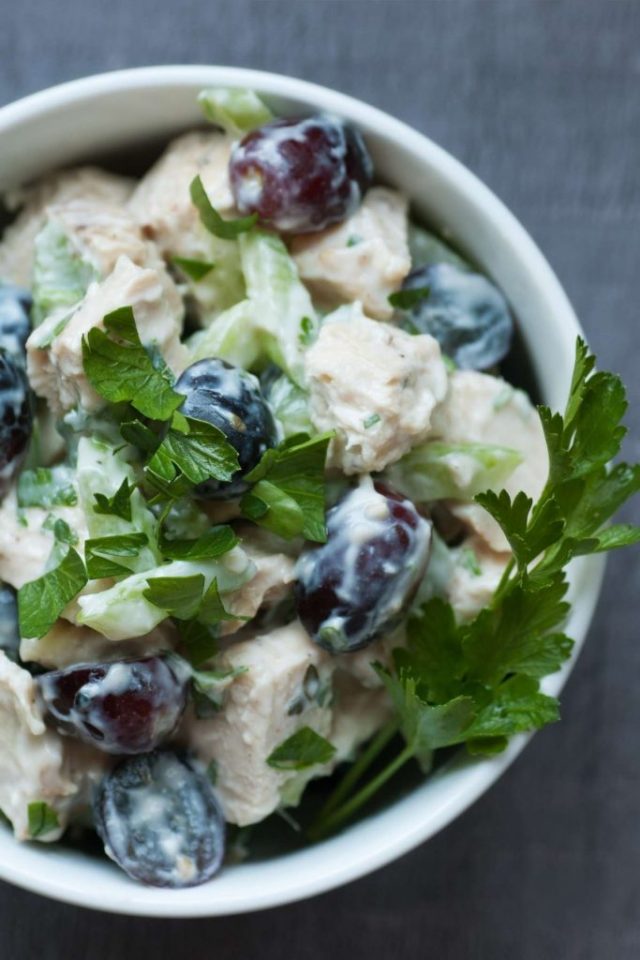 Diced chicken tossed with creaminess, mixed in with some crunchiness from celery, onions and grapes, this is by far a classic recipe to keep close by! Filled with fresh flavors and colors, you will get hints of dijon, juicy grapes, and some crispiness with every bite.
If you love Chick-fil-A, you'll love this copycat chicken sandwich recipe! The secret here is to marinate your chicken breast halves in the pickle juice/water marinade for 30 minutes in the fridge. Fry it up, bake it or place them in an air fryer – whatever option you choose, you'll certainly be able to skip the Chick-fil-A lines.
Go grab your cheese, bread and butter because you're about to make an ultimate grilled cheese sandwich. Follow closely to have a sandwich that is crispy on the outside and filled with gooey cheese on the inside. You'll even get a tip here on how to pack the sandwich so it doesn't get soggy!
Who doesn't love crispy tacos? Cook your beef up exactly like Taco Bell and use it for tacos, nachos, burritos and so much more. Be sure to top with some sour cream, lettuce, cheese, and tomatoes! Plus you may just love that this recipe is salt-free!
Fast Lunch Zing Burger Recipe
The perfect fried chicken sandwich with a zing! This copycat recipe is perfect for those who love a little extra heat! Simply place chicken thighs between two brioche buns with a nice creamy burger sauce. This may just become your most requested meal.
Servings
4
zinger burgers
Equipment
Deep Fryer

Deep Fry Thermometer

Mixing Bowl

Slotted Spoon
Ingredients
For the Chicken Fillet
4

boneless chicken thighs

I recommend using chicken thighs for the best result, but you can also use chicken breasts

1

cup

buttermilk

2 ½

tablespoons

hot sauce

optional

1/2

teaspoon

salt

1/4

teaspoon

freshly ground pepper
Dredging Mix
1

cup

all-purpose flour

2 ½

tablespoons

cornstarch

1

teaspoon

garlic powder

1/2

teaspoon

dried oregano

1/4

teaspoon

white pepper

1/2

teaspoon

cayenne pepper

1/4

tablespoon

salt

1/4

tablespoon

paprika
For the Burger Sauce
1/2

cup

mayonnaise

4

tablespoons

ketchup

2

tablespoons

vinegar

2

tablespoons

mustard sauce
For the Zinger Burger
4

burger buns

sesame seed hamburger buns

1/2

bunch green leaf lettuce

butter

optional
Instructions
Marinate the chicken: In a large mixing bowl, add buttermilk, hot sauce, salt and pepper. Mix well and add chicken. Cover with plastic wrap and marinate the chicken in the refrigerator for 3-4 hours.

Make the dredging mix: In a large mixing bowl, combine flour, cornstarch, garlic powder, oregano, white pepper, cayenne pepper, paprika and salt. Mix well and set aside.

Fry the chicken: When ready to cook, place a large pot or saucepan over medium-high heat and add 2 inches of oil. Heat the oil to 350˚F (177˚C)

Working one at a time, remove each piece from the marinade. Shake to remove excess, and then place it in the dredging mix and coat thoroughly. Tap off the excess.

Slowly lower the breaded chicken pieces into the oil. You'll notice that the temperature will drop slightly, so adjust the heat so that the temperature will stay between 300-350˚F. (Make sure not to crowd the pan).

Fry each piece for about 10-14 minutes, turning each piece every 2 minutes, until the chicken reaches an internal temperature of 165˚F

Remove the chicken from the oil and place on a cooling rack. Let them rest for 10 minutes.

Make the burger sauce: In a medium bowl, whisk together all the sauce ingredients.

Assemble Zinger Burger: Toast the buns on a skillet or grill until golden brown. Then spread softened butter on the cut-side of the buns.

Place the bottom bun on a plate. Then spread some burger sauce. Place the crispy chicken on top, add lettuce, and drizzle more burger sauce.

Add the top bun on top. Serve hot with French fries and salad.
Notes
Make sure to keep the oil temperature between 300-350˚F.
I suggest marinating the chicken for at least 3 hours. If you are in a rush, you can marinate for 1 hour. But don't skip this process as it will give you more juicy and tender chicken.