Whether you're working from home or going into an office, lunch is a meal that's easy to skip when you're running low on time. However, with these easy lunch ideas for work, you can whip up a satisfying meal that will keep you energized and fueled for the day.
Whether you need to prepare your lunch in advance or you need something you can conjure up in 10 minutes, there's a delicious idea here for you.
These roll-ups are perfect for bite-sized fun! Creamy and delicious, they're made with grilled or rotisserie chicken, avocado, and cheese, with plenty of room for some optional veggies (like red peppers)! Quick and healthy, this lunch idea is ready in just 20 minutes!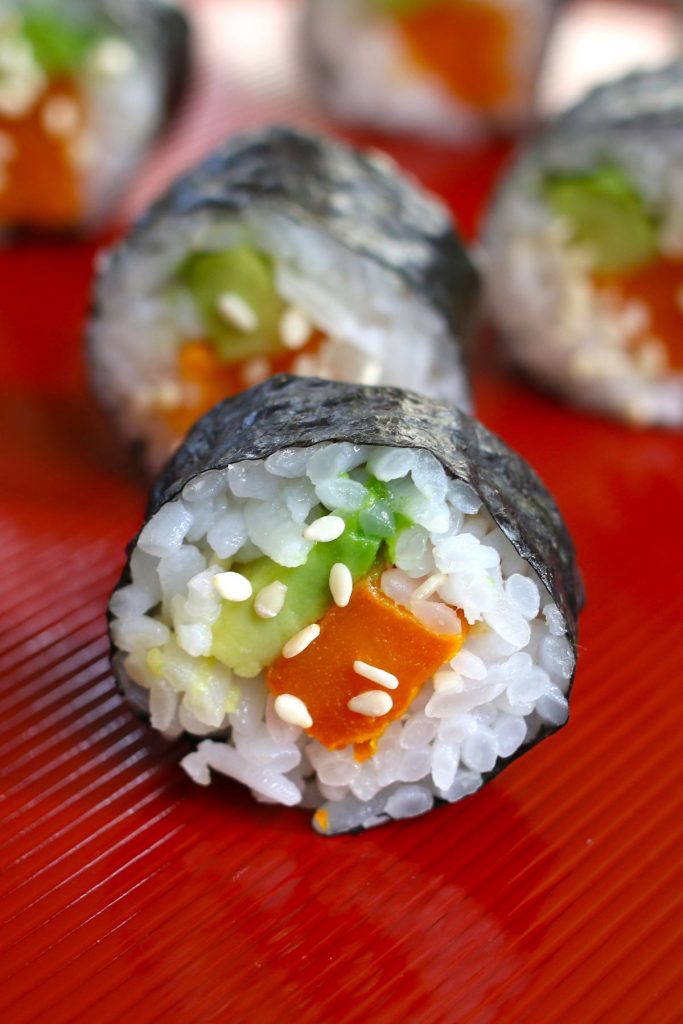 These delicious sushi rolls are filled with roasted sweet potatoes and creamy avocado, making this a vegan lunch you will love!
Easy to make, customizable, and delicious, this recipe calls for roast beef, a tasty sauce, veggies, and melted cheese.
With just 20 minutes to prepare, this go-to recipe will make your stir-fried noodles shine! You'll love this dish so much that you'll forget about ordering takeout.
Easily one of the more popular Japanese sushi dishes, dragon rolls are loaded with shrimp tempura and cucumber and topped with avocado. You will love its colorful appearance and delicious taste!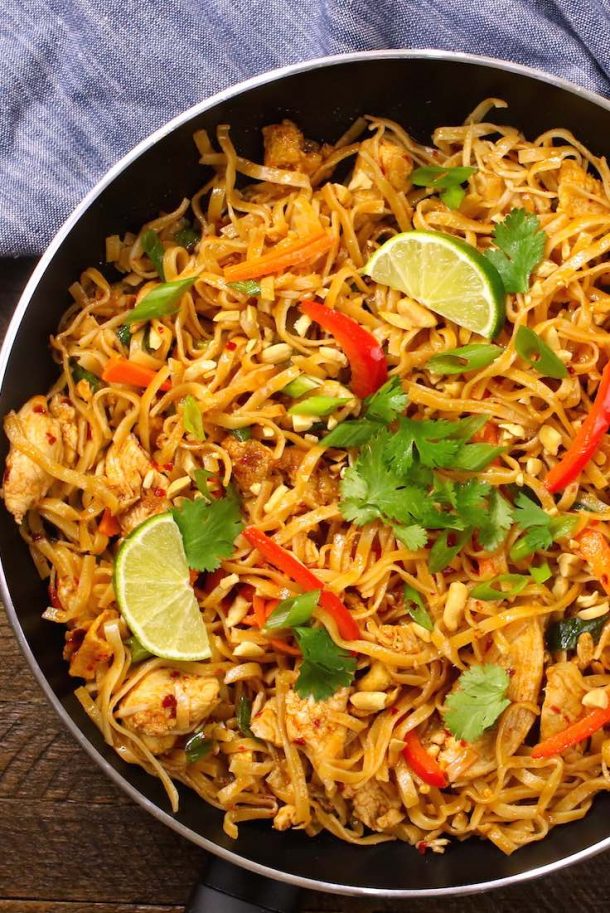 This recipe is perfect for those busy weekdays. Featuring salty, sweet, nutty and spicy flavors, the best part of this dish is that it comes together in less than 20 minutes!
These sandwiches are juicy and flavorful. Made with a pork shoulder smothered in a sweet barbecue sauce, you can shred it into small pieces and serve it on a bun with some crunchy coleslaw to complete the meal.
Ditch the bread and make a BLT pasta salad instead of a sandwich! This simple recipe is ready to eat in just 15 minutes. Your kids will love its colors and refreshing flavor!
Made with a delicious filling, surrounded by sushi rice, and then shaped into a ball, Onigiri is easier to make than you may think! You can customize the fillings to your taste or keep it traditional with salmon, pickled plums, or salted cod roe.
If you love Benihana, you'll love this dish! Loaded with veggies and scrambled eggs, this Japanese restaurant-style dish is easy to make and customizable! Add some chicken, shrimp, or steak to suit your taste!
Loaded with tender beef, this stir fry is delicious! The sauce is a tasty combination of soy sauce, brown sugar, garlic, ginger, and beef broth. If you're using a tough cut of beef, a marinade will help to tenderize the meat and maximize the flavor.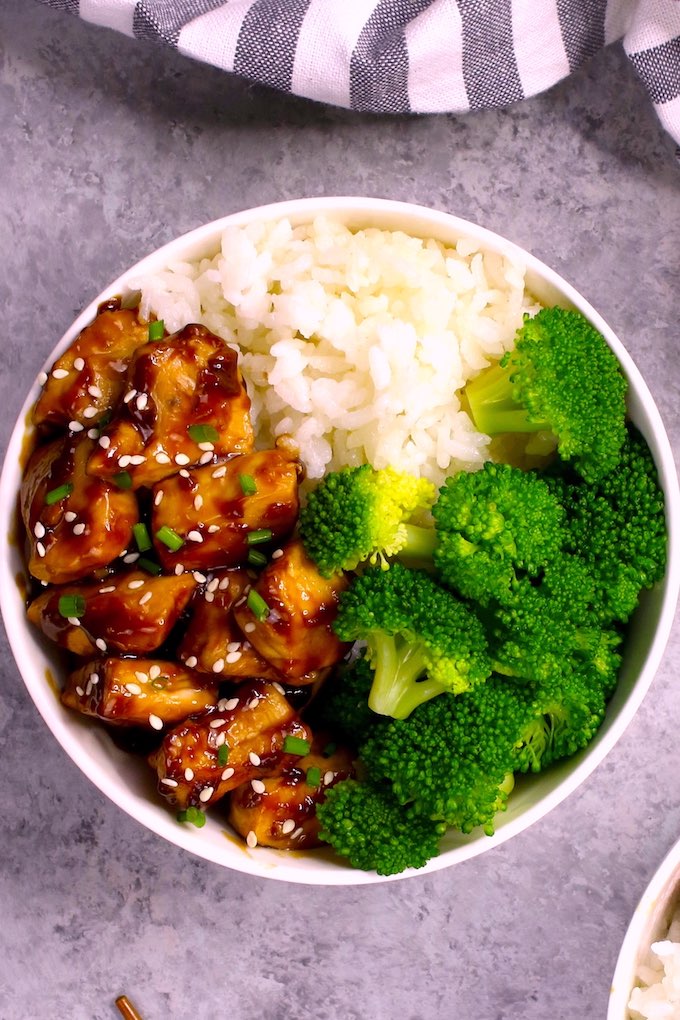 This delicious rice bowl is a quick and easy Japanese meal that can also be enjoyed at lunchtime. You will love how every bite is loaded with tender chicken smothered in a rich, garlic teriyaki sauce.
The perfect alternative to packing a sandwich, pita bread and hummus is a quick and easy bite-sized treat. Just grab some large, whole wheat pitas, cut them into small triangles, and pair them with your favorite hummus. You can even make the hummus yourself!  
Here's a recipe to try if you want a healthy protein boost. Loaded with eggs, mayo, mustard, salt, and pepper, this is a filling and delicious sandwich. If you want to keep things on the lighter side, swap in some Greek yogurt for the mayonnaise.
Need a lunch you can make in just 15 minutes? This healthy chicken salad is great for a meal at home or on the go. Flavorful rotisserie chicken and lettuce wrapped in a whole wheat tortilla for a satisfying sandwich that tastes amazing and keeps you full all day!
Tuna salad is a classic, versatile sandwich that can be served on a sandwich, in a tortilla, or on a lettuce wrap. Light and fresh, this is comfort food that comes together with a few ingredients!
Quick, healthy, and incredibly delicious, this turkey hummus wrap is easy to make and only requires a handful of ingredients.
Here's a lunch option that tastes so good that you'll forget that it's healthy. This fruit and yogurt parfait is loaded with your choice of yogurt and favorite fruit! The best part? It's packed with good-for-you calcium, protein, potassium and probiotics.
Perfect for kids and adults alike, lunch wraps are a great choice for school lunches or meal prep. Combining grilled chicken and ranch is a match that can't be beaten – especially when trying to please picky eaters.
This recipe takes a classic ham and cheese sandwich and kicks it up a notch! Toasted buttered bread, smoky salty ham, and melted cheese are the stars of this quick and delicious meal. Pair it with a warm cup of soup for a filling and comforting lunch!
Do you love tacos but hate the mess? Now you can serve it in a bowl instead! Made with ground turkey, corn, beans, rice, and lettuce, this lunch option is easy to make ahead of time. You can even substitute the turkey filling for shrimp, chicken, or eggs!
Skip the prepacked, store-bought Lunchables and make your own instead. The key here is to buy a lunch box that has sections in it, and fill each section with your favorite crackers, meats, cheeses, and fruit!
Easy Lunch Idea: Chicken Avocado Roll-Ups Recipe
These roll-ups are perfect for bite-sized fun! Creamy and delicious, they're made with grilled or rotisserie chicken, avocado, and cheese, with plenty of room for some optional veggies (like red peppers)! Quick and healthy, this lunch idea is ready in just 20 minutes!
Ingredients
2

cups

shredded chicken

leftover chicken works well

1

medium avocado

peeled and pitted

1/2

medium red onion

chopped

1

red bell pepper

chopped

2

tbsp

green onion

minced

3/4

cup

shredded cheese

swiss or cheddar

1

tbsp

parsley

chopped

3

tbsp

plain yogurt

1 1/2

tsp

lime juice

1/2

tsp

garlic powder

salt and pepper

to taste

4

flour tortillas

8 or 10 inch size
Instructions
In a medium bowl, add all ingredients except the tortillas. Stir to mix until blended.

Place tortillas on a work surface.

Spread a 1/2 inch layer of chicken avocado mixture on top of a tortilla.

Roll up the tortilla holding it together tightly with your fingertips. Then slice the roll into 1-inch pieces with a sharp knife.

Repeat for remaining tortillas. Chill until serving.
Notes
Make Ahead: You can eat them right away or chill covered with plastic wrap for up to 4 hours. Any longer than that and the avocado will start to discolor.