I don't want you to think I am pretending to be an expert, I make mistakes, yell, choose the wrong curriculum, etc. But, I want to share with you some Do's and Dont's of homeschooling I have learned along my way, either from my own mistakes, observations, or good advice from others.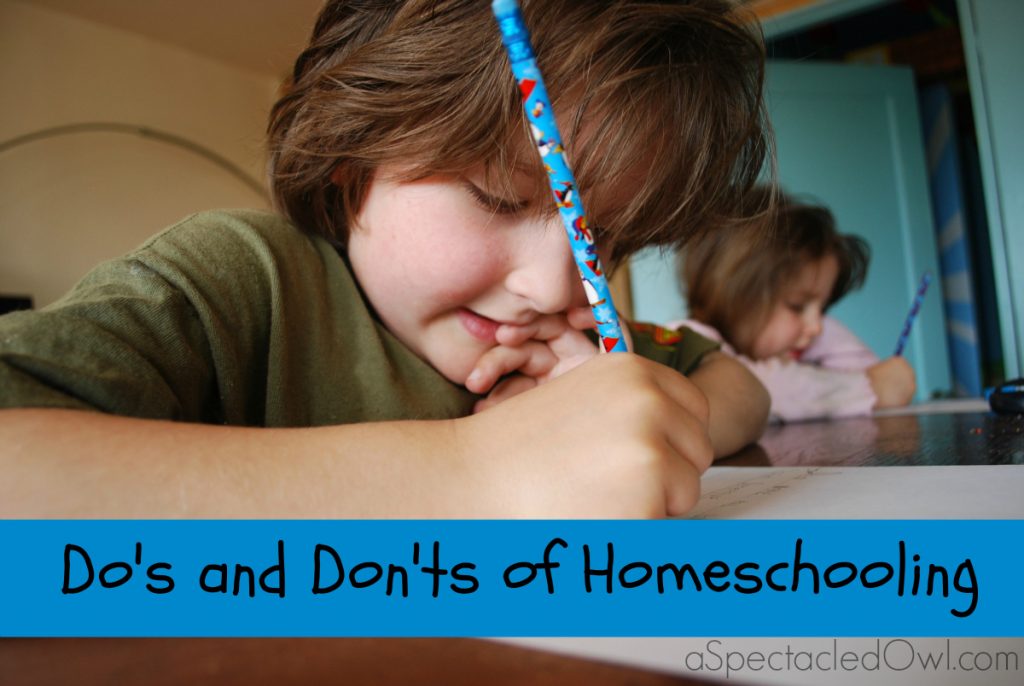 Do's
Your homework – Spend some time reading online, gathering other homeschooling families opinions either in real life or online in community forums, ask for catalogs, attend used curriculum fairs, and home school conventions. You may still find sometimes that a curriculum doesn't work for you, but you will be far more confident and much more likely to choose the right one if you do a lot of research.
Know the requirements for your state – Some states require little to no involvement in your curriculum or attendance, others want a detailed schedule of days attended, samples of work in the form of a portfolio reviewed by a teacher, while others require annual testing. Be aware of what is expected so you are not caught off guard without proper documentation.
Enjoy your child – Just like everything else about their childhood, this is something that just lasts for a season. Soak up the one-on-one time and watching the light bulb go off when they are learning.
Make it fun and hands-on – Even if you have chosen to stick to a pretty regimented schedule remember to enjoy it, go out and turn over rocks searching for bugs, do messy science experiments in the kitchen, finger paint math problems sometimes. This is one of the reasons why you probably chose to home school. Don't lose sight of that.
Forgive yourself – Mistakes will be made, tempers will flare, tears will be shed. It is gonna happen; say I'm sorry when you need to and move on.
Remember why you chose this – Whether it be for religious reasons, the freedom to choose what and when to teach things to your child, to be with them more, or medical reasons. Whatever the reason, keep your eyes on that.
Include your spouse – Whether its just listening to a couple pages of your child's reading, checking a math page, or tackling a whole subject let them know they are an integral part of your day and home school.
Don'ts
Listen to critics – Extended family, friends, and critics when they question you about socialization, academics, and other skills. Only you know what's best for your family.
Be hard on yourself – It's a learning experience for them but also for you, Mom. Sometimes you will have to backtrack and change gears and it's okay.
Over schedule – Sometimes parent's feel that since their children are home all day that they need to enroll them in every activity under the sun for socialization, whether it's ballet, music lessons, science camps, cooking classes, soccer, and so on. This is the fastest road to burn out, pick and choose to fuel their passions.
Turn your home into public school – It is okay to hang a clock, calender, map, etc. But don't let charts, graphs, and neat rows of desks take over your home. There is nothing wrong with those things but remember that schooling can look like many things. Make it fit your home and your family.
Judge other home school families – Or let yourself be judged. Every home school is different. They will each have different curriculum, schedules, goals, activities, and people. Respect that and expect the same respect for your choices.
What would you add to this list?