I am so happy to share two crafts that I did this past week.  I'm also really excited to bring to you the Sharing is Caring Blog Hop – Easter Edition hosted by Monika from 
Life With Lovebugs
.  Monika is a great friend of mine and I'm so happy to be a part of this great blog hop!  Now, on to my simple crafts (because simple is what I do lol)
Spring Glass Jar Vase
I like keeping spaghetti jars, applesauce jars, pretty much any jar that I can get my hands on.  I've used jars to make owl vases before and I decided I want to make another one.  The jar I chose to use already had pretty flowers on it so I knew it was a great choice.
I spray painted the jar using Krylon's Blue Ocean Breeze spray paint.
After spray painting it, I let it dry and then got back to work.
After heating up my glue gun, I grabbed the other two items I need for this project.  My daughter found these adorable tiny Easter baskets with eggs at Michael's & I grabbed this twine because I loved how Monika from Life With Lovebugs vases looked with twine.
I started at one side and used the hot glue gun to secure the twine.
I kept wrapping the twine around the jar, gluing it as I went.  I wasn't sure how many times I was going to wrap the twine but soon enough I realized I loved how it looked.
One last little touch was adding the little Easter basket that my daughter found at Michael's.  It's a really simple project but I'm really happy with how it turned out!
Spring/Easter Wreath
I've never made a wreath before but I keep seeing so many beautiful ones around & online so I decided to make one.  I grabbed some supplies from Michael's and got to work.
The first thing I did was clip off a couple of the flowers.  I grabbed two of them and glued them to the wreath.  The speckled eggs I bought had a ribbon on them so I tied them around the flowers.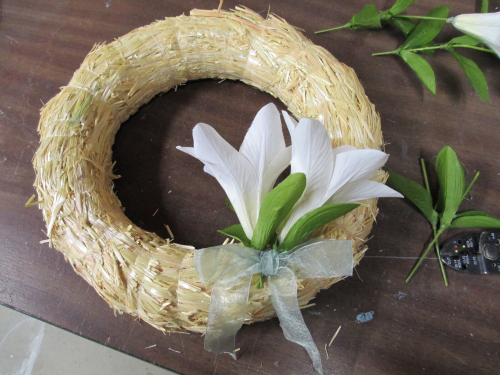 I arranged the speckled eggs to see how they would look and started gluing.  Then I used the other tiny Easter basket and glued it in with the eggs.  I love how it turned out & can't wait to hang it on our front gate!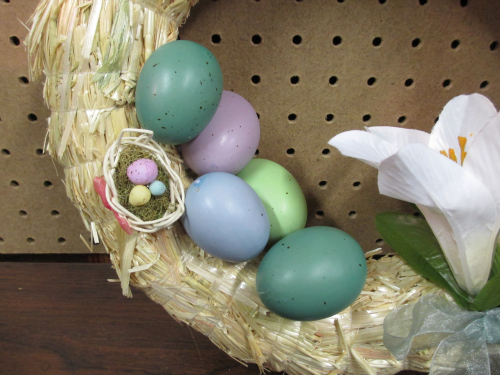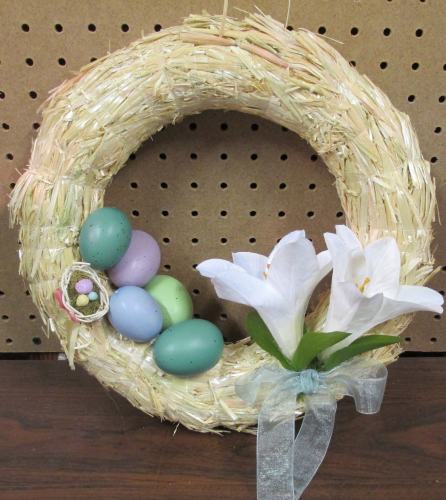 Make sure you check out the other links in the blog hop!  I'm sure you'll find lots of great things!
Linking Up To:
504 Main
Yesterday on Tuesday
Beyond The Picket Fence
A Creative Princess
Fireflies and Jellybeans
House of Hepworths
Live Laugh Rowe
Mom on Timeout
No Minimalist Here
Saving 4 Six
Seven Alive
The Shabby Creek Cottage
The Crafty Blog Stalker
Love and laundry
Sassy Little Lady
By: Tara Kramarsky