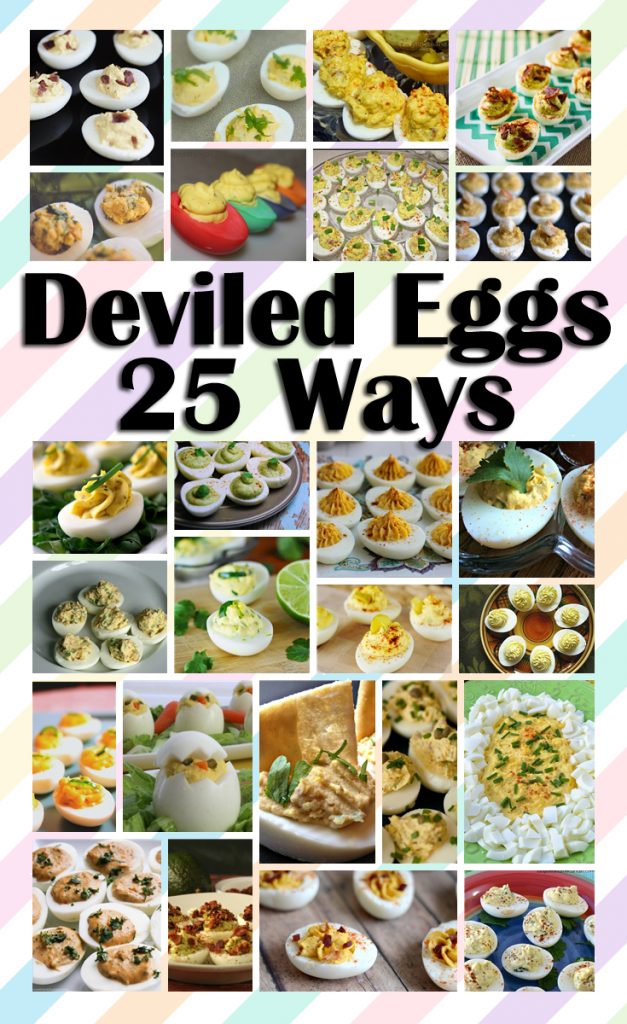 In a little less than a week, a lot of us are going to have an overabundance of hard-boiled eggs in our fridges. After all of the Easter egg decorating, hiding the eggs and the Easter egg hunt, you might not want to hear about eggs for awhile. But, instead of just eating hard-boiled eggs plain, how about making some really yummy deviled eggs? I've honestly only made the traditional deviled eggs, which are delicious, but I had no idea there were so many different ways you could actually make them! These deviled eggs are perfect for Easter eggs, a football party, birthday party or just for a weekend snack!
Deviled Eggs 25 Ways
Deviled Eggs – A Family Feast
Jalapeno-Lime Deviled Eggs – The Kitchen is my Playground
Tangy Deviled Eggs – Flour on my Face
Classic Deviled Eggs – 2 Sisters 2 Cities
Prosciutto and Arugula Deviled Eggs – Sarah's Cucina Bella
Bacon & Cajun Deviled Eggs – This Mom Can Cook
Pineapple Deviled Eggs – Lori's Culinary Creations
Easter Chicks Deviled Eggs – Cincy Shopper
Garlic, Basil, and Bacon Deviled Eggs – Hot Eats and Cool Reads
Low-Carb Kickin' Bacon Avocado Deviled Eggs – Yours and Mine are Ours
Mexican Deviled Eggs – Lady Behind the Curtain
Bacon Guacamole Deviled Eggs – The Crumby Cupcake
Classic Southern Deviled Eggs – The Kitchen is my Playground
Fresh herb and Salmon Deviled Eggs – Offtract
Spicy Sriracha Deviled Eggs – White House Black Shutters
Caper Lemon Deviled Eggs – Who Needs a Cape?
Guacamole Deviled Eggs – The Tiptoe Fairy
Barbecue Deviled Eggs – Bubbly Nature Creations
Spicy Deviled Eggs – Nellie Bellie
Cilantro Tabasco Deviled Eggs – Living a Sunshine Life
Easy Colored Deviled Eggs – Marvelous Mommy
Hummus Deviled Eggs – Giggles, Gobbles, and Gulps
Bacon & Cheddar Deviled Eggs – JoLynne Shane
Giant Deviled Egg – Souffle Bombay
Miracle Whip Spicy Deviled Eggs – 3 Boys and a Dog