As my kids get older, it's harder to figure out what to buy them for Christmas. While I know my 11 year old daughter wants a Kindle, I wanted to also get her something that she could be creative with. Ashlyn is a great drawer, unlike her Mother, and is always sketching or creating something crafty. She's really good at it too! So about a month ago, I started picking up craft items from Dollar Tree, Michael's or other places that were having good deals. I decided I wanted to make her a craft station that was just for her.
When I had the opportunity to work with Rubbermaid and their line of Bento Organizers, I was beyond excited! I knew exactly what I wanted to make…a DIY Craft Station for my girl! I started collecting all the things I had been picking up for her, added a few more items and then realized I also had a $50 gift certificate to an online ribbon shop and I picked up so many fun rhinestones, flowers, lace, felt flowers and more to add to her craft station!
The best & hardest part of putting this all together was that I got to go pick out a Rubbermaid Bento Organizer. Why is that the best? Because we all know that Rubbermaid makes great quality products and I loved the idea behind this new product (more about that in a bit). Why was it the hardest part? Because I had to ask my daughter to choose her favorite Rubbermaid Bento Organizer without letting her know that she was getting it as a gift. She kept asking "What room are you using it in? Well how can I choose one if I don't know what room it's going in?" Why does she have to be so darn smart? Anyways, I finally did tell her I was making something for her for Christmas so she had to choose the one she liked the most for HER and here it is:
Ashlyn loved the geometric shapes on it, probably because it reminded her of Minecraft! So what makes these organizers special from other organizers? The Rubbermaid Bento Organizers let you organize your things in the container themselves so you don't just end up with a pile of stuff in a box. Inside the Bento Organizer, there are flexible dividers which let you choose how to divide the space. I find this to be really helpful if you're using the organizer for one purpose, then start using it for another purpose and you need more or less organizing help inside. The Rubbermaid Bento Organizers come in a bunch of different sizes which is great for a family! I plan on buying more to help organizer all the stuff that's all over the bathrooms and a couple for the top of dressers, to organize everything.
The lids for the organizers can be purchased separately and I knew I definitely wanted one for the top of the craft station. The great thing about the lids is that you can turn them so that the deeper part is inside the Bento Organizer a bit, adding even more storage on top or you can turn it over for a little more room inside. If you buy two of the same size Bento Organizers, you can stack them on top of each other without needing a lid.
Once I knew which Bento Organizer I was using for this product, it was time to organize everything and make it look it's best. First I got out all the craft supplies I have been buying. I think she'll be pretty happy with what I picked up!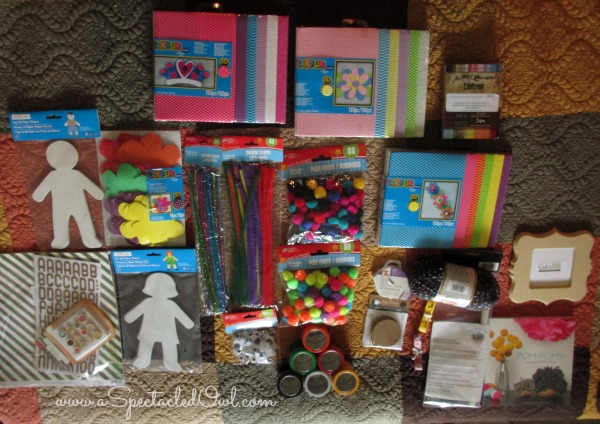 After opening everything up, I played around with how I wanted everything to be organized. All the little rhinestones, felt flowers, resin pieces & doodads, got put into the little containers that I got for $1.50 each. Those will all hang out on the top of the Bento Organizer, along with another container of items.
I think there are a few things I will still add to Ashlyn's Craft Station (I told her today that I should teach her to use a hot glue gun, so maybe I'll get her her own!) but all in all, I am insanely happy with how everything came together and how wonderful it looks in the new Rubbermaid Bento Organizer!
What room in your house could use a Rubbermaid Bento Organizer? You can head on over to Target's site & print out a $1 off coupon so you can buy your own organizer!
I honestly can't wait to see my daughter's expression on Christmas morning when she sees that she gets to let her imagination run wild and create anything she wants with her new Craft Station! I know it'll be a gift she will definitely remember!
Disclaimer: This shop is part of a social shopper marketing insight campaign with Pollinate Media Group™ and Rubbermaid Bento Organizers but all my opinions are my own. #pmedia #HolidayBento  http://cmp.ly/3/8vNxcO