My Grandma used to work in the preschool at her church and loved making playdough for the kids. I remember helping her make it several times and was amazed at how simple it really was.
When I had kids of my own, we usually bought playdough but one Christmas, I decided to make a huge batch for my son. There were probably about 10 different colors, in cute containers, with cute toys that made playing with it more fun. Playdough was always something I loved playing with as a kid and I love that we can make our own for our kids.
I love making playdough that smells and looks like the season we're in. For Summer, citrus is the way to go! This Citrus Scented Summer Playdough recipe will make the whole house smell cheery & bright and your kids will have a blast playing with it!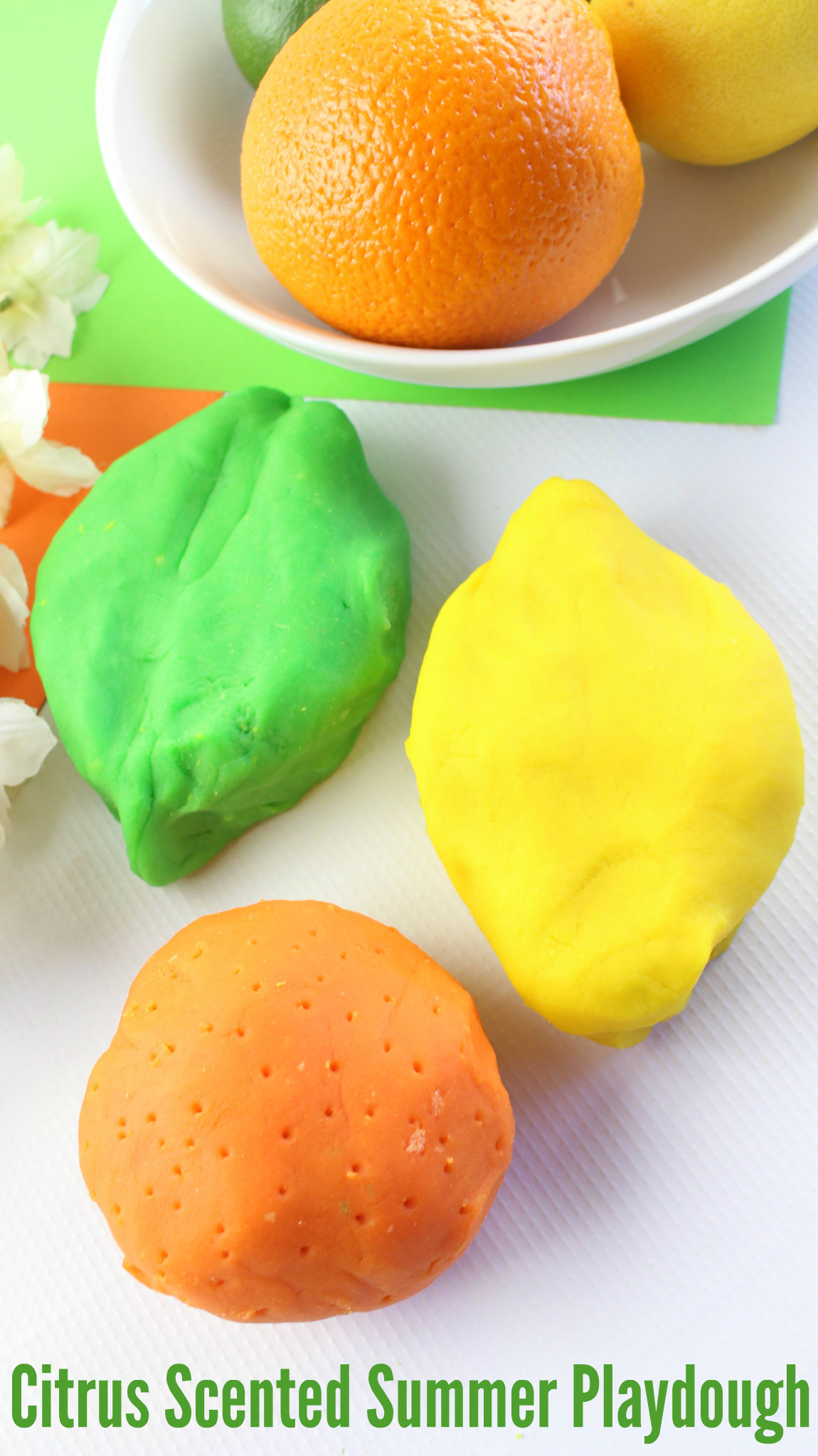 Citrus Scented Summer Playdough
SUPPLIES NEEDED
DIRECTIONS
1.   Add the flour, water, salt, oil and cream of tartar to a Dutch oven or large saucepan.
2.   Heat the saucepan over medium heat, stirring continuously until a stiff ball of dough forms and you can stir no longer it easily (this step takes about 3-4 minutes).
3.    Remove the dough from the saucepan and knead it for 3-4 minutes on a flat workspace while it is still warm. It will become very soft and stretchy.
4.   Separate the dough into 3 even sections.  Press your finger halfway into the middle of each piece to create a hole or 'well'.
5.  In the first piece, add orange food coloring to the 'well' and 5-6 drops of orange essential oil. Knead until the color is evenly distributed.  You may find it easier to knead the dough in a plastic bag to eliminate getting any food color on your hands. Add more coloring, if necessary,  until your desired shade of orange is achieved. (Don't worry – your hands do not color when you play with the dough).
6.   Add yellow food coloring and 5-6 drops of lemon essential oil to the well of the second piece.  Knead the dough until the color is evenly distributed.
7.  Add green food coloring and lime essential oil to the third piece and knead until you achieve your desired shade of green.
9.  Enjoy the amazing and uplifting citrus scents of this playdough!
*Keep in an airtight plastic bag or container for up to 3 months.