If you have family over on Christmas Eve, it can be tricky to cater to everyone's tastes. Plus, you need to cover the traditional festive meals and have something for the picky eaters.
Not to worry; there's a dish for every guest on this list of Christmas Eve Dinner Ideas For Every Taste. We recommend choosing a few that will satisfy the majority and then making one or two for the vegetarians and seafood lovers.
Seafood lovers, stop here! This recipe will walk you through step by step how to cook Crab Legs. It's an entirely versatile dish that allows you to boil, steam, bake or grill! The best part? Prep only takes 15 minutes!
It's a festive treat that's perfect for any holiday party. All you need is some pizza dough, cheese, and fresh herbs! Don't forget your favorite dipping sauce.
A turkey is the main event for any holiday party, which means you have the pressure to cook it right! With this recipe, you'll learn exactly how long to cook a Roasted Turkey, whether it's stuffed or unstuffed.
Gluten-free, paleo, and whole 30 friendly, Sous Vide Roasted Whole Chicken is a must-try! With only 10 minutes of prep, you'll be able to impress your guests with a mouth-watering main.
If you're looking for something a little less traditional for your holiday dinner, then you've come to the right place. These Oven-Baked Ribs are fall off the bone tender! Plus, you'll even get a guide here on how long to bake them according to temperature.
Tender and juicy is just what you'll get with this Boneless Prime Rib Roast. Simply slow roast it in the oven and have it ready in time to feed your family and guests.
If you haven't tried the sous vide, now is your chance! Your lobster tails with lemon butter will turn out incredibly flavorful every time. It's a no-fail approach and made with ease!
Smothered in a creamy gravy, these Pork Chops easily put your favorite restaurant ones to shame! It's a Southern-style recipe made right in the comfort of your home! Plus, they're super fast to make and are ideal for those busy weeknights!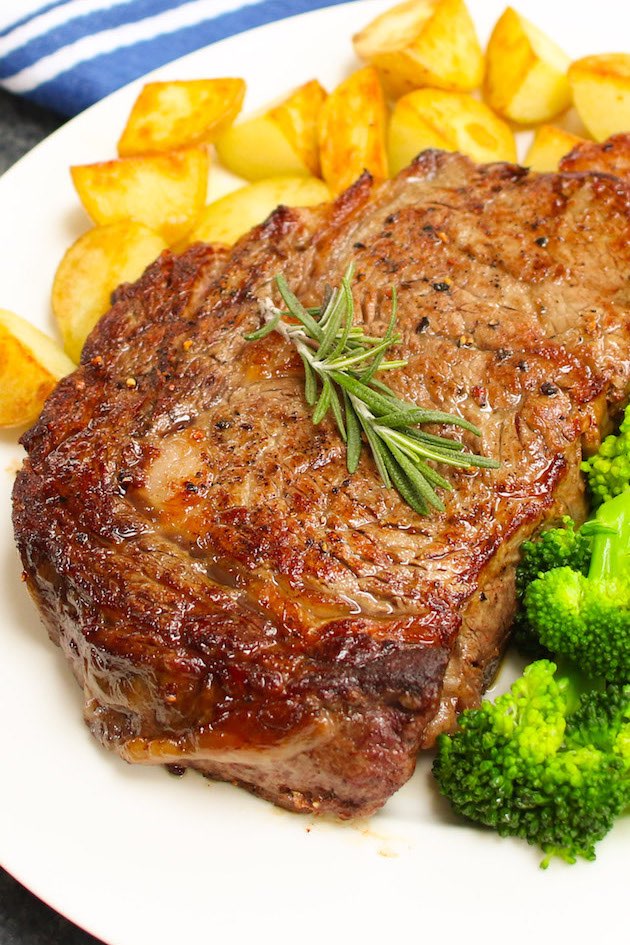 Whether you prefer flank steak, top loin, sirloin, or any other cut of steak, this recipe is for you! It walks you through how to broil your favorite cut while allowing you to get a good sear and one juicy piece of meat! Enjoy!
Covered in a light tomato sauce and made to melt in your mouth, its Tender, and Flavorful Turkey Meatballs. Great for those busy weeknights, an on-the-go meal, or an easy appetizer. It's simply made with a few key ingredients: ground turkey and bread crumbs.
Quick to prepare, Little Neck Clams only take about 15 minutes of your time. The white wine and garlic pack this dish full of intense flavors and easily impress all guests.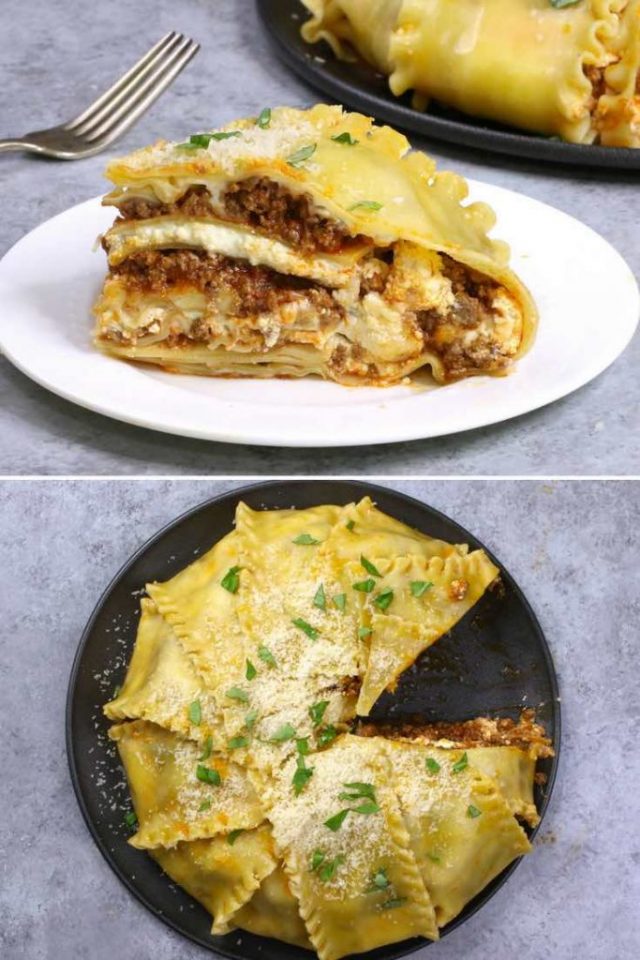 If you love lasagna, you'll certainly appreciate this recipe! It takes your classic dish and makes it with a twist- upside down, that is. Made with layers of meat, noodles, and cheese – it's complete satisfaction in every bite.
Roasted Parsnips are a great way to get some new vegetables in your Christmas dinner. They're sweet, tender and perfectly caramelized. The tip here is to cover them in foil to prevent them from drying out!
It's a must-try dish with tender stalks on the inside and crisp on the outside. If you don't have an air fryer yet, you'll certainly want one after reading this recipe! Don't forget the parmesan to add a little extra flavor.
Custard is almost a given for your Christmas holiday dessert, especially if it is Creme Brulee. But have you tried the Sous Vide style? It's guaranteed to get you perfect results every time! A crispy caramel layer and no curdled texture – what more could you ask for?
Made with layers of white and dark chocolate, this Peppermint Bark is completely irresistible! Flavored with peppermint and crushed candy cane, you'll easily get a burst of flavor in every piece!
Here's a dessert just for you adults! Christmas Jello Shots are infused with vodka and made with layers of red and green jello! They're a festive treat that's perfect for any gathering over the holidays!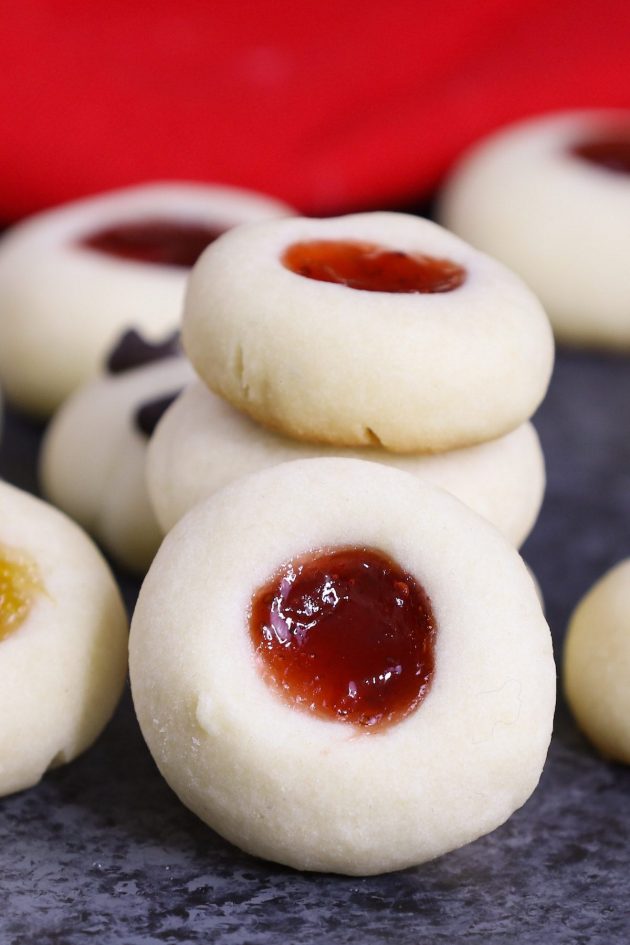 Made with just five ingredients, these Thumbprint Cookies are nothing short of easy! They're buttery sugar cookies with a delicious jam filling! Your kids will love helping with these using their thumbprints!
Here's a healthy recipe for two to enjoy! All it takes is a bit of rosemary, garlic, and lemon to season this roasted turkey breast. The best part? It's both paleo and gluten-free!
Made right from scratch, this truly is the Best Green Bean Casserole! Featuring a creamy filling and a crispy onion top, this dish is easy to make ahead and always pleases a crowd.
Is there anything better than the smell of ham simmering in honey and pineapple? This recipe quickly fills your home up with an incredible aroma and provides your taste buds with an unforgettable experience.
Easy Christmas Eve Dinner Idea: Sous Vide Roasted Whole Chicken Recipe
Gluten-free, paleo, and whole 30 friendly, Sous Vide Roasted Whole Chicken is a must-try! With only 10 minutes of prep, you'll be able to impress your guests with a mouth-watering main.
Equipment
Anova Sous Vide Cooker

Sous Vide Cooker

Kitchen Tongs

Vacuum Sealer
Ingredients
1

whole

chicken

fresh or frozen*

2-3

tablespoons

olive oil

2

teaspoons

paprika

or smoked paprika

2

teaspoons

garlic powder

3

teaspoons

kosher salt

2

teaspoons

ground black pepper

onions

lemon

garlic

optional herbs like rosemary and thyme
Instructions
Preheat the sous vide machine. Fill a large container or pot with water. Attach the sous vide precision cooker and set the temperature to 155°F (66°C).

Stuff the chicken with onions, lemons, garlic and optional herbs.

In a small bowl, whisk together paprika, garlic powder, salt and pepper until combined.

Then rub half of the seasoning evenly over the chicken.

Place the seasoned chicken in a bag. Vacuum seal using a vacuum sealer or a zip-loc bag. If you use a zip-loc bag, you'll need to seal all but one corner of the bag, and slowly place it in the water bath. Make sure everything below the zip-line is covered by water. Then seal the rest of the bag.

Keep the bag in the sous vide water bath and cook for 6 hours. (Make sure the chicken is fully submerged while the seams of the bag are above water. You can add heavy kitchen items to weigh the bag down if necessary.)

Cover the pot with aluminum foil. Check from time to time, and add more water if needed.

When the timer goes off, remove the chicken from the bag and pat dry with paper towels. (Be very gentle and not to break the skin.)

Rub the chicken with oil and sprinkle the rest of the seasoning over the cooked chicken.

Place the chicken onto a baking dish and bake at 450°F for about 20 minutes until the skin is brown and crispy. Serve and enjoy!
Notes
*If you use frozen chicken, the cooking time is the same as a fresh whole chicken.