This post is brought to you by TruMoo. All thoughts & opinions are 100% honest & my own.
My younger two kids love chocolate milk. Like LOVE it! When I told them that they would get to try TruMoo's new Chocolate Marshmallow milk, they were so excited. We headed on over to our local Target it and found it in the dairy section, next to the other TruMoo flavors.
TruMoo's Chocolate Marshmallow milk is a special flavor for the month of February and can be found in the dairy section at grocery stores nationwide. I think my kids are going to be pretty bummed that it's only available for February (**hint hint TruMoo**) but there are also great flavors like Chocolate, Vanilla & Strawberry milk available all year long!
TruMoo has a great taste that I love too and I don't feel bad giving it to my kids because it contains no artificial growth hormones and no high fructose corn syrup! It's made from fresh white milk from regional dairies around the country, pure cocoa and a little bit of sugar to make it yummy!
I love that you can actually warm up TruMoo's Chocolate Marshmallow milk and drink it just like you would with hot chocolate. My younger kids love hot chocolate but in reality, it's more like warm chocolate by the time they drink their's. With this milk, you can heat it up for just a few seconds, add some marshmallows, maybe a little chocolate syrup swirl on top & you're all set.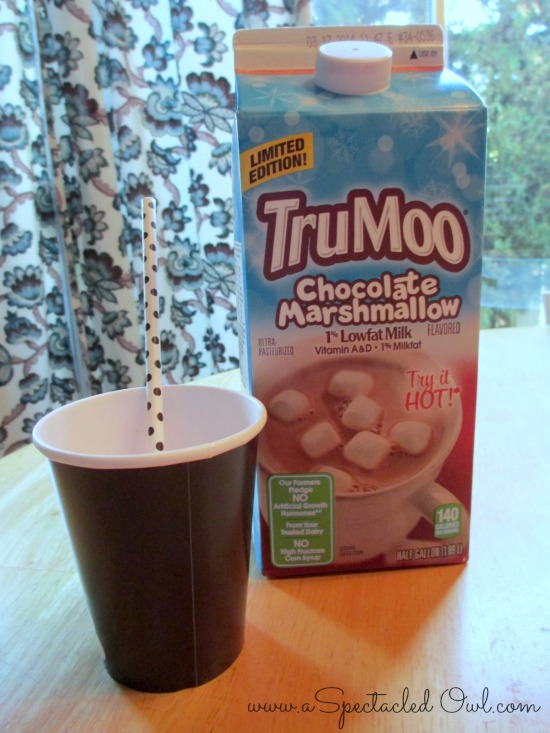 So, whether you are looking for something chocolately and warm on a cold night or just want a snack for your kids after they come home from school, TruMoo Chocolate Marshmallow milk is a great treat!
Like & follow TruMoo on social media so you can stay up-to-date on new flavors & news!
Facebook / Twitter / TruMoo Website / Store Locator