No doubt you've cooked with chickpeas before, but are you aware of just how healthy and versatile these protein-packed legumes are?
From fresh salads and flavorful soups to sandwiches, burgers and dips, chickpeas can be used to make just about anything. They also help to lower cholesterol, are full of nutrients, and are one of the best ingredients to keep in your kitchen.
Below are 15 chickpea recipes you need to know about, and once you've tried them, you'll definitely understand what we mean.
Here's a must-try Moroccan-inspired dish! This Chickpea Quinoa Bowl tastes as good as it looks! Full of texture, color, and flavor! With each bite loaded with raisins, dates, and carrots! Yum!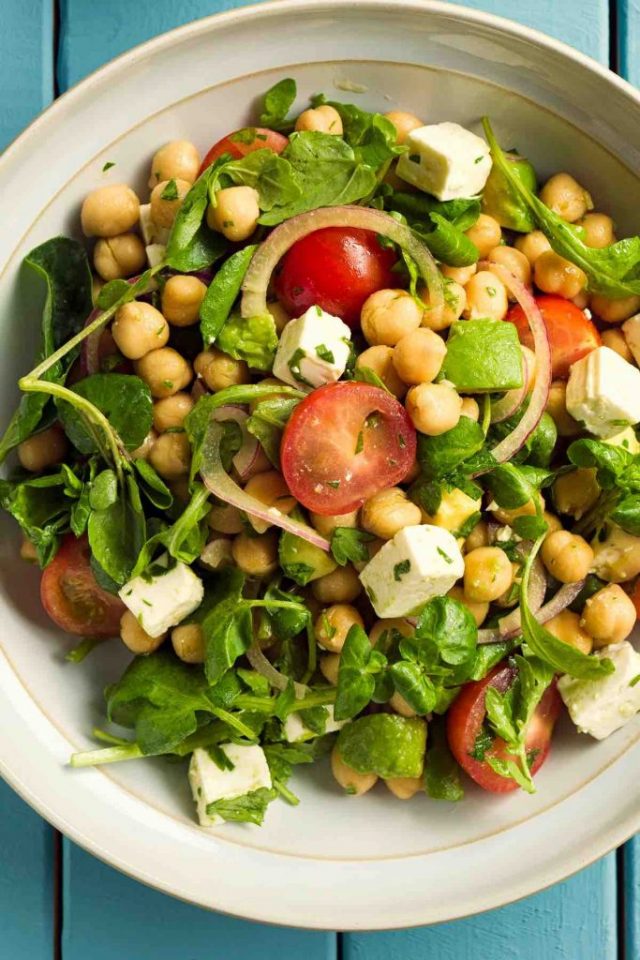 If you're looking for a vegetarian meal that is ready in 10 minutes, then stop here! This Garbanzo Bean Salad is irresistible! Every bite is loaded with olives, cucumber, tomatoes, onions, and of course – garbanzo beans! It's fresh, quick, and a must-try!
This recipe is perfect for those looking for an on-the-go snack! Air Fryer Chickpeas are ready in under 15 minutes! Crunchy, crispy, and full of flavor! There's no turning back after you try these!
Grab that glass of milk because here's a dish with a kick! This Spicy Roasted Garbanzo Bean recipe walks you step by step on how to bake chickpeas. Be careful, though; you might hear pop if you cook them for too long!
What do you crave on a cold or rainy night? Soup! This Garbanzo Bean Soup is comfort food at its finest! This recipe is filled with ingredients that complement each other perfectly! Plus, you'll love filling your home with the aroma of this dish.
A no-fuss meal that requires little effort – sign me up! This Instant Pot Garbanzo Bean recipe is loaded with protein, vitamins, and fiber! Plus, this method means no draining is required!
One of the most versatile recipes – hummus! Use it as a dip, a spread, or even as a topping! So get that blender ready! All you need are chickpeas, tahini, garlic, lime, cumin, and water.
Quick, grab the cumin, paprika, and cinnamon for this one. This Moroccan Chickpea Soup is the perfect mix of sweet and spicy. A vegan dish that will warm you up on any rainy day! Packed full of protein, this dish is ideal as a side.
Flavorful and budget-friendly? Sign me up! I'm not going to lie, just looking at this dish – I could eat it every night. After you taste it, you'll be hooked too. And you'd never guess it's vegan! By the way, don't forget the lime!
It's chickpeas in a sandwich! This Falafel Pita recipe will quickly win you over. From the fresh pita, the falafel sauce, and the lime – your tastebuds will surely be in for a treat. Jazz it up or down with all of your favorite veggies.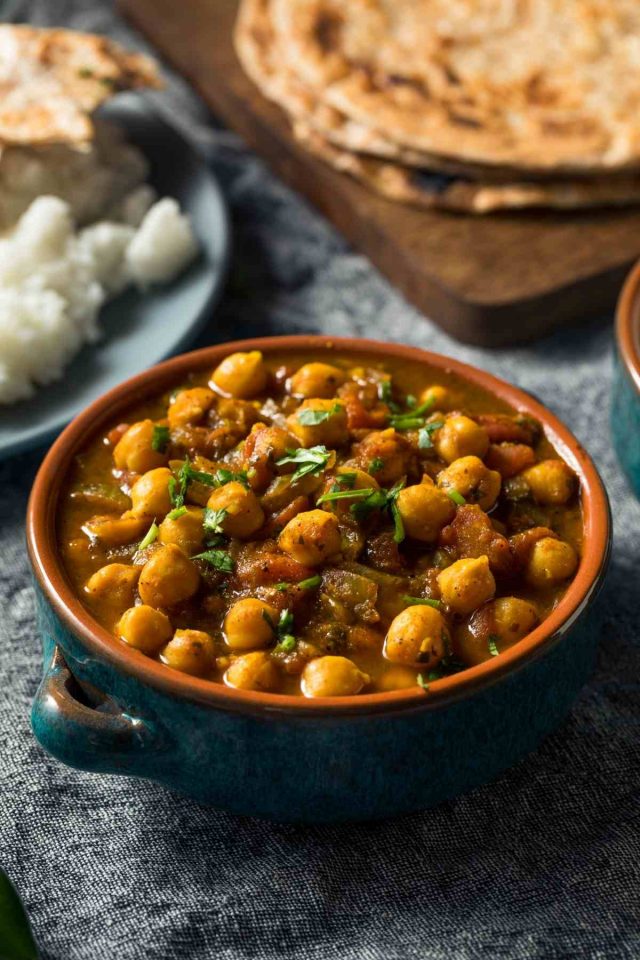 Get your chickpeas ready and soak them overnight for this one! Channa Masala is a simple Indian dish that anyone can make! It's all about the spices here!
Only four ingredients and 10 minutes of prep are all you need for this Fried Chickpea recipe. It's the perfect snack and full of healthy nutrients. The great news is that you can adapt the spices to your preference.
The perfect crunchy snack! And we'll take you through not one, but two ways to make them! Packed with protein, these are super addictive! And ready in less than 20 minutes!
Either a side or main dish, this vegan recipe is a quick, tasty, healthy choice. A total of 30 minutes prep and cook time, and you'll be serving up to six of your friends or family.
It can be tough to find a tasty vegetarian burger, but not anymore! This Chickpea Veggie Burger takes chickpeas to their fullest potential. With only eight ingredients and 10 minutes of cooking time, you'll be coming back to this recipe over and over again!
Best Chickpea Recipe: Hummus
One of the most versatile recipes – hummus! Use it as a dip, a spread, or even as a topping! So get that blender ready! All you need are chickpeas, tahini, garlic, lime, cumin, and water.
Ingredients
1

can

15 ounces chickpeas

(you can also use 1 ½ cups cooked chickpeas. Canned chickpeas make this recipe much faster to make)

1/4

cup

lemon juice

you'll need about 2 lemons

1/2

cup

tahini

1

tablespoon

olive oil

1

large clove garlic

chopped

1/2

teaspoon

ground cumin

1/2

teaspoon

salt

or to taste

2 to 4

tablespoons

water
Instructions
Rinse and drain the canned chickpeas, set aside.

In the bowl of a food processor, add the tahini and lemon juice. Process for 1 minute.

Scrape the sides and process for 30 seconds.

Add the olive oil, minced garlic, cumin, and salt to the mixture.

Process for 30 seconds, and scrape the sides. Then process another 30 seconds or until well blended.

Add half of the chickpeas to the food processor and process for 1 minute.

Scrape sides, then add remaining chickpeas.

Gradually add 2-4 tablespoons of water. Process for 1-2 minutes or until thick and smooth.

Season with more salt if needed. Serve and enjoy!