Cake mix is the easiest way to whip up a sweet and delicious dessert. They're easy, quick and won't compromise the taste! You'll even get tips here on how to always make a moist, fluffy, and tasty treat! From cookies to bars and cake pops too – We've rounded up some of the most popular cake mix desserts!
Using just 4 ingredients, you'll have a warm and comforting peach cobbler before you know it! This one is a little different though – you use cake mix! Plus, it's exploding with peaches and a buttery topping.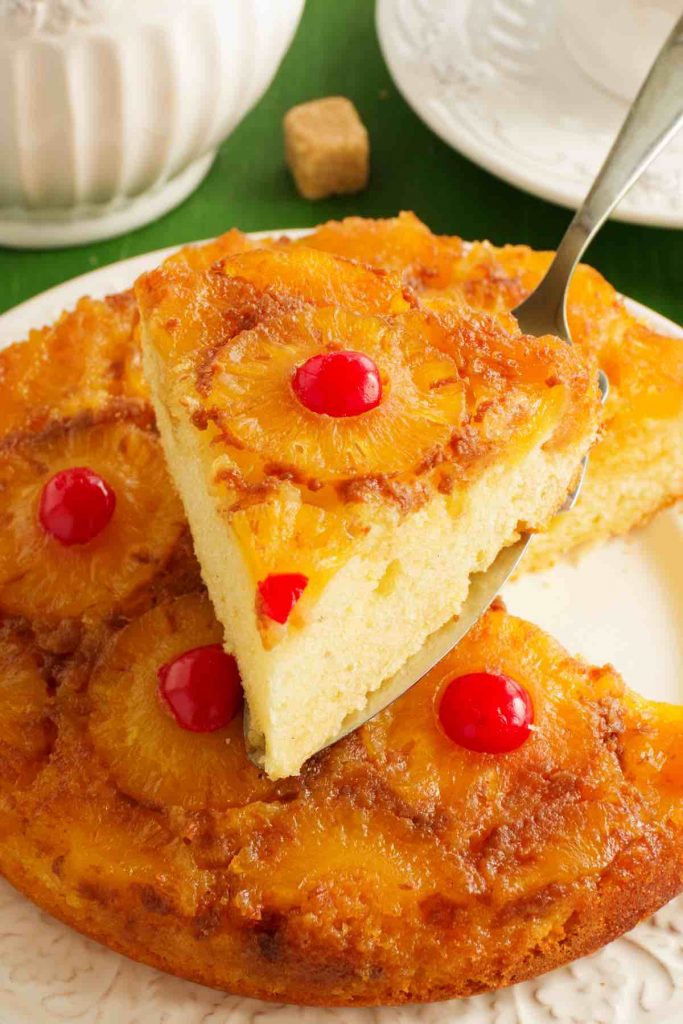 Using Duncan Hines cake mix; you too can make this pineapple upside-down cake. Made with a topping of caramelized pineapples combined with maraschino cherries – it easily knocks your classic recipe out of the park.
This lemon blueberry poke cake recipe is the perfect way to use up those extra blueberries. With a fresh taste of citrus, you'll also love that this cake is both moist and delicious! Plus, it uses a boxed cake mix!
This recipe perfectly combines your love for a milkshake and a cake. It's creamy, delicious and tastes just like the one from Sonic! Made in just 5 minutes with a few simple ingredients, making this treat perfect for your next gathering!
Strawberry jello poke cake puts those fresh strawberries to good use! It's a beautiful dessert that just melts in your mouth. Make this recipe ahead of time for parties and gatherings or as a nice treat for your family.
The perfect dessert for your themed party! Cake mixes cupcakes, otherwise known as piñata cupcakes, have a surprise right in the middle! You'll love the festive sprinkles on top too!
Using just three ingredients, you'll be able to whip up moist, fluffy, and incredibly tasty cookies. This best cake mix cookies are completely versatile too! You can use red velvet, devils' food or white cake mix to switch up the flavors!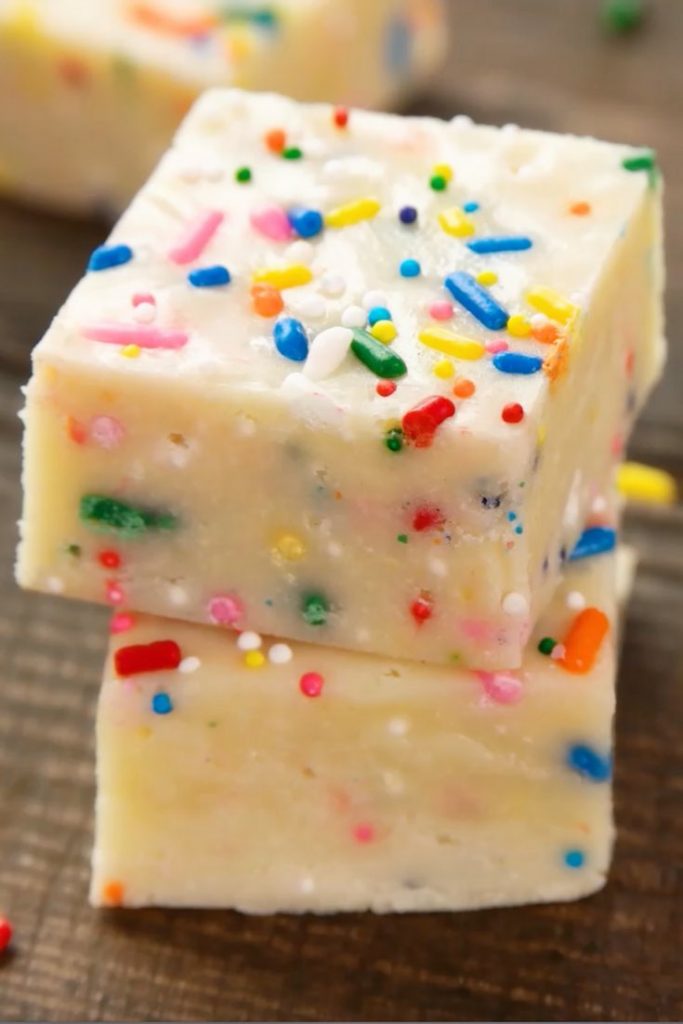 Stop here for a video tutorial on how to make cake batter fudge – it will have your mouth watering before you even make it. It's a no-bake recipe that requires only 10 minutes of prep. Making this recipe perfect for those last-minute gifts.
Just 5 ingredients are needed to experience a burst of lemon flavor. It's lemon cake mix cookies, and they're perfect for the summer season. The great thing about this recipe is that you can freeze them for up to three months!
If you love brownies without all that hard work, then stop here! This cake mix recipe only requires three ingredients and turns out incredibly moist! For extra fudgy brownies, fold in some chocolate chips!
Now's your chance to eat dessert for breakfast! This recipe uses any of your favorite cake mixes and turns them into pancakes! This easily will become your new favorite way of making breakfast.
Here's your chance to skip the drive-thru line and make donuts right at home! They're quick and easy and use a pre-made boxed cake mix! The best part? The sprinkle topping!
Are you ready? You're about to turn a box cake mix into a pound cake. You can even turn this recipe into cupcakes for an on the go treat!
If you're not familiar with cake pops – you will be now! They're a cross between a cake and a lollipop! Not only are they perfect for birthdays, but parties too!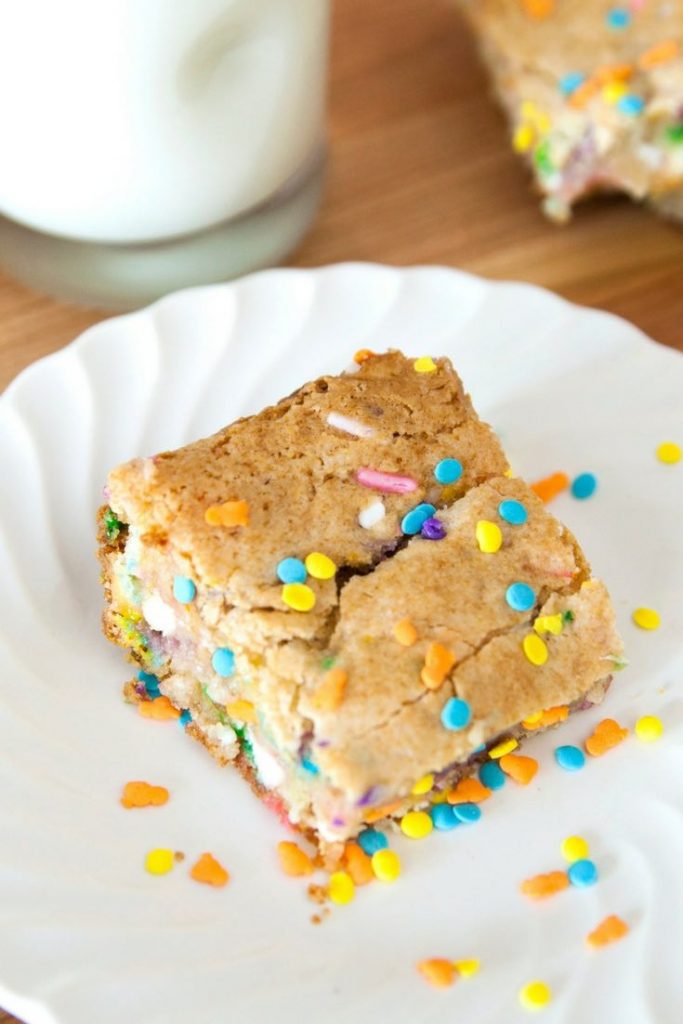 Did you know that you can make dessert bars out of cake batter? Yes, you can! They're soft, easy to make and have an unforgettable cake texture. You'll even get a video tutorial here.
Red velvet anything turns out gorgeous! This pound cake is no different! Loaded with chocolate chips and topped with a cream cheese frosting, it's beautiful to look at and delicious to eat.
Are you familiar with that little dip that goes with cookies? Well now you're about to make your own! It's an easy no-bake recipe that only requires 4 ingredients.
Easy Cake Mix Dessert Peach Cobbler Recipe
Using just 4 ingredients, you'll have a warm and comforting peach cobbler before you know it! This one is a little different though – you use cake mix! Plus, it's exploding with peaches and a buttery topping.
Equipment
Mixing Bowl

9×13 inch Baking Dish
Ingredients
4

cups

peeled and sliced ripe peaches

you can also use canned peaches*

1

box cake mix 16 oz

you can use yellow or white cake mix

1/2

teaspoon

ground cinnamon

1

stick butter

1/2 cup

optional ice cream

for serving
Instructions
Preheat the oven to 350 F. Add sliced peaches to the baking pan and spread evenly.

Sprinkle cinnamon on top of the peaches.

Add the cake mix and spread evenly on top.

Slice the butter into thin pieces, and add it on top of the cake mix.

Bake for 35-40 minutes or until the top is golden brown.

Let it cool for about 10 minutes. Serve warm with a scoop of ice cream if desired.
Notes
*For canned peaches, make sure to include the juices. Add 3-4 tablespoons of sugar if you prefer an extra sweet cake