I was asked to participate in the #ClubCarlsonAmbassador, sponsored by Club Carlson. Although I have been compensated, all opinions are my own.
Truth be told, we don't get to travel very much anymore. Before kids, or rather before we had three kids, we were always taking little trips here and there and exploring new areas. While it's not as easy as it used to be (and we certainly don't do it as often), we do still try to find the time to get away and explore new cities. However, so many people come here to San Diego for a vacation so sometimes it's nice to try to see things in our own city through the eyes of tourists.
These must see attractions in San Diego are just what you need to keep your family happy and entertained when visiting this gorgeous city. San Diego is a sprawling city with great beaches, museums and culture. With so many small cities around the major metropolis, there is a great small town feel right along with your big city culture. These attractions are a must for any visitor or resident of Southern California.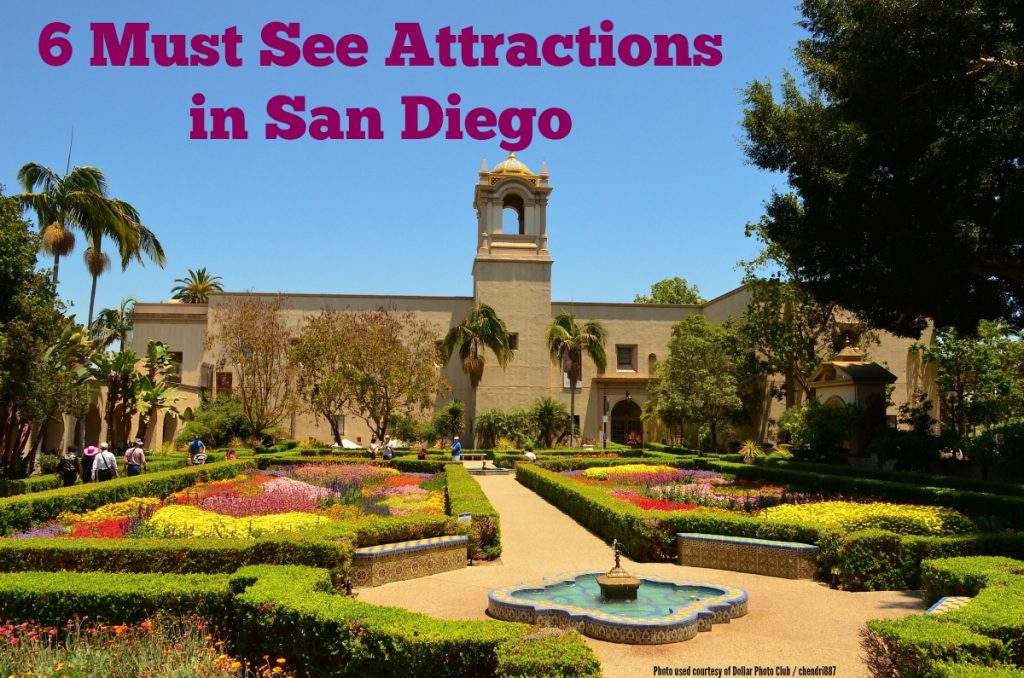 San Diego Zoo
There is truly no zoo as wonderful as this beautiful location in San Diego. With a great layout that offers you all of the animals you expect and then some, the San Diego Zoo is a must for everyone. It is a bit pricey, but well worth the price. This zoo works hard to maintain a natural environment suited for the animals. They also do great work toward protecting endangered species, and giving each animal a life that is comfortable and as close to what they would have in their natural environment as possible.
Balboa Park
Balboa Park is at the center of the city and home of not only beautiful park, but museums, an art village and botanical gardens. The majority of the park is free of charge, but there are some great attractions within the park with nominal entrance fees. You can easily spend 2-3 days just exploring the different museums and art centers. Then you have parks and gardens to walk around and visit.
Old Town San Diego
Going to Old Town San Diego is a great way to spend an afternoon with your loved ones. See amazing architecture and the historic sites that are so important to the city. For a small fee you can take a tour of Old Town via trolley. This is a great way to see that part of the city, as well as many other popular areas in the city.
Legoland
Not just for kids, Legoland is a lot of fun for all ages. With over 60 rides, fun shows, an aquarium and a water park, there's so much family fun to be had here.
La Jolla Tide Pools
This is a great way to spend an early morning with the kids. Heading out to the tide pools will give you chance to see one of the most beautiful beaches in the area, while also giving your kids a chance to find great treasures to take home.
Mount Soledad
This landmark is one that offers a beautiful view of the city and surrounding area, while being the mountaintop that houses the Mount Soledad Cross. Visitors from miles around love to go up and take pictures from this vantage point, as well as simply take in the view.
These San Diego must see attractions are sure to keep everyone in your family happy. From fun weekend getaways, to a fun filled week long vacation these areas are great for every family. But, no matter where you're going on vacation, finding the right hotel at the right price is probably the most important thing you can do to get your trip off to a good start. Whether you're heading here to San Diego for a vacation or to another great city, any of the over 1,000 Carlson Rezidor hotels worldwide are a great choice to stay in. At these hotels, you can earn Club Carlson points and use them towards free nights at beautiful hotels.
Connect with Club Carlson: Facebook | Twitter | Instagram | Google+ | Pinterest | Blog

I am a #ClubCarlsonAmbassador. All thoughts and opinions are 100% honest & my own.